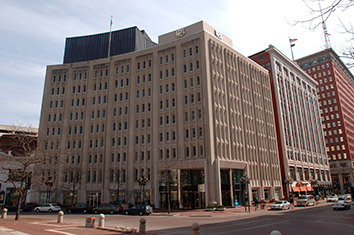 IBJ Media is moving to Monument Circle.
The publisher of Indianapolis Business Journal and two sister newspapers will join Indianapolis Power & Light Co. in the electric utility's headquarters building in the southeast quadrant of the Circle, company officials announced to staff on Tuesday. With the street address of One Monument Circle, the building sits on the high-visibility corner of the Circle and North Meridian Street, with frontage on both sides.
IBJ Media has signed a lease to occupy 12,000 square feet on the third floor of the nine-story building and is expected to move in March, Publisher Greg Morris said.
"With our move in March 2019, I believe our new office at One Monument Circle, in the heart of downtown Indianapolis, starts a new chapter at IBJ Media and speaks volumes about our vision for a bright future ahead," Morris said.  
The company has been searching for new space since the Drury Hotels chain in February 2016 purchased the 94-year-old building at 41 E. Washington St. that currently houses IBJ Media's offices. The firm has occupied the building for more than 20 years.
The sale of the property to Drury includes the adjacent surface lot to the west, where Drury plans to build a parking garage and tower of rooms as tall as 17 stories.
The four-story building was owned by a group that includes IBJ Media co-owners Michael S. Maurer and Robert Schloss. Nate Feltman, a former Indiana secretary of commerce and former president and co-owner of Home Health Depot Inc., came aboard as a third owner of the publishing company in September.
The company, which publishes IBJ, The Indiana Lawyer and Court & Commercial Record, occupies the second floor of the building on East Washington Street and has 50 employees. The firm also includes a custom-publishing division.
Construction plans for the new space are expected to be submitted soon to the city, with demolition beginning immediately following approval. The office will have an industrial feel with classic finishes and multiple collaboration areas, Morris said.
IBJ Media also will have signage on the building, both along the Circle and facing Meridian Street.
CSO Architects is the architect on the project, with Shiel Sexton providing construction services.
Arlington, Virginia-based AES Corp., the parent firm of IPL, has spent $20 million renovating the building to modernize the structure for employees and to attract outside tenants.
By reconfiguring offices and moving a call center out of the building, IPL freed up enough space to lease out parts of three floors. An additional 5,000 square feet on the third floor, where IBJ Media is moving, will be retained by IPL.
Advertising agency Bradley and Montgomery occupies the second floor. Evansville-based Old National Bank leases part of the first floor for a command center and branch that moved from Ohio and Illinois streets.
Please enable JavaScript to view this content.