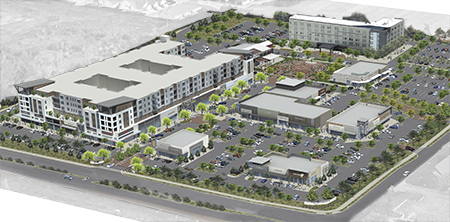 Burger Study is out in Fishers. The HC Grill is in.
The restaurateur behind plans to develop a Burger Study restaurant at The Yard at Fishers District on 116th Street told IBJ on Friday that the eatery instead will be a new and more upscale concept reminiscent of Harry & Izzys, to be called The HC Grill.
"This is kind of what we would do if we were starting with Harry & Izzy's all over again today and coming up with new menu items for that," said Craig Huse, president of Indianapolis-based Huse Culinary, which operates the hallowed St. Elmo Steak House in downtown Indianapolis and sister eateries Harry & Izzy's and Burger Study.
Huse also is a co-owner of all of the aforementioned restaurants, as well as 1933 Lounge, a cocktail spot with a retro look that opened above St. Elmo several years ago.
Huse made a splash late last year with deals for Burger Study and 1933 Lounge as the first announced eateries for The Yard, a $110 million, 17-acre project on 116th Street east of Interstate 69 that is expected to include more than a dozen restaurants, a dual-branded Hyatt hotel and hundreds of apartments.
The first Burger Study opened in early 2017 in 5,000 square feet in Circle Centre mall in downtown Indianapolis, literally around the corner from St. Elmo and the flagship Harry & Izzy's. The restaurant serves high-end "adult" burgers made with prime ingredients.
The Burger Study at The Yard was slated for an outlot along 116th Street. However, as Huse continued to prepare the project, the numbers weren't adding up.
"Once we started getting into it, we realized we were going to have to do a lot more sales than a burger place can generate to make this work, so we pivoted," he told IBJ.
Instead, the partners behind Harry & Izzy Inc.—including Huse; his father, Steve; Chris Clifford; Tom Browne; and former Indianapolis Colts quarterback Peyton Manning—will open The HC Lounge, which Huse said would be a one-of-a-kind restaurant with only the Fishers location.
"I think Fishers needs more of that," he said. "There is so much homogenization in some of our cities and towns. This will be a unique restaurant."
"HC" refers to Hamilton County, Huse said, although it's also a nod to Huse Culinary.
The cost of the project will total between $4.5 and $5 million, including $1.3 million for land acquisition, Huse said. The restaurant likely will be two stories tall and about 8,000 square feet.
The average check for a lunch patron would be between $20 and $30, with the price of dinner jumping to $40 to $55 per person.
Plans for 1933 Lounge are unchanged. Its owner is St. Elmo Inc., which consists of Steve and Craig Huse. They expect to invest about $2 million in the project, which will occupy about 5,000 square feet of leased space in The Yard.
Huse expects both projects to open in October 2019. "They are just moving dirt now, and we are still in the design phase," he said.
Please enable JavaScript to view this content.