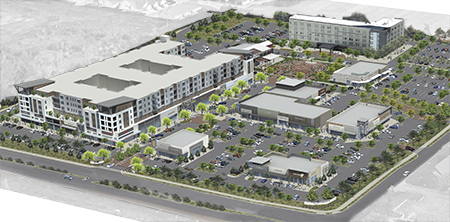 Thompson Thrift is not a flashy developer with an appetite for bet-the-company projects. It's a meat-and-potatoes operation, based in Indianapolis and Terre Haute, that mostly sticks to the script of pre-leased retail and suburban apartment complexes.
So the ambitious, $110 million, restaurant-anchored The Yard at Fishers District stands out in the Thompson Thrift portfolio. The firm last year razed 22 homes on 18 acres near the new Ikea at East 116th Street and Interstate 69 and plans to begin construction soon on its most expensive project to date. The Yard will feature about 15 restaurants, including two St. Elmo-owned concepts; a Sun King tasting room; a dual-branded hotel; and hundreds of apartments.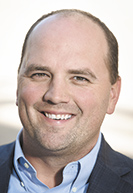 Fadness
City officials in Fishers, who sought a transformative project for the site, have agreed to sell $15 million in bonds to offset Thompson Thrift's costs for land assembly and infrastructure, waive impact fees, and support a culinary incubator run by Launch Fishers that aims to give local restaurant startups a chance to locate at a prime, high-traffic intersection that would otherwise be impossible to afford. Thompson Thrift is leasing the 3,000-square-foot incubator space to Fishers for $1 a year.
"They demonstrated a degree of persistence over the last two or three years—to be able to assemble all those properties voluntarily, to get all those homeowners to agree to a price [they were paid 150 percent of appraised value], and then to work through the approval process from an economic development perspective—it's no small feat," Fishers Mayor Scott Fadness said.
"Thompson Thrift, to their credit, jumped out of their comfort zone, and really the end product will be something more unique than traditional big-box retail or strip-center retail."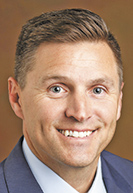 Boyd
The project certainly is a milestone for the company, which has 230 employees and active projects in 13 states, but it was no less carefully considered than the others it has built over more than 30 years in business. The company obsessively crunches data points such as population growth, demographics, and job and rent growth before greenlighting any of its developments.
"We stick to fundamentals, but when we see something we like, we get aggressive," explained Ashlee Boyd, managing partner of Thompson Thrift Retail Group and point man on The Yard at Fishers District.
The company, which has developed $1.3 billion in new projects since 2010 and does an annual volume of $350 million, began in 1986 at another moment that called for "aggressive" investment. That's when John Thompson and Paul Thrift, recent graduates of Terre Haute Baptist High School and freshmen at Indiana State University, partnered on their first deal.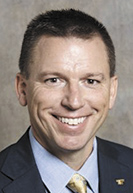 Thrift
In the run-up to the savings-and-loan crisis, banks found themselves stuck with foreclosed properties they wanted off their books. Thompson and Thrift bought one such single-family home for $3,000, spent $1,000 to fix it up, then sold it on a 20-year contract, generating a smart $300 per month of income. They were hooked. The pair repeated the formula dozens of times, using the proceeds to pay their tuition and lay the groundwork for post-graduate careers.
Initially, they didn't expect to make a career in real estate. (Thrift's major was political science, though Thompson majored in construction management). But they didn't wait for graduation to grow their ambition: The pair developed Indiana State's first off-campus student housing built for that purpose, a 56-bed project, before they donned caps and gowns.
Thinking big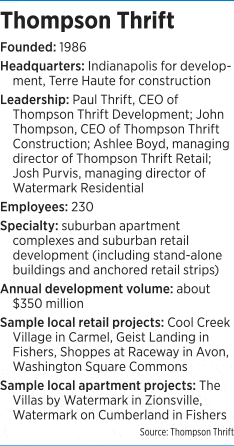 The original partnership structure stands to this day. Thrift runs the retail operation and Watermark Residential, the firm's apartment-development arm, both of which are based in Indianapolis. And Thompson runs the Terre Haute-based construction division, which a few years ago shifted its focus to in-house projects after years of mixing in work for third parties. The development arm keeps the construction side plenty busy.
Thompson Thrift prioritizes opportunity over geography, with projects in the Southwest, Southeast and Midwest, including major deals in Denver, Phoenix and Houston. About 75 percent of its development dollars are spent on apartments and the other 25 percent is targeted for retail; the company holds onto about half its projects and sells the rest to investors, Thrift said.
The Fishers project is a departure from the traditional Thompson Thrift playbook. But developments anchored by a cluster of restaurants have appeared in other markets, said veteran retail broker Connie Niessink, a principal in Indianapolis-based Niessink Commercial Real Estate.
"I think it's exceedingly cool we are getting one here, and Thompson Thrift is extremely capable of pulling it off," said Niessink, who noted a firm with a lesser reputation and balance sheet might struggle to pull off a project anchored by local restaurants, which are generally less-well-capitalized than national competitors. (While there are no "traditional" anchors at The Yard at Fishers District, plenty of traffic drivers are nearby, from Ikea to Topgolf to several office buildings.) "They can afford to take a risk, and if I know Paul [Thrift], it's a very calculated risk."
Thrift said the firm might wind up exporting the model to other cities, as consumers change how they engage with retail space—and do more of their shopping and dining from the confines of home.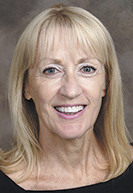 Niessink
Most big-box chains are downsizing their retail footprints, and chain restaurants are pulling back, too. Restaurant traffic was flat in 2017, continuing a years-long trend, even as the economy grew, reports Chicago-based data tracker NPD Group. Restaurants are fighting the trend by offering more discounting and more customization options on menus, and aiming for unique, "experience"-driven dining.
"Without innovation, operators will fall out of the consideration set and risk being overlooked by a large portion of the U.S. population," NPD analysts noted in a 2017 report.
'Uniquely transformative'
The Yard at Fishers District, walkable with green space at its center, is designed to provide an experience that's differentiated from traditional suburban restaurants that float on a sea of surface parking serving big-box retailers and grocery stores.
"It's a dynamic period of change in the retail industry," Thrift said. "As people are looking much more into experiential and service-oriented retail, we think the Fishers area will reward a restaurant-centric development. We're also seeing a lot of interest from restaurateurs." He said Thompson Thrift has pre-leased much of the space and to expect more tenant announcements soon.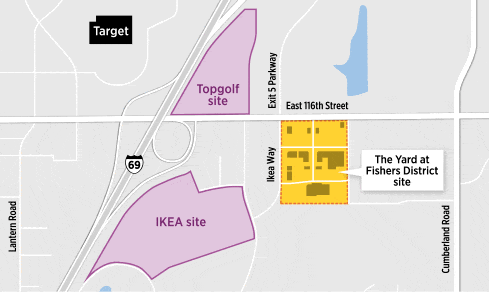 Thompson Thrift began pursuing the purchase of the homes in the Springdale Estates neighborhood, "just knowing it was a good piece of real estate, a good property that we wanted to own and develop," Boyd said.
The culinary focus grew out of discussions with Fadness, Boyd said.
"The city was very focused on doing something that was a very strong benefit to the community, as were we," Boyd said. "The No. 1 complaint the mayor gets is, there is not enough variety of restaurants."
Fadness noted that Thompson Thrift continues to develop other projects in the city that fall within their "normal wheelhouse," but if the "uniquely transformative" Yard development goes well, he'd like to work with the company on other innovative projects.
Thrift noted it would be tough to replicate the comfort level Thompson Thrift feels in tackling such a project in a market like Fishers, which the firm knows well.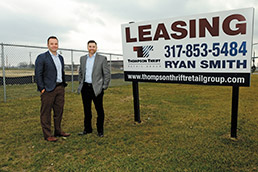 Josh Purvis, left, leads Thompson Thrift's apartment unit, Watermark Residential. Ashlee Boyd leads its retail unit. (IBJ photo/Eric Learned)
The key to replicating the Fishers project elsewhere will be to find the right location and timing—discovering a section of a target city like Charlotte, North Carolina; Tampa or Orlando, Florida; Denver; or Las Vegas that is underserved by restaurants, said Boyd, the company's retail chief.
"All of those cities have the ability to support a project like this," he said. "The challenge is to find the right drivers and environment."
But, true to form, Thompson Thrift isn't in a hurry or even eager to make a big splash: "We're not seeking out high-profile projects just for the sake of getting attention," Thrift said. "We're not a me-too developer. I'm much more concerned with developing projects in which we're providing a service for a community and [that] are fundamentally sound."•
Please enable JavaScript to view this content.