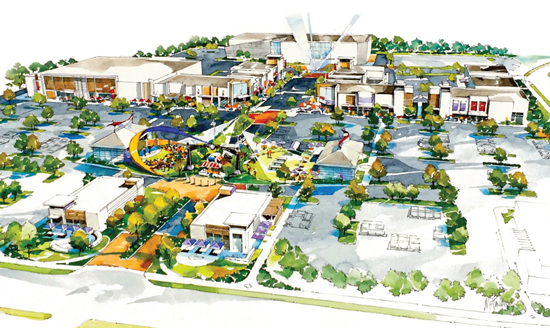 Fishers has lined up the first two tenants for its planned culinary-centric real estate development near Ikea and TopGolf, Mayor Scott Fadness announced Wednesday morning.
Two existing concepts from St. Elmo Steak House operator Craig Huse—Burger Study and 1933 Lounge—will take two spots in The Yard at Fishers District, a 17-acre project on 116th Street east of Interstate 69 that is expected to include as many as 25 to 30 restaurant, entertainment, retail and service tenants.
Burger Study opened early this year in 5,000 square feet in Circle Centre mall in downtown Indianapolis. The restaurant serves high-end "adult" burgers made with prime ingredients. The restaurant will be housed in 6,000 square feet of space in Fishers.
The renovated second story above the iconic St. Elmo Steakhouse downtown at 127 S. Illinois St. contains the 1933 Lounge, a bar that also serves small plates of food and appetizers. It will take up about 5,000 square feet in Fishers.
Both establishments are expected to open in 2019.
Chelsea Hudelson, retail marketing coordinator at Thompson Thrift Retail Group, said another tenant has signed a lease and will be announced soon.
The 28-home Sprindale Estates neighborhood has been razed to create room for the development. Fadness said the project is on schedule to break ground in the spring.
He said the development is receiving "a lot of interest" from potential tenants and leasing activity is "doing well." The project has received several commitments from other tenants who aren't yet ready to announce their plans.
Fadness said it was "exciting" to land two concepts from a "top-class" restaurant operator like St. Elmo.
"In Indianapolis, St. Elmo is a household name," he said. "And for those two to make their first venture into the suburbs really reaffirms what we've been talking about with this development."
The Yard at Fishers District was announced a year ago. The original plan called for a $40 million to $60 million project that would include 10 to 12 lots for restaurants and entertainment venues, along with 3,000 square feet of space for a culinary incubator that would be controlled by the city.
The restaurants in the development are expected to provide a mix of local, regional and national eateries and fill the void of upscale restaurants in Fishers.
Hudelson said the site plan is "always changing" based on leasing interest, but the concept remains the same. She expects there to eventually be 10 to 12 restaurants among a mix of 25 to 30 dining, retail, service and entertainment tenants.
Huse said St. Elmo and its offshoots already receive a lot of business from Fishers residents, so he expects them to do well in Fishers.
"Even though it's an extension of St. Elmo, we'll put a unique stamp and flavor on it so that it's got that authenticness that everybody wants," he said of the Fishers additions.
Please enable JavaScript to view this content.