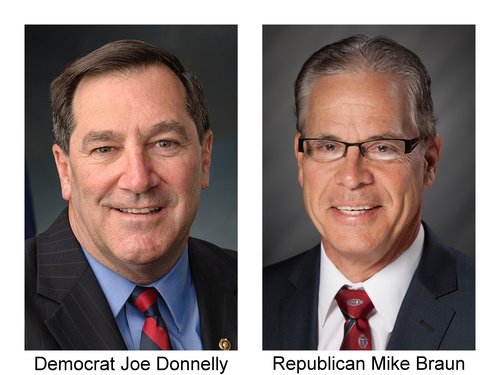 One of the first independent polls of the general election season shows Indiana's U.S. Senate race slightly leaning Republican.
In the poll conducted by SurveyMonkey and media start-up Axios, Democratic incumbent Joe Donnelly is down two percentage points to Republican challenger Mike Braun, but that deficit is well within the margin for error of 5 percentage points.
Indiana's Senate race is expected to be one of the most-watched in the country, as Democrats try to win back control of the U.S. Senate and Republicans fight to keep their majority.
President Donald Trump won Indiana by nearly 20 points in 2016, so Republicans see an opportunity to oust Donnelly.
The online poll was conducted June 11 to July 2 and surveyed 952 registered voters in Indiana. Of those polled, 47 percent said they would support Donnelly, while 49 percent selected Braun.
The poll also questioned nearly 12,000 voters in other battleground states of Arizona, Florida, Michigan, Missouri, Montana, Nevada, North Dakota, Ohio, Pennsylvania, Tennessee, West Virginia and Wisconsin.
Democratic senators in North Dakota and Florida could also lose their seats, according to poll data.
It's one of the first independent polls on the Donnelly and Braun matchup. A poll released by Gravis Marketing in May found that 45 percent of respondents said they would vote for Braun, while 44 percent said they would vote for Donnelly.
The margin of error in that poll was plus or minus 4.9 percentage points.
Please enable JavaScript to view this content.