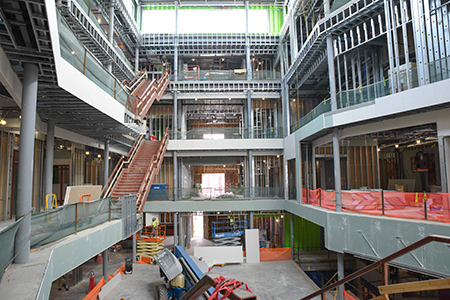 Standing on an outdoor patio atop Butler University's five-story Lacy School of Business building that's under construction, Dean Stephen Standifird jokes that a large, empty planter is so big it could double as a hot tub.
The $45 million building is the cornerstone of a campus transformation costing nearly $250 million that the private school launched following President James Danko's arrival in 2011.
"My vision at the beginning was to gain national prominence," Danko said. "There was too much Midwestern modesty with Butler, and we need high aspirations."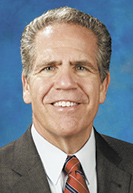 Danko
The building boom includes two new residence halls—one completed in 2016 and another wrapping up this summer—costing a total of $86 million. In addition, forthcoming renovations to Holcomb and Gallahue academic halls, including the construction of a third building linking the existing structures, will expand the school's science program and are expected to cost $95 million.
Danko, who previously served as dean of the Villanova School of Business, envisioned before arriving at the Butler campus that it would be much like the suburban Philadelphia college—pedestrian-friendly with a large gateway marking its boundary.
He instead was greeted by a sea of vehicles lining Sunset Avenue—the eastern boundary and main entrance to Butler—marring any thoughts he had of a "campus-like feel."
"What's with all the cars?" Danko recalled thinking.
After spending a few years in planning mode, Danko embarked on an upgrade to Sunset. The $3 million project, including a $1.5 million contribution from the city, installed a boulevard lined with trees, in addition to sidewalks and bike lanes, to distinguish the college from the surrounding neighborhood.
Butler's national name recognition, in the meantime, had soared to new heights following consecutive trips by its men's basketball team to the NCAA championship game in 2010 and 2011.
The college began receiving more applications, and still is. This fall, it will welcome 1,350 freshmen, besting the record of 1,255 set in the fall of 2016. Enrollment will climb to 4,600—also an all-time high.
"Higher education has become extremely competitive, especially for privates," said Bruce Arick, Butler's vice president of finance and administration. "Jim's vision was, 'Look, we're a private university; we want to provide a platinum experience.'"
Officials are building new dorms. (IBJ photo/Eric Learned)
New student housing
In addition to sweeping the cars from the street, Butler officials decided surface lots scattered across campus needed to go. So the university in 2014 embarked on a $20 million, five-story, 1,000-space parking garage with retail space on the ground level, freeing up the surface lots for building projects.
The $43 million Fairview House residence hall, built on the Irwin Library parking lot along Sunset Avenue, opened in fall 2016. It features 633 beds in pod-style dorm rooms and amenities such as study lounges, a fitness center and entertainment room.
Butler partnered with Austin, Texas-based American Campus Communities to build Fairview House, as well as the 640-bed Irvington House, under construction on land where the demolished Schwitzer Hall sat at the south end of the campus. It should be ready for the upcoming school year. Built in 1953, Schwitzer was the oldest residence hall on campus.
American Campus Communities financed the $86 million cost of the two student-living projects in exchange for a cut of the revenue.
Another old dormitory, Ross Hall, was slated to close this year. But university officials decided last year to keep it open, at least for a while, to help alleviate the strain of record enrollment.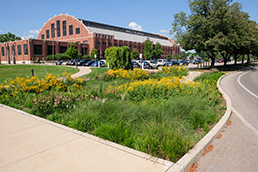 President Jim Danko wants to provide "a platinum experience,"Vice President Bruce Arick says. Toward that end, officials are building new dorms, eliminating surface parking lots and improving the streetscape. (IBJ photo/Eric Learned)
Butler's trustees had considered renovating Schwitzer and Ross halls, at a total cost of $50 million. But Danko recommended replacing at least one of them (Schwitzer for now) and shifting construction costs to American Campus Communities. That way, Butler could preserve capital for more core educational uses, Danko said.
"Turn student housing over to the experts, just like we do food services," he reasoned. "Let people who know what they're doing do it."
South of the campus, on West 42nd Street, Butler in December bought Christian Theological Seminary's buildings and 40 acres of land for $20 million.
The university plans to move its College of Education into the main building, because CTS didn't need as much space anymore, Danko said. It will rent what space it needs from Butler. The university also can set aside the adjoining acreage for future growth, he said.
Big donations
With student housing checked off, Danko and trustees proceeded with plans for the $45 million Lacy School of Business building. A $25 million gift from longtime Indianapolis business executive Andre Lacy (before his death in November) and his wife, Julia, provided the boost to break ground in June 2017.
In recognition of the contribution, the largest in university history from an individual or family, Butler renamed its business school in honor of Lacy. The university still is seeking a separate name donor for the building itself, which is under construction on a surface lot adjacent to Irwin Library. It's slated to open in the fall of 2019.
Another longtime local businessman, Rollie Dick, and his wife, Cheri, have given $1 million toward the cost of the building. Rollie is a university trustee, and the couple is a longtime supporter of the university. Neither is a graduate of the college, but that hasn't discouraged them from contributing.
"I've fallen in love with Butler," Rollie said.
The new building is necessary to meet increasing student demand for the business program, said Standifird, the school's dean. In the past 10 years, the faculty has swelled from 32 to 54 while program enrollment doubled, to 1,300 undergrads.
The 104,000-square-foot building will seem quite spacious compared with the 17,000 square feet the business school is crammed into in the Holcomb Building.
"One of the things I get excited about is that the Lacy School of Business has gone through some significant growth despite horrible, inadequate facilities," Standifird said.
The limestone building boasts an atrium on the ground level with an uninhibited view all the way to the top. Designers mulled a glass roof but reconsidered because of potential noise from rain. Windows, however, will line the floors to provide plenty of sunlight.
Offices and classrooms encompass the atrium, all the way to the fifth level.
"It's a forward-looking interior with a lot of glass and a ton of transparency," said Jeff Olson, an associate principal at CSO Architects. "Instead of being compartmentalized, it's a really open space to encourage collaboration and interaction."
Locally based CSO is assisting Goody Clancy in Boston as architects on the project. Indianapolis-based Messer Construction is the construction manager.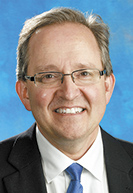 Standifird
Standifird looks forward to the experiential-education opportunities the building will create for students.
"We're really making it inviting for the business community," he said. "You can't tell where the business-community space stops, and the school begins."
An Einstein Bros. Bagels shop will provide a place to grab a coffee, with collaborative space available to the outside business community.
Other elements include a recruiter lounge, an investments training lab ($2 million of Butler's endowment is operated by business students), and coworking space.
The Old National Bank Center for Closely Held Business will move into the building, from a "renovated maintenance closet" in Holcomb.
Standifird hopes to launch three more educational centers, including one for insurance education. Wealth management is another possibility.
"That building is transformative, in terms of the way we're going to bring to life business education and the integration of the business community," Danko said.
Also on the drawing board is the $95 million in renovations to Holcomb and Gallahue, both built in 1970, to expand the science program.
The improvements to the two buildings should be finished in the next five years but won't start until construction of the business school is finished.•
Please enable JavaScript to view this content.