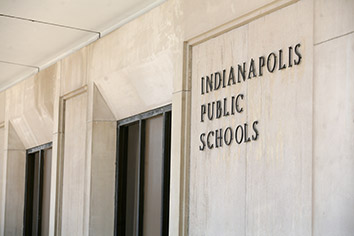 In a plan unveiled Wednesday, the Indy Chamber is proposing sweeping cuts to save Indianapolis Public Schools nearly $500 million over eight years—and drastically slash the amount the district would seek from taxpayers in referendums by more than a half-billion dollars.
But the group acknowledges that the plan would come with painful school closings, dramatic reductions in busing and cuts to staffing.
The Indy Chamber's four-month financial assessment was crafted with permission from IPS by consultants from Faegre Baker Daniels Consulting and Policy Analytics LLC, who had access to information and prior reports from the school district.
The proposal still calls for raising $152 million over eight years through referendums, but that's down from the $725 million that the district was set to propose last fall.
The plan comes at a precarious moment for IPS, which intends to seek more funding from voters in November, but has not yet released the full details of its request. Now, school officials are in a bind: If they adopt the chamber's plan, or something similar, they will need to dramatically overhaul district spending in the coming years. Alternatively, if they reject the austerity measures, they could struggle to persuade voters that more funding is essential.
The largest savings in the chamber's plan, which were calculated over eight years, would come from:
Reducing the number of teachers through attrition ($126 million).
Eliminating busing for high school students and relying on public transit ($121 million).
Reducing unused space, likely by closing schools ($100 million).
Cutting the central office staff by 50 percent ($33 million).
Reducing the number of custodians ($19 million).
Another $62 million would come from "operating efficiencies," a bucket term that includes wide-ranging suggestions such as cuts to classroom assistants, contracting out nursing, expanding health savings accounts for employees, and switching to an internet phone system.
The plan also includes two potentially controversial real estate deals. It calls for leasing the Broad Ripple High School building to Purdue Polytechnic High School and Indianapolis Classical Schools, which runs Herron High School. That proposal has ignited controversy in recent weeks, as local political leaders have put increasing pressure on the district to accept an offer for the building, while IPS officials have said they plan to have an open process to gauge interest. The chamber is also calling for the district to look into selling its central office building, which officials are already considering.
The chamber contends that the cuts it recommends could balance the district's budget—which is projected to have a deficit of about $45 million next school year. But the chamber is also proposing $243 million in extra spending on teacher and principal pay to reduce turnover and make IPS more competitive with nearby districts.
IPS spends the most per student of any comparable district, according to chamber data from 2016-17. But its teacher pay is relatively low compared to other districts, especially for mid- and late-career teachers. In part, that's because the district only spends about 47 percent of its budget in classrooms, according to the chamber.
Under the chamber's plan, teacher and principal pay would go up by 16 percent by 2020-21. After that, all IPS employees would receive 2 percent raises each year.
To fund those raises, the chamber is proposing increasing local funding by $100 million for operating expenses, such as teacher pay, over eight years by asking voters to approve tax increases. The plan also includes a second tax measure to raise $52 million for building improvements, primarily focused on safety, that was announced by the district in June.
That's a significant decrease from the district's original proposal for referendums. Indianapolis Public Schools officials announced last year that they would seek nearly $1 billion more over eight years from local taxpayers in May. After that plan failed to gain support from community leaders, and was criticized by groups such as the MIBOR Realtors Association, the district first reduced its request and then delayed the vote until November.
That delay was made at the request of the Indy Chamber. In exchange, the group committed to analyze Indianapolis Public Schools finances, help craft a new request, and lend its political support to the tax measures. At the time, it appeared that the chamber was offering the district much-needed succor. But the agreement also put the district in the uncomfortable position of inviting the chamber to offer cuts.
Chalkbeat is a not-for-profit news site covering educational change in public schools.
Please enable JavaScript to view this content.