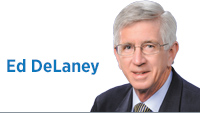 Leaders develop values, pursue meaningful policies and enforce discipline. But winning elections does not equate with acting like leaders.
The Indiana supermajority has cemented its control over our politics and substituted that control for leadership. So the purpose of incumbency becomes, not the assertion of leadership, but the preservation of control.
This strategy doesn't work for the public nor does it work for the supermajority. What is the value of incumbency if you stand for nothing and accomplish nothing?
So what are the values of the supermajority in Indiana? Certainly, they do not include the protection of decency. If they did, Indiana Republicans would long ago have condemned the mendacity flowing out of the White House and Congress. Instead, they threw Dick Lugar out and now stand silent while the president undermines Dan Coats and the intelligence community. Is Trump or Curtis Hill now the model we present to our grandchildren?
Indiana politics long revolved around a simple dynamic: Democrats favored limited government action and hoped for success from efforts in the areas of education, infrastructure and support for a living wage. They favored increasing equality for our minorities. Hoosier Republicans did not directly reject these values but were constantly claiming to be afraid they could not be effected at a reasonable cost. They wanted to go slowly and keep taxes low for everyone.
Together, the two parties kept taxes moderate for everyone but expected that taxes would be balanced. Taxes were to be collected on estates and from corporations, not just on income and consumer purchases.
Gerrymandering has put an end to this dynamic. Indiana's supermajority need not pay any attention to the Democrats or to values we once shared. Instead, Republicans need only to look at their primaries. Instead of keeping taxes low for everyone, the dynamic has been changed to keeping taxes low for those who have assets. Thus, we ended the inheritance tax and have lowered the corporate rate so that it produces little revenue.
And the supermajority is no longer sure public education can, or even should, succeed. What can Bob Orr think as he looks down on this spectacle? We no longer focus on building highways but instead concern ourselves with who can be enriched using complicated financing mechanisms. Unions are no longer to be reined in but are to be eliminated.
So the Indiana Republican Party has lost its mission. Does that mean it also needs to surrender leadership? Sadly, yes. If you have no value other than victory, you cannot lead. So when there are credible claims that a Republican "hero" molested multiple women who serve in or work for the Legislature, you cannot act.
Instead, you become immobilized by fear that the voters whom you subjected to Mr. Hill might turn on you. The Republican Party picked Hill at a convention and then sold him as a model of leadership and morality. Well, he doesn't seem to be that. Leaders would act on that.
The General Assembly has the right and duty to protect its members and its staff. Yet its leadership remains inert and inactive. It defers to the inspector general, who runs an obscure agency with limited power.
The Republican leaders of the Legislature aren't worried about women members or employees. They aren't worried about morality. They are worried about the 2020 primaries. The public can relieve them of these fears this November. It just needs to send them home in large numbers. That might result in a return to decency and to real leadership.•
Click here for more Forefront columns.
__________
DeLaney, an Indianapolis attorney, is a Democrat representing the 86th District in the Indiana House of Representatives. Send comments to ibjedit@ibj.com.
Please enable JavaScript to view this content.