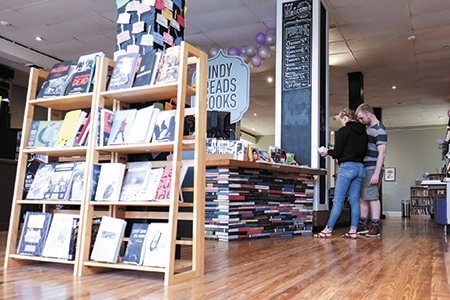 It wasn't long ago that independent bookstores were commonplace and every mall, it seems, had at least one chain store.
The rise of Borders in the 1980s helped bring huge selections to mainstream audiences—along with parades of author events—but also served to wipe out most small stores. That era, in turn, ended with the rise of Amazon (remember when it was primarily a bookseller and not an everything seller?) and online book buying at discounts threatened to wipe out brick-and-mortar retailing.
Today, a few chains have held on—with Barnes & Noble and Half-Price Books still satisfying buyers of books both new and used in central Indiana. But some of the independents managed to weather the storm as well. And gutsy newcomers have opted in to this challenging market.
Here's a rundown of some of the independents still pushing paperbacks, offering honest staff recommendations and otherwise keeping local lit alive.
Book Rack Indy
(1930 E. Stop 13 Road)
Situated in a strip center just north of Greenwood Park Mall, Book Rack Indy offers frequent sales and strong and continued outreach to customers via Facebook.
Books & Brews
(multiple locations)
Once upon a time, bookstores added cafes in an effort to maximize customer spending, but the rapidly growing collection of Books & Brews has fused dining, books, games and particularly beer into an experience designed to maximize customer visitations. ("Hey, let's go back for trivia night!") The selection of books varies wildly from venue to venue. At some, the books seem an afterthought; at others—such as the appealing Zionsville outpost with its book loft—they seem central to the concept.
Books on Sale
(4200 S. East St., Suite 20)
This Southern Plaza retailer specializes in used and remainder books—that is, discounted books you are likely to park on your coffee table or give as gifts. The deal here is always buy two, get two free, which can make for a heavy load. Don't judge it by the shopping mall exterior. The place is deceptively large, with plenty of comfy chairs to sink into and read a chapter or two before you make a buying decision.
Butler Campus Store
(704 W. Hampton Drive)
Sure, the focus is on T-shirts and textbooks, but the Bulldog-boosting depot also has a general book selection emphasizing fiction, humor and biography.
Indy Reads Books
(911 Massachusetts Ave.)
Even if all sales weren't going to the adult literacy charity, Indy Reads Books would still be a feel-good oasis for those who love books. Primarily selling used books but with a sampling of right-off-the-presses best-sellers, Indy Reads Books features an extensive kids section—arranged by the color of the books' spines—and a must-visit pay-what-you-want rack.
Irvington Vinyl & Books
(9 Johnson Ave.)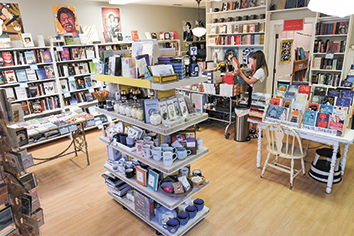 Wild Geese Bookshop opened in 2016 in a cottage in Franklin and sells literary-themed gifts in addition to books. 
The newest spot in town takes over where Bookmamas used to be. With an eclectic collection of used volumes as well as turn-up-the-volume vinyl, Irvington Vinyl & Books and its new owners have already demonstrated a commitment to local bands and community groups. Want zines? This is the place to go.
Kids Ink Children's Bookstore
(5619 N. Illinois St.)
For more than a quarter century, the go-to place in Indy for visiting kid-lit authors and the families who love them, Kids Ink offers frequent story-time readings, smart staff picks and a plethora of sidelines for sale including puzzles, creative toys and children's games.
Wild Geese Bookshop
(107 S. Water St., Franklin)
Housed in a lovely blue cottage, Wild Geese Bookshop looks like the set for an episode of "The Gilmore Girls." Opened in 2016, it sells new books and literary-themed gifts. It also has its own book club, which meets at nearby Richard's Brick Oven Pizza.•
Please enable JavaScript to view this content.