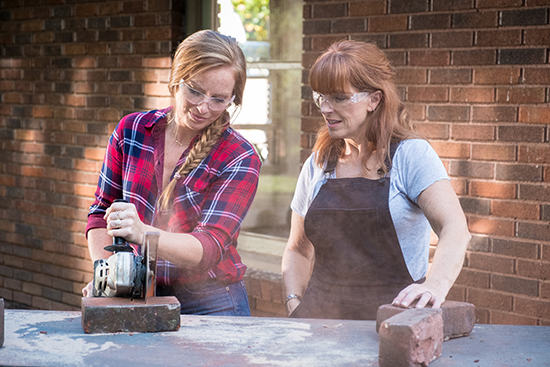 Karen Laine and Mina Starsiak, the mother/daughter duo who star on HGTV's "Good Bones," talked to host Mason King about the show's fourth season, why being on TV doesn't make you rich and why Laine is semi-retiring.
Plus, learn about the home-decor store they're planning to open and what they think about charges that they're contributing to gentrification in Fountain Square, Bates-Hendricks and other near-downtown neighborhoods.
Read more about the duo's company Two Chicks and a Hammer, and how the woman are working to diversify their incomes at our story: Priorities evolve as 'Good Bones' stars begin filming fourth season.
Click here to find the IBJ Podcast each Monday. You can also subscribe at iTunes, Google Play, Tune In and wherever you find podcasts. Here are some of our recent podcasts:
IBJ Podcast: SupplyKick CEO talks perks, pitfalls of fast growth
IBJ Podcast: Will Indy Mayor Joe Hogsett seek re-election?
BJ Podcast: Tackling sexual harassment issues in the workplace
IBJ Podcast: St. Elmo co-owner Craig Huse on Circle Centre, Burger Study and expansion in Fishers
IBJ Podcast: VP Mike Pence's 'Path to Power'
Please enable JavaScript to view this content.