A solid majority of subscribers to IBJ Daily believes climate change is a serious problem, thinks carbon emissions should be regulated, and wants Indianapolis to pursue mass transit on a broad scale, according to a poll conducted in July by IBJ.
By smaller margins, readers of the e-mail newsletter also said they'd be willing to pay higher gasoline taxes to fund public transportation and think recycling should be mandatory.
They support building nuclear power plants in Indiana—although only about a quarter of the respondents favored storing nuclear waste in the state—and back government subsidies to construct wind farms. And they're split about whether "Cash for Clunkers," the federal program designed to spur car sales and get low-mileage vehicles off the road, was a good environmental and economic policy.
IBJ, working with Walker Information Inc., an Indianapolis firm specializing in surveying employee sentiment, conducted the poll July 10-20 to determine reader attitudes about environmental issues. The survey, which was e-mailed to all 32,000 IBJ Daily subscribers, received more than 1,800 responses, leaving a margin of error of plus or minus 3 percentage points.
"People's concern about the environment, their communities and public health are both mainstream and pretty widespread," said Tim Maloney, senior policy director for the Hoosier Environmental Council, when told about the findings. "So I'm not surprised by the results."
Many IBJ Daily readers said they've made changes in their lives to become "greener." Some 77 percent said they now pay bills online rather than through the mail. They've also switched to fluorescent light bulbs (74 percent) and reusable shopping bags (60 percent). Fifty-one percent are eating more locally grown foods and 46 percent said they're driving less now than they were last year.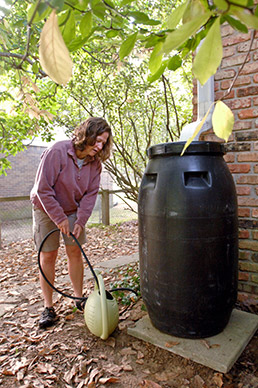 Natalie Stucky, an attorney who lives on the north side, collects rain in a barrel and landscapes with native plants to minimize her environmental footprint.(IBJ Photo/Robin Jerstad)
Only 6 percent said they have made no changes.
Many readers said they're also recycling more, cutting their use of electricity, bicycling to work, driving hybrid cars, drinking from refillable water bottles rather than throwaway plastic, planting their own gardens, or doing something else to lessen their carbon footprint.
Natalie Stucky, a north-side attorney, said she composts, tends an organic garden, landscapes with native plants, and is trying to use a rain barrel to save water. She uses her air-conditioning only when it's so hot she can't sleep, recycles everything she can, buys used clothing, books, CDs and DVDs, won't accept bags at stores unless she can't carry her purchases without them, and tries to work from home at least one day a week.
"And anything else I can think of that might help," Stucky said.
Regarding mass transit, 41 percent strongly agreed and 37 percent agreed that the city should pursue a system of bus, light rail and other options on a broad scale.
"Indianapolis cannot be a legitimate 'city' with no real commitment to providing cost-effective public transportation," said Carl Hayes, a lawyer who lives on the northeast side. "Large cities provide transit both to limit automobile traffic and as a viable means of transporting any person [regardless of wealth] from Point A to Point B. Indianapolis, heretofore, has not been committed to either of those priorities."
But Matt Nettleton of Fishers, who works in sales, said, "If the market was demanding mass transit, we would already have it. I also believe it is not the role of government to pick winners and losers in the market."
Of the respondents who favored mass transit, 15 percent strongly supported and 36 percent supported paying more in gas taxes to fund the program.
On recycling, about a third of respondents agreed recycling should be mandatory, though not as many are willing to pay extra.
Kären Haley, director of Indianapolis Mayor Greg Ballard's Office of Sustainability, said the survey findings confirm what she's seen at various public forums—and what the city is working toward.
"It tells me that we're working on the right things and we're looking in the right direction, from the Office of Sustainability's point of view," she said. "We're working to get recycling for all of Marion County residents. And obviously with the Transit Task Force [which is due to issue its report shortly] the mayor is really seriously looking at how we can get mass transit here. It all speaks favorably to things we're working on, knowing there's public support for it."
The poll also found:
• 29 percent think Indiana's air quality has gotten better in the last 20 years, 34 percent say it's the same, and 37 percent say it's worse.
• 36 percent say the state's water quality is better, 27 percent say it's the same, and 37 percent think it's worse.
• 82 percent say their workplace recycles.
• 38 percent say "greenness" is a primary consideration in the purchases they make.
The age of the respondents didn't appear to make a substantial difference in the answers. Overall, older readers tended to be more reluctant to pay more, whether for green technology or gas taxes to fund additional mass transit. But at the same time, 15 percent of both 25- to 29-year-olds and those over 65 said they'd pony up an additional 50 cents a gallon for gas if it meant an improved public transportation system.
Readers of business newspapers generally are thought to be more conservative than the overall population, but the Hoosier Environmental Council's Maloney said the environment transcends politics.
"I don't think the conservative side of Hoosiers is averse to environmental protection," Maloney said. "For a lot of us that work in the field, we don't see protecting public health and the environment as a liberal or conservative cause. It's about people and community. Concerns for those things are across the political spectrum."•
Please enable JavaScript to view this content.