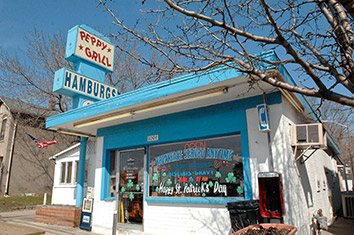 A longtime Fountain Square restaurant has been closed after a health inspection found food was not being stored at proper temperatures.
Peppy Grill, 1004 Virginia Ave., closed at the beginning of the week "for some repairs," according to a Facebook post. But, on Tuesday, the well-known 24-hour establishment that touts its reputation as a greasy spoon posted that the restaurant would "be closed for awhile."
A sign from the Marion County Public Health Department has been posted on the door of the restaurant, confirming the closure is due to health code violations. Calls to the restaurant went unanswered Wednesday morning.
It's the second time in two weeks that the restaurant has closed. Peppy Grill also briefly closed at the end of July.
Curt Brantingham, spokesman for the department, said Peppy Grill's license has been suspended because of refrigeration issues. The department received a complaint this week and investigated it Tuesday.
"We found it to be justified," Brantingham said.
The inspection report notes that mayonnaise, cheese, eggs and milk were all being stored at higher temperatures than allowed by the health department. Restaurants are required to keep refrigerators at 41 degrees or below, and Peppy Grill had been storing some food at 44 to 54 degrees, according to the report.
If and when the restaurant corrects the issue, it could be allowed to reopen.
"Essentially they let us know when they want us to come back," Brantingham said. "It's just dependent on when those repairs are completed."
According to the health department's food inspection database, Peppy Grill has been cited several times this year for various violations.
In an inspection from May 31, the department found raw meat and vegetables improperly stored together, soiled equipment and storage areas, trash on the ground around the dumpster, dirty flooring and lack of soap in the restrooms.
On March 22, an inspector cited the restaurant for 19 of the same violations.
The restaurant, which is not affiliated with the Peppy Grill on 10th Street, was founded about 67 years ago by Bill Sluder.
A representative from Peppy Grill could not be reached by IBJ.
Please enable JavaScript to view this content.