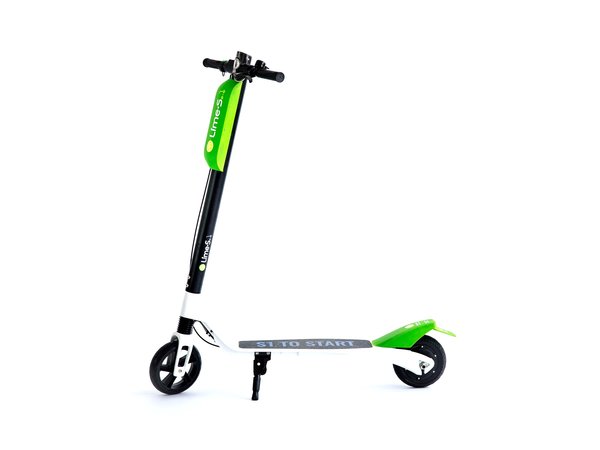 Lime doesn't just want to bring its electric scooters back to Indianapolis—it wants to do it in a big way.
The company—which pulled 300 scooters out of the city in July, just weeks after launching its dockless, app-based service here—said it has filed an application with the city to return with a fleet of 1,800 scooters.
That's six times as many scooters as it deposited on city streets in late June. And now it's considering whether to bring its electric-assisted bikes to Indianapolis as well.
Its competitor, Bird, also has filed an application with the city to bring its scooters back but has not said publicly how big its return fleet would be.
Brandi Pahl, a spokeswoman for the Department of Business and Neighborhood Services, said the agency doesn't have a timeline for making its decisions about the Lima and Bird permits.
"This is a new process and we want to make sure we get it right the first time," Pahl said.
She said city officials are also talking with the companies to clarify information in the applications.
Bird's application did not specify how many scooters it plans to bring to the city initially, Pahl said. But she said it addressed "the number they think the city can handle."
She did not release the applications immediately, saying she is working with the city's legal department to determine what can be shared publicly.
Before the license application was unveiled earlier this month, Pahl had said that the department hoped to review applications and issues licenses within a week, assuming there were no issues with third-party actors such as insurance or bond companies.
The companies first landed in Indianapolis in June, operating in a largely unregulated environment. They both charged users $1 per ride, plus 15 cents per minute.
The companies—under pressure from city officials—then pulled out, as the City-County Council worked on an ordinance that set rules and fees for their operations.
On July 16, the council approved those new regulations, which include a $15,000 annual fee for an operating permit plus a $1-per-scooter-per-day fee. City officials said they would use the fees to help improve bike lanes.
Originally, Bird was operating an estimated 500 scooters in the city. If it stayed with that number going forward, it could owe fees of roughly $197,500 annually under the new rules.
Lime initially offered about 300 scooters in Indianapolis, which would have cost it about $124,500 each year.
Lime's proposed fleet could mean an annual cost of $672,000 for the company, although an official said it is still talking with the city. And a spokeswoman said the fleet size may be adjusted, based on rider demand and negotiations with the city.
"We are continuing to work alongside the city to fine-tune a regulatory structure that will further incentivize equitable coverage by all operators," Lime Regional Manager Jason Wilde said in a statement. "We look forward to returning to Indianapolis in the near future, and ultimately, bringing more multi-model transportation options to residents and visitors."
In other cities, Lime also offers dock-free, pedal-assist bikes that, like the scooters, are GPS- and 3G-enabled. The bikes are designed to use electric power to give a boost to pedaling.
Lime officials said that as the firm's discussions with the city progress, they would analyze whether the demand exists to add e-bikes to its Indianapolis services.
Lime also announced that it has launched a program called Lime Access to help lower-income residents in all of its markets afford to use scooters. Those who qualify can save up to 50 percent per ride.
Please enable JavaScript to view this content.