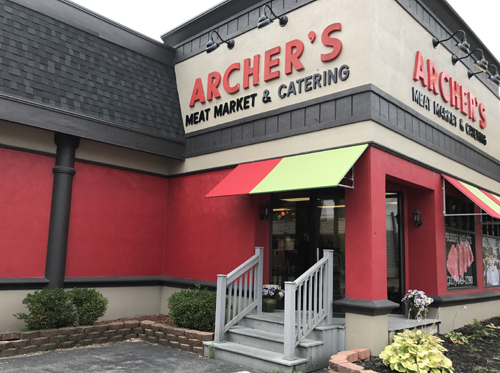 The city of Fishers is moving to ensure the former Archer's Meats & Catering property and other parcels near it get new life.
The city and Fishers-based First Internet Bank have entered into an agreement in which the bank will purchase 11 parcels for $10.1 million, including the Archer's property, in the Nickel Plate District as long as the city reimburses the bank for land acquisition costs. The agreement was approved Monday by the Fishers City Council.
Archer's Meats & Catering, one of the city's oldest businesses, closed permanently in September after 48 years in business at 8655 E. 116th St., in the heart of downtown Fishers. When it opened in 1969, the then-town had a population of fewer than 700 people.
The closure opened the door for redevelopment on the south side of 116th Street, just east of the Nickel Plate Railroad tracks. The land also include the former home of Riviera Maya Mexican Cuisine, which now operates in the former Cheeseburger in Paradise building along Interstate 69, just north of 96th Street.
Fishers hopes to see the property, which is made up mostly of one-story buildings with parking lots, converted into a mixed-use development, much like projects that have taken shape across the street, such as The Depot at Nickel Plate and The Switch.
While there are no specific plans in place for the property, the city plans to seek developers to redevelop it. The city plans to develop portions of the Nickel Plate Trail adjacent to the land, making it a key piece of property.
The agreement with First Internet Bank allows the city to preserve the property for the right project, said city spokesperson Ashley Elrod.
Brandon Dickinson, the city's economic development director, told the city council the agreement allows a sale to close as real estate costs continue to rise.  
"Every day, land prices go up," he said. "This is a good opportunity to capture approximately 3.5 acres of prime real estate on 116th Street."
Fishers plans to issue a bond that will be paid back with tax increment financing or county option income tax dollars to cover the land acquisition cost. The city has until the end of the year to do so, and at that time, the property will be transferred to the city's redevelopment commission or a third party, such as a developer.
The parcels, located west of Moore Street between 116th Street and South Street,  are owned by multiple parties.  
Originally, Boomerang Development LLC had plans to purchase the property and build a mixed-use complex. The developer had the land under contract, but those plans fell through.
The proposed $60 million development would have included apartments, office space and restaurants.
Please enable JavaScript to view this content.