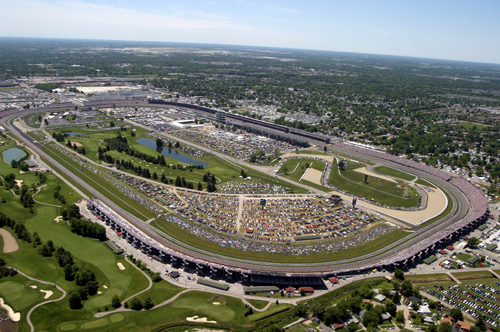 Starting today, anyone browsing Google Maps will be able to explore a 360-degree view of the Indianapolis Motor Speedway packed with fans for the 2018 race.
A Google Street View team circled the 2-1/2 mile track by truck—taking 360-degree images along the way—just minutes before the green flag dropped for this year's race.
Those images—which were then stitched together to create continuous views of the track—will now be the default street view of IMS on the Google Maps app, which can be accessed from any web browser.
The images are also available at ims.com/RaceView, where viewers can navigate around the track and spin the view to see fans, race teams, the pagoda, the grandstands and more. Even the stage in the Snake Pit in turn 3 is visible.
The images were created as part of a collaboration between IMS and Google.
"Indy 500 Race Day is the definition of pure spectacle and pageantry," Indianapolis Motor Speedway President J. Douglas Boles said. "There's nothing quite like it, and this special project makes Race Day accessible to people around the globe 365 days a year."
Google has canvased the U.S. and much of the developed world using street-view cameras to shoot panoramic images that are accessible through Google Maps. The images allow users to drill down into a neighborhood, for example, and see an image of a house or park at eye level, rather than from overhead.
In recent years, Google has started using special cameras that create 360-degree views at street level. That's the technology Google used to shoot IMS.
Mike Abrams, an Indianapolis native and senior account executive at Google, coordinated the project.
"At Google it's always been our goal to help people go where they've never gone before, so we sent a street view camera around the track just moments before the green flag was waved and the racers put the pedal to the metal," Abrams said in a statement. "Now, everyone can get a bit closer to the action."
Please enable JavaScript to view this content.