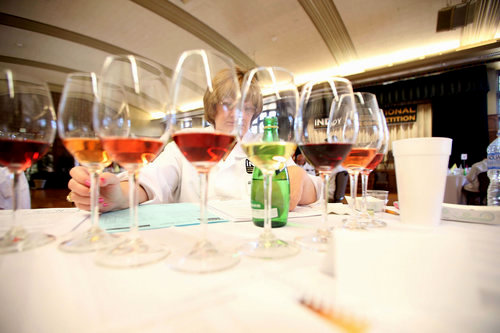 Just two decades ago, Indiana had no grape and wine industry worth talking about. But today, more than 100 wineries dot Indiana.
The annual grape harvest (and the 2.4 million gallons of wine it makes) generates an economic impact of $600 million, sustains 4,000 full-time jobs, and pays $37 million in state and local taxes and $38 million in federal taxes.
The growth is thanks in part to the Purdue Wine Grape Team, a group funded by a 5-cent excise tax on every gallon of wine sold in Indiana.
Founded in 1991, the team is an agricultural extension program composed of enology, viticulture and marketing specialists who assist Indiana winemakers and grape growers.
IBJ Podcast host Mason King talks to two of them — Bruce Bordelon and Jill Blume — about Indiana's wine industry, what makes it special and what to expect in the future.
You can read more about the Indiana wine industry at IBJ.
Click here to find the IBJ Podcast each Monday. You can also subscribe at iTunes, Google Play, Tune In and wherever you find podcasts. Here are some of our recent podcasts:
IBJ Podcast: Park debuts with perch over two interstates
IBJ Podcast: What will it take to turn the Brickyard 400 around?
IBJ Podcast: Why business execs say the state needs a hate-crime law
IBJ Podcast: At 57, she's quitting her gig as a top executive to volunteer around the world
IBJ Podcast: Stars of HGTV's 'Good Bones' on making a living, changing neighborhoods, and what's next
Photo for this episode by Tom Campbell, courtesy of Purdue Agricultural Communication .
Music for this episode:
Jazz Shuffle Blues by texasradiofish (c) copyright 2014 Licensed under a Creative Commons Attribution Noncommercial (3.0) license. Ft: Bluemillenium, Copperhead, David Merrick, ElRon XChile, Jeris, Annon, Rey Izian, Javolenus, Speck, Kara Square, Chuck Berglund, Nickleus, Fireproof Babies, My Free Mickey, DJ Snyder
Please enable JavaScript to view this content.