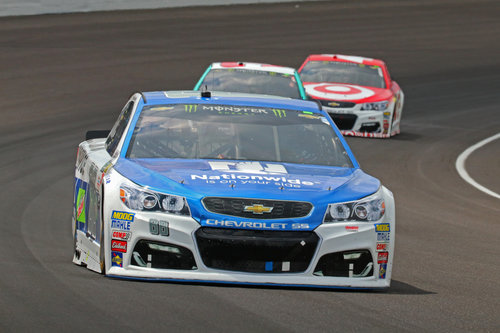 NASCAR's Brickyard 400 drew a crowd of 275,000 people when it debuted at the Indianapolis Motor Speedway in 1994. And it came at a great time, as then-Speedway President Tony George created the Indy Racing League, which depressed Indy 500 interest for years. 
But fast forward 25 years and the Brickyard 400 is facing its own issues. Last year, only about 70,000 people attended the race — although it did turn a profit.
Host Mason King interviews IMS President Doug Boles about the track's efforts to turn the race around — including moving it to a cooler date and adding a dirt-track race. And then King talks with IBJ's Anthony Schoettle about whether those efforts are likely to work.
Read Anthony's story about the Brickyard 400 for even more information.
Click here to find the IBJ Podcast each Monday. You can also subscribe at iTunes, Google Play, Tune In and wherever you find podcasts. Here are some of our recent podcasts:
IBJ Podcast: Why business execs say the state needs a hate-crime law
IBJ Podcast: At 57, she's quitting her gig as a top executive to volunteer around the world
IBJ Podcast: Stars of HGTV's 'Good Bones' on making a living, changing neighborhoods, and what's next
IBJ Podcast: SupplyKick CEO talks perks, pitfalls of fast growth
IBJ Podcast: Will Indy Mayor Joe Hogsett seek re-election?
Photo courtesy of the Indianapolis Motor Speedway
Please enable JavaScript to view this content.