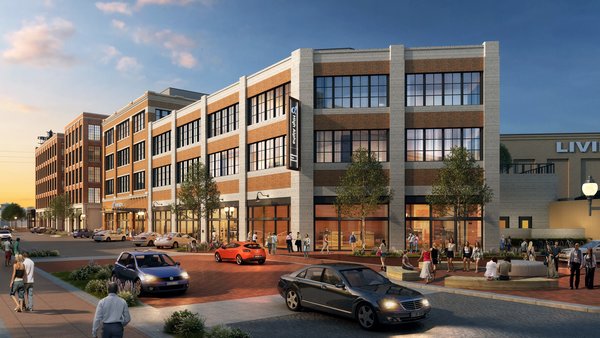 Hendricks Commercial Properties has landed its first office tenant for the $300 million Bottleworks development at College and Massachusetts avenues.
Indianapolis-based "venture studio" High Alpha Studio LLC said Thursday that it will move its office from the 14th floor of the historic Circle Tower on Monument Circle to the Bottleworks District in summer 2020.
Hendricks did not disclose how much space the 3-year-old studio will lease. The developer said the firm will anchor the first office building it constructs in the project.
"We're excited. These guys are a pretty special group in terms of building the second generation and third generation of tech in Indy," Hendricks Vice President Isaac Bamgbose said.
High Alpha—founded by tech entrepreneurs and investors Scott Dorsey, Kristian Andersen, Mike Fitzgerald and Eric Tobias—creates and funds startups through mentoring and venture capital. Its studio companies include Sigstr, Zylo, Lessonly, Doxly and Pattern89. The company recently raised more than $100 million for two new venture funds.
"The Bottleworks project closely aligns with our core values of dreaming big and expecting more," Andersen said in written comments. "We are thrilled to be affiliated with such a progressive and dynamic mixed-use development. We believe it will be the perfect location for us to continue serving entrepreneurs and contributing to the growth of the Indianapolis tech community."
Beloit, Wisconsin-based Hendricks has been adding to the tenant roster at the 12-acre mixed-use Bottleworks project since receiving final approval last year to redevelop the former Coca-Cola bottling plant property.
The development will span 1.2 million square feet and include apartments and condos, as well as office and retail space. Hendricks already has lured a 150-room West Elm hotel, a Living Room Theater art-house movie venue and is planning a 30,000-square-foot food hall.
Securing office tenants will be key to making the overall project successful, Jeremy Stephenson, president of apartment developer Milhaus, said Sept. 12 at IBJ's Commercial Real Estate Power Breakfast.
The project will have about 180,000 square feet of office space and 175,000 square feet of retail space. Stephenson, who is not involved in Bottleworks, said the office tenants will boost foot traffic in the area, generating customers for the retailers.
Another panelist at the breakfast, office broker Jenna Barnett, executive managing director of Newmark Knight Frank, said the limited amount of office space available on Massachusetts Avenue has been full for years.
She said she's confident there will be strong demand for Bottleworks' office space. She said office tenants will be able to use the location as a selling point when they are attracting employees.
"People are going to be able to live in the area and walk to work—there's going to be a great energy," she said.
Barnett represented High Alpha in the Bottleworks lease deal. Matt Langfeldt and Rich Forslund of Colliers International represented Hendricks Commercial Properties.
Hendricks paid $12 million to buy the property from Indianapolis Public Schools after the Indianapolis Historic Preservation Commission approved the development's design in July 2017. Last month, the commission OK'd revisions to the design.
The former Coca-Cola bottling plant, constructed in 1931, served as the IPS Service Center beginning in 1971. The school district approved a recommendation to sell the site to Hendricks in May 2016.
The first phase of the project is expected to be completed in spring 2020, with three additional phases to follow.
Please enable JavaScript to view this content.