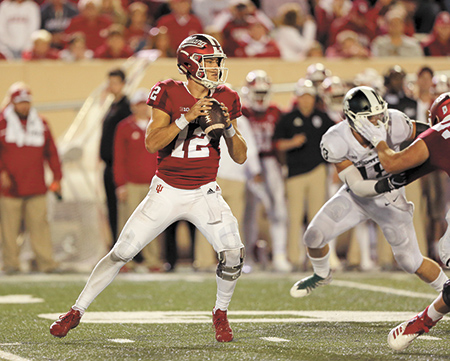 OK, there's the Peyton Manning statue outside Lucas Oil Stadium.
And, yeah, there's the Peyton Manning banner in the Colts Ring of Honor.
And, sure, there's Peyton Manning Children's Hospital.
But here's another homage to a certain former Colts quarterback that is vibrant to this day, in several places, and impossible to miss. For example, an Indiana University touchdown back in the season opener against Florida International.
Back to pass was sophomore quarterback … Peyton Ramsey. Making the catch for the score was freshman tight end … Peyton Hendershot.
Or, we could drive up to Henry County and see the Shenandoah Raiders, who are 5-1 and ranked in the top 10 in Class 2A, behind the junior quarterbacking of Peyton Starks. A quick check of several Indiana high school rosters finds a number of Peytons out there.
Clearly, there are parents who went into the delivery room as big Manning fans. Then again, it wasn't always the mom or dad.
"My parents didn't know what to name me," Hendershot said. "My older brother loved Peyton Manning and Brett Favre, so my parents chose Peyton instead of Brett."
Good thing, too. "I wouldn't have wanted to be a Brett," he said. And just think of the possibility if Austin Hendershot's favorite Manning quarterback had been Eli, not Peyton. "I can't imagine calling myself Eli," Peyton Hendershot said.
As for the Peyton who throws passes for the Hoosiers, Ramsey's father, Doug, is a high school football coach in Cincinnati. Remember that, as we consider the names of his sons.
First in birth order, there was Montana Ramsey, in honor of Joe. He goes by Tanner.
Then came Peyton.
Then came another son. Drew. "That's after Bledsoe, not Brees," Peyton said. "But I'm sure he's wishing people do think it's Brees."
In Doug's playing days, guess what position he played? Right. "I think he just wanted to carry that quarterback legacy on, and hopefully one of us was going to pan out," Peyton said.
Meanwhile, at Shenandoah, Starks is also continuing a family tradition, only in a different sport. "I have a brother named Grant and another brother named Jordan. Grant Hill and Michael Jordan," he said. "My parents just went along with that."
A couple of things to sort out here. One, how often these guys get asked about their first names.
"Hundreds and hundreds. Like teachers on roll call the first day," Hendershot said.
"Countless number of times, throughout my life. Especially since I'm a quarterback, I think they might ask even more," Ramsey said. "The funny thing is, I remember a quarterback last year referenced my name and said 'Peyton Man … and then he paused and said, 'I mean, Peyton Ramsey.'"
Starks said introductions to strangers usually start with the same question, once they've gotten a load of his first name.
"Peyton Manning, right?"
"Yeah, we can go with that."
Another thing. Are we talking huge Manning fans here, or what?
Hendershot: "When I grew up, Peyton Manning was my guy. He was my favorite player of all time. I loved everything he did—personality outside of football, everything."
Ramsey on having to live with the fact his brother Montana is named after a quarterback with more Super Bowl titles: "He had a Joe Montana football card collection, but I don't think he necessarily was as big a Montana fan as I am a Manning fan. We go back and forth on who's named after the best quarterback. In my heart, I think everybody knows it's Peyton Manning."
Starks: "I've always been a Bears guy. When we played them in the Super Bowl, I was kind of rooting against [Manning]. But he's been a real good guy."
Still, Starks has done the name proud by throwing 13 touchdown passes so far this season. "I don't know a lot of Peytons, so I like it," he said. "The only other Peytons I know are girls. I guess that's kind of embarrassing."
Oh, well. Not every Peyton can be a Manning booster. And there are a bunch out there. According to the Social Security Administration, Peyton first cracked the top 100 of most popular names for newborn boys in Indiana in 2000, Manning's third season. It reached its highest rankings—65th and 66th—in 2006 and 2007. No coincidence that, along about then, the Colts were winning the Super Bowl. There were 160 boys in the state named Peyton in '06, and again in '07.
The name fell out of the top 100 in 2011. Come to think of it, that's when Manning fell out of the Colts lineup. Soon after, he became a Denver Bronco. By the way, the Social Security website detects no rush on Peyton babies in Colorado this decade.
But the Peyton wave might be rolling through high school and college football in Indiana for a good many years. And now there are two in the same Hoosiers lineup, which amuses both of them. When they met, it was one of the first things they asked each other—Peyton Manning? Peyton Manning.
"First of all, I think it's really unique," Ramsey said. "And secondly, we've got coaches yelling Peyton, and we never know who's who."
This can be promised to all the Peytons: They'll never want for a conversation starter. "Definitely an ice breaker," Ramsey said.
By the way, guess the 26th-most-popular boy's name for 2017 newborns in Indiana? Andrew. Imagine how high that might go if Luck ever gets the Colts to a Super Bowl.•
__________
Lopresti is a lifelong resident of Richmond and a graduate of Ball State University. He was a columnist for USA Today and Gannett newspapers for 31 years; he covered 34 Final Fours, 30 Super Bowls, 32 World Series and 16 Olympics. His column appears weekly. He can be reached at mjl5853@aol.com.
Please enable JavaScript to view this content.