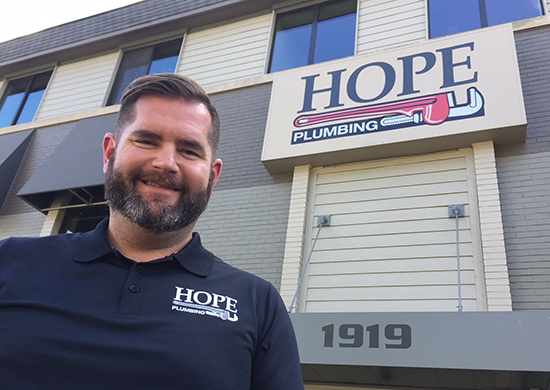 Jack Hope launched his plumbing company to help him pay for his master's degree in philosophy.
But Hope Plumbing was so lucrative that soon after he graduated, Jack was making as much as might as a tenured college professor. So he stuck with plumbing. Today, that small startup has grown into a company with more than 40 employees and revenue projected to top $6 million this year.
But that doesn't mean Jack has left philosophy behind. Host Mason King asks him just how philosophy plays into his management style and about he approaches recruiting and retaining plumbers, the biggest challenge in his business.
Click here to find the IBJ Podcast each Monday. You can also subscribe at iTunes, Google Play, Tune In and wherever you find podcasts. Here are some of our recent podcasts:
IBJ Podcast: How an IU student turned her beekeeping hobby into a star startup
IBJ Podcast: Can Indy support its downtown hotel boom?
IBJ Podcast: The grape experts behind Indiana's wine resurgence
IBJ Podcast: Park debuts with perch over two interstates
IBJ Podcast: What will it take to turn the Brickyard 400 around?
Please enable JavaScript to view this content.