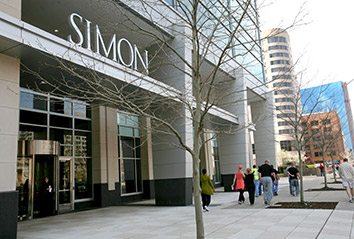 Sears is one of Simon Property Group's largest tenants, but the nation's largest shopping mall landlord isn't likely to suffer significant damage from the bankrupt retailer's decline, industry analysts say.
In fact, some observers say Indianapolis-based Simon and other mall landlords could benefit on a long-term basis when Sears leaves their shopping centers.
Sears Holdings Corp., the parent of Sears and Kmart, filed for Chapter 11 bankruptcy on Monday and announced it planned to close 142 stores nationwide by the end of the year, including about 80 Sears locations, which are primarily found in regional shopping malls. That's in addition to more than 46 Sears and Kmart closures the company announced in August.
Sears, which started as a mail-order catalog in the 1880s, has been on a slow march toward extinction. Sears Holdings had about 3,500 stores a decade ago but will be down to about 500 after the latest closures.
The bankruptcy filing buys Sears time, but analysts aren't optimistic about the retailer's ability to survive long-term after the reorganization.
There were 59 Sears stores in Simon's malls at the end of the second quarter, according the real estate investment trust's latest quarterly report, placing it third on the company's list of top tenants. Macy's, with 117 stores, and J.C. Penney Co., with 66, top the list.
Those 59 stores take up 9,589,000 square feet, or about 5.3 percent of the total square footage in Simon's malls. But Sears stores accounted for only 0.3 percent of total base rent in Simon's properties, meaning a total loss of the stores wouldn't have an major impact on the company's bottom line.
Wells Fargo retail analyst Jeffrey Donnelly told Barron's.com that he wasn't concerned about Simon's exposure because "the REIT has historically generated a high-single digit return on investment for dozens of anchor locations for which it has found new tenants in the past 36 months, and because it has enough financial resources to take on redevelopment."
Simon would have far more exposure to Sears Holding's failings if it hadn't spun off many of its smaller retail properties in 2014 into a new company called Washington Prime Group. Columbus, Ohio-based Washington Prime has 42 Sears Holdings properties in its portfolio, making up 9.8 percent of its space and almost 1 percent of its revenue. 
Many industry experts say landlords are looking forward to redeveloping Sears properties and replacing the retailer with more lucrative tenants. Sears has decades-long leases on many of properties and is paying rents well below the industry average.
Sears anchor stores pay around $5 per square foot in rent, while the average rent for top-quality malls is closer to $50 or $60 per square foot, said Bloomberg Intelligence analyst Lindsay Dutch.
Simon did not respond Monday to a request for comment on Sears' bankruptcy. But earlier this year, the company said it was "fully engaged in capitalizing" on Sears' ongoing closures.
Simon "continues to pursue plans to replace Sears stores with new and compelling ways to live, work, play, stay, and shop at these Simon destinations nationwide," Chief Operating Officer Michael McCarty said written comments in May after Sears announced a round of closures.
McCarty said "a combination of innovative retail, restaurant, and entertainment concepts are in play for each center. Mixed-use elements such as hotel, residential, office, and fitness are also being incorporated."
CEO David Simon said in a conference call in 2017 that Simon would need to re-tenant only about four Sears stores to replicate the income it gets from all of the Sears stores in its portfolio.
Simon already has plenty of experience at redeveloping Sears properties.
Earlier this year, the mall operator replaced a Sears store at Tyrone Square in St. Petersburg, Florida, with a Dick's Sporting Goods, Lucky's Market and PetSmart. In August, it replaced a Sears in College Mall in Bloomington with a Fresh Thyme Farmer's Market. The Bloomington Sears store closed in 2016 after anchoring the mall since its opening in 1965.
At Southridge Mall near Milwaukee, Simon has plans to replace a closed Sears with a Dick's Sporting Goods and entertainment center Round 1. Next year, Sears stores at Simon malls in Los Angeles, Maryland, Texas, Boston and Chicago will be replaced by tenants including Life Time Fitness, Target, AMC Theatre and Dillard's.
The biggest hurdle facing landlords in redeveloping former Sears properties is the sheer size of the stores. The store in Greenwood Park Mall, which is slated for closure by the end of the year according to Monday's announcement, is 256,000 square feet. It's by far the largest anchor tenant in the mall, ahead of Macy's at 155,000 square feet and J.C. Penney at 143,000.
SunTrust Robinson Humphrey Inc. analyst Ki Bin Kim estimated the Sears bankruptcy could free up more than 100 million square feet of retail space nationally.
Many Sears stores are too big to replace with a single tenant, and may need to be partitioned into smaller spaces. That work can take years.
"You're going to have to take the time to fill the box, which is going to take at least a year-and-a-half, and you have to find the right tenant to go in there," Bloomberg analyst Dutch said. "It is an opportunity to raise rent. I think all of them closing at once is obviously going to be a lot harder to handle than a few here and there."
Simon said it would take multiple tenants to replace the two-story Sears store in Castleton Square, which closed this summer. The mall owner said in May that it was planning a "transformational redevelopment" that would include entertainment options, but it has yet to announce formal plans for the 217,299-square-foot space.
Washington Prime CEO Lou Conforti said mall landlords have been preparing for the demise of Sears for years.
"We've worked diligently to address unproductive department store space over the previous couple of years," Conforti said this week in written comments that poked fun at Sears Holding's failure to evolve.
"Recent reports of an imminent Sears bankruptcy filing shouldn't come as a surprise to any landlord unless they own a few Zayre or E.J. Korvette locations trapped in a space-time continuum where the Sansabelt-clad relax on shag carpeting, illuminated by the warm glow of a lava lamp while they drink Tang and vodka and listen to The Moody Blues," he said.
Please enable JavaScript to view this content.