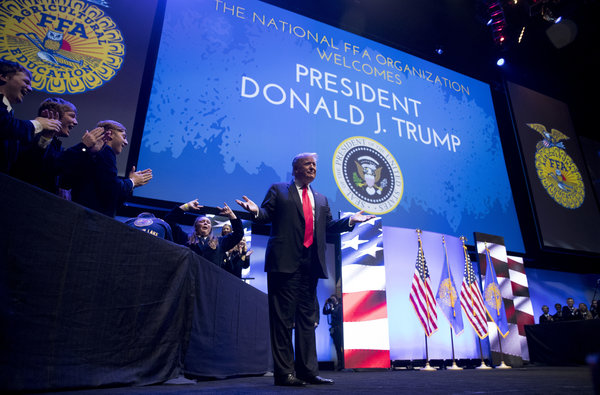 President Donald Trump is scheduled to return to Indiana two times before Election Day to campaign for Republican U.S. Senate candidate Mike Braun and other GOP candidates.
Trump is set to headline a rally at 7 p.m. Friday at the Southport Fieldhouse, the gymnasium at Southport High School. It is the 12th largest high school gym in the country with a seating capacity of 7,125. Vice President Mike Pence also is expected to attend.
It will be Trump's fourth return to Indiana since the primary election. His other rallies since May 8 were in Elkhart and Evansville, and he spoke at the national FFA convention on Saturday.
Trump will also visit Fort Wayne for a rally on Nov. 5—the day before the election.
The stops are part of Trump's busy schedule leading up with Nov. 6. He plans to hold campaign rallies in eight states next week in a final push that will determine whether Republicans retain control of Congress.
In addition to Indiana, Trump will travel to Missouri, West Virginia, Montana, Ohio, Georgia, Tennessee and Florida. All are states the president carried in the 2016 election and have competitive races for either Congress or governor.
An internal memo from White House director of political affairs Bill Stepien suggests Trump's team is making preparations to explain away a Republican loss of the House and position Trump to claim credit if the party holds onto control of the Senate or even expands its margin.
The memo stresses the challenging political climate for Republican incumbents, emphasizing the historical headwinds for the president's party in midterm congressional elections, the large number of Republican incumbents retiring and Democratic challengers' fundraising advantages. The memo says Democratic challengers out-raised incumbent House Republicans in 92 districts in the last quarter.
Stepien also argues that states in which incumbent Democratic senators have faced tough challenges are competitive "only because of Trump" and the Republican party has "no better messenger."
The memo says Trump has raised $83 million for House candidates running for re-election this year, and that he has campaigned with House candidates in 18 competitive or open seat districts since Aug. 1.
"It will be challenging," Stepien says of the GOP's prospects of maintaining the House majority. But adds: "The House is still considered in play less than two weeks from Election Day."
Trump is trying energize his most loyal supporters as polls show Democrats in position to take control of the House.
On Saturday in Indiana, Trump pulled U.S. Reps. Trey Hollingsworth and Jim Banks on stage at Bankers Life Fieldhouse and told the crowd, which likely only had a small portion of people of voting age living in those districts, to vote for the congressmen.
Hollingsworth is running for re-election in Indiana's 9th congressional district against Democrat Liz Watson. Banks is running for re-election in Indiana's 2nd congressional district against Democrat Courtney Tritch.
Both are considered safe Republican seats, but the challengers out-fundraised the incumbents in the latest quarter.
Please enable JavaScript to view this content.