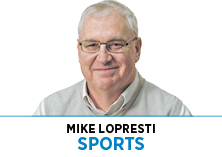 Here we are, watching the Boston Red Sox victory parade going by—wait a second. What's with all the old Indianapolis Indians?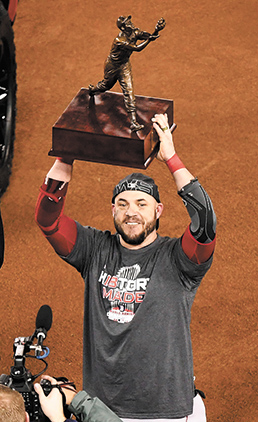 2018 World Series MVP Steve Pearce (AP photos)
There's Steve Pearce …
The World Series turned into his own personal winning Powerball ticket. He's a 35-year-old whose picture could be in the dictionary next to the word "journeyman," since his major-league career reminds you of a bee in a flower garden, buzzing from this petal to the next one—eight different organizations in all, including all five teams in the American League East.
So he lands in Boston in June and doubles on his first pitch, and later proceeds to hit five home runs against the Yankees the rest of the season. You could be elected mayor of Boston doing something like that. Then October happens, and he homers three times against the Dodgers, and suddenly he's being handed keys to his new red Silverado pickup as MVP of the World Series.
Four months ago, you would have more expected snow in Dodger Stadium on Oct. 28 than Steve Pearce the MVP.
"This has been a lifelong journey," he said. The roots of that journey are in Victory Field. He was in the opening-day lineup for the Indians as a rightfielder in 2008, and there again in 2009 and 2010 as a first baseman. His name is still in the Indy record book for six RBIs in a game in 2007, four runs in a game in 2009, four walks in a game in 2010. He homered 37 times as an Indian and drove in 152 runs.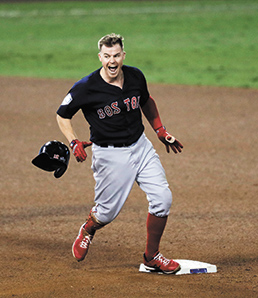 Brock Holt, after hitting a World Series double
Here comes Brock Holt …
He has done solid—if sometimes unsung—work for the Red Sox for years, playing every position except pitcher and catcher. He made the bright lights in the American League Division Series against the Yankees, becoming the first man in history to hit for the cycle in a postseason game—and there have been postseason games for 114 years.
The next night, he wasn't even in the lineup, his manager wanting different righty-lefty matchups. Holt took the bench without complaint as a team-first kind of guy. Know what coach used him as an example to his own players? Fellow Bostonian Brad Stevens, telling his Celtics it was a display of "how you win."
Stevens was at Butler in 2012, while Holt was in downtown Indianapolis, playing 24 games with the Indians—and hitting .432. Talk about making a good first impression. It didn't take long for the Pirates to summon him to Pittsburgh.
And finally, Andy Barkett …
Victory Field customers remember him as the earnest manager in 2017, leading the Indians to the International League West title, even as 17 different players were called up by the Pirates.
He left for Boston over the winter as assistant hitting coach, with immaculate timing. It turned out to be one swell season to be affiliated with the Red Sox offense. They led the majors in average, runs scored, on-base percentage. They hit 40 more homers than in 2017 and unleashed a relentless attack at the plate that didn't stop until they were pouring champagne in Dodger Stadium.
Andy Barkett, right, talking early in the season with Manager Alex Cora
"It's like a fairy tale. There's really no other way to describe it." Barkett said over the phone from Boston, fighting a cough he picked up through the draining expedition of the World Series.
"You spend 23 years in the minor leagues, playing and coaching and managing. You endure a lot of bus rides, cold showers in winter ball, early-morning plane trips in Triple-A. You sit there and stare out those bus windows or plane windows, or you're walking back to the hotel after a game in the minor leagues, looking up at the stars and wondering, 'What the hell am I doing this for? Why do I love this stupid game so much? Why am I putting myself through this torture of years and years of this?'
"Well, I wouldn't have not taken one bus ride or not taken one cold shower, or not gone on one early-morning plane trip, or not played with my shoes still soaked from the night before because I couldn't afford to get another set of spikes—I wouldn't change a thing for the moments that I just lived in the last few days."
Helping put together an unstoppable Red Sox offense was quite the ride. "It's hard to put that in perspective because you were in it every day. We were living it with those guys and seeing what they were doing. We didn't have time to enjoy it because the games come so fast and the starting pitching is so good, so the next day you have to be ready."
Only, don't even suggest Barkett should claim any credit. He'd rather stick his face in a fan. "I would never do such a thing. I'm not going to put my name on it. Our players are talented. Our players deserve the credit, 100 percent."
But he was always there to help. Take Pearce and his epic coming-out party. They spent a lot of time together in the batting cage. "We had the same college coach, we were both Pirates and Indianapolis Indians, so we had a little bit of a connection there, so that helped out a little bit with our relationship," Barkett said.
"He's the epitome of our team: very resilient, been through a lot in the game, always believes in himself, will always bet on himself."
Holt, too. Another former Victory Field resident whose road led to Boston, where he lent a hand, no matter what was asked. "The best in players … comes out, when guys are sold out to the cause and not worried about individual accomplishments," Barkett said.
What a fantasy island for a baseball lifer to wander onto. Barkett made a point at midseason of calling a few of his former co-workers in the Pirates organization, thanking them for helping prepare him for this chance.
And Indianapolis? "After last season, before I got this job, me and my family talked about, heck, I'd manage there forever. That's one of the greatest places to work in all of baseball. If I were to have to work in the minor leagues the rest of my life, Indianapolis would be a great place to do it."
But then the phone rang, and Boston was on the line, and look where Barkett is now. In a victory parade through the streets of Boston—"another part of the dream," he called it. He and two other world champions who once reported to work on Maryland Street.•
__________
Lopresti is a lifelong resident of Richmond and a graduate of Ball State University. He was a columnist for USA Today and Gannett newspapers for 31 years; he covered 34 Final Fours, 30 Super Bowls, 32 World Series and 16 Olympics. His column appears weekly. He can be reached at mjl5853@aol.com.
Please enable JavaScript to view this content.