Note: IBJ will continuously update this story with the latest developments throughout election night.
11:44 p.m.
Indianapolis Public Schools is poised to get three new school board members, though one race is down to the wire. 
The at-large school board race was a nail biter as of 11:30 p.m., though it appeared incumbent Mary Ann Sullivan, a former Democratic state lawmaker who was endorsed by Stand for Children, was likely to lose. 
Sullivan earned 42 percent of the vote, while her challenger — retired IPS teacher Susan J. Collins — had 43.6 percent, with 90 percent of Marion County precincts reporting. Collins billed herself as a skeptic of the school-choice reforms that Sullivan has helped usher in during her one term on the board. 
Sullivan told Chalkbeat Indiana that she did not plan to make a decision on whether to concede the race until the election board finishes counting the rest of the precincts. 
"We got to have all the votes counted," she told Chalkbeat. "I will go to bed and see what happens in the morning."
Federal worker Taria Slack, endorsed by the Indiana State Teachers Association, easily defeated incumbent Dorene Rodriguez Hoops in IPS District 5 by a 60-39 margin,. Rodriguez Hoops was endorsed by Stand for Children.
In District 3, which had no incumbent because school board member Kelly Bentley retired, Stand for Children-endorsed candidate Evan Hawkins won 52-34 against challenger Michele Lorbieski, who was endorsed by the IPS Community Coalition, which has been skeptical of IPS school-choice reforms. A third candidate, Sherry Lynne Shelton, earned just 14 percent of the vote.
Check IBJ.com on Wednesday for updates.
10:34 p.m.
Voters have approved an amendment to the Indiana Constitution obligating the General Assembly to adopt balanced budgets unless two-thirds of the members of both chambers vote to suspend the requirement. Get the details.
Voters in the Indianapolis Public Schools district have approved the district's request to raise property taxes in referendums to pay for higher teacher salaries and better school facilities. Read more.
10:31 p.m.
Republicans will maintain control over Indiana's statewide elected offices, as the GOP on Tuesday easily swept races for secretary of state, treasurer and auditor.
Secretary of State Republican incumbent Connie Lawson defeated Democrat Jim Harper and Libertarian Mark Rutherford.
10:25 p.m.
Democrat J.D. Ford pulled off a big upset Tuesday, unseating state Sen. Mike Delph, a Republican who has served the district since 2005.
With two-thirds of precincts reporting, Ford held a 57 percent to 43 percent lead over Delph.
"I wanted District 29 to be heard and with our win tonight, they will be," Ford told fellow Democratic supporters Tuesday night. "Now you have a voice in the Indiana General Assembly."
10 p.m.
Sen.-elect Mike Braun tells the GOP crowd that he won't let them down. He said politics has gotten way too nasty on both sides. "It should be about ideas," he said. "It should be about what you bring to the table."
The crowd responded: "Amen."
At the same time, the tweet pinned to the top of Braun's Twitter account says that "career politicians like Joe Donnelly will say anything to keep their jobs."
Braun said he believes he has a unique chance to change Washington, D.C. 
Career politicians like Joe Donnelly will say anything to keep their jobs. I've spent my life in the real world, creating jobs and getting things done.

In Washington, I'll fight to bring back good-paying jobs and fix our healthcare, because we deserve better. #INSen #IBackBraun pic.twitter.com/MkiSJ62CmV

— Mike Braun (@braun4indiana) October 29, 2018
9:50 p.m.
Republicans are gathering on stage at what has become a victory party at the JW Marriott in Indianapolis as they prepare for a speech from Republican Mike Braun, who has unseated incumbent Sen. Joe Donnelly.
"Sleeping Joe has got to go," one Braun supporter called out, using a nickname President Donald Trump gave the Democrat. 
"He already went," another said.
Indiana Republican Chairman Kyle Hupfer said "Hoosiers like that Indiana is on the right track and Republican leadership has been delivering the right results consistently."
9:40 p.m.
Democrat incumbent Sen. Joe Donnelly conceded the Senate race at about 9:30 p.m. He said he called Republican Mike Braun — with whom he has battled bitterly over the past few months — and said he would seek a smooth transition.
Donnelly spoke to supporters for only about two minutes but said he was the "luckiest guy in the world." 
By 9:40 p.m., about 62 percent of the had been counted and Braun had 54 percent to Donnelly's 42 percent. Libertarian Lucy Brenton had about 4 percent of the vote.
9:24 p.m.
Speaking at the Democrats' results party in Indianapolis, U.S. Rep. Andre Carson tells disappointed supporters that Joe Donnelly has "fought for Hoosier families."
Carson, who won his re-election bid easily, says Hoosiers will see Donnelly again and tells the room not to give up. "We have more fights to win," he said.
9:15 p.m.
With 56 percent of precincts reporting, Democratic challenger J.D. Ford is leading Republican state Sen. Mike Delph by a wide margin.
Ford has 57 percent of the vote to Delph's 43 percent, according to The New York Times. Delph easily defeated a GOP challenger in the primary who ran to his left.
Delph is considered a controversial figure in the Indiana Senate and is one of the most right-leaning members of the body.
9:08 p.m.
House Speaker Brian Bosma, R-Indianapolis, was leading in his re-election bid with 58 percent of the vote against Democrat Poonam Gill, with 61 percent of the precincts reporting.
The race was never thought to be close until a woman accused Bosma of hiring an attorney to try to intimidate her so she wouldn't reveal she had a sexual encounter with him while she an intern at the General Assembly in 1992. Bosma denied both the encounter and trying to intimidate her.
A Democratic lawmaker has asked the House Ethics Committee to investigate but the bipartisan group has not made a decision about how to proceed.
8:53 p.m.
ABC and NBC have are projecting that Republican challenger Mike Braun will unseat incumbent Democrat Joe Donnelly, even as votes from key Democratic counties remain unreported.
ABC has Braun leading 55 percent to Donnelly's 41 percent, with 60 percent of precincts reporting.
Votes from Vanderburgh and Porter counties had not been counted but a majority of votes from other Democratic strongholds — Marion, Monroe and Lake counties — were in.
IBJ reporter Lindsey Erdody, who is at the Democratic results party, said the mood has shifted in the room. "People have quieted down, and you can hear people mumbling about how this is bad news," she says.
8:47 p.m.
Greg Pence issued a statement about his 6th District win, while his brother — Vice President Mike Pence — tweeted his congratulations.
"This is a victory for everyone in the Sixth District," Greg Pence said. "As a Marine, I understand that respect is earned, never given. I feel passionately about serving our country and serving the people here in our district. I will bring our Hoosier values to Washington DC. I will fight for all of us here in Sixth District, every day."
Congrats to my brother @GregPenceIN on being elected to serve in the US Congress. Greg served our country admirably in uniform & will do the same in Washington DC. I am so proud & look forward to working w/ him to advance @RealDonaldTrump's agenda for America & the Hoosier State!

— Mike Pence (@mike_pence) November 7, 2018
8:37 p.m.
With some key large population centers still outstanding, Republican Mike Braun has a comfortable lead over Democrat Joe Donnelly in the U.S. Senate race.
Braun has 54.9 percent to Donnelly's 41 percent, with Libertarian Lucy Brenton carrying 4.1 percent of the vote, according to the New York Times election results. About 43 percent of precincts have reported.
But still outstanding are votes from half the precincts in Marion County and all the votes in Monroe, Vanderburgh and Porter counties, which are traditionally Democratic strongholds.
Most interestingly, Donnelly has a small lead in Hamilton County, which is a traditional GOP stronghold.
8:32 p.m.
A sign of things to come? About 57 percent of voters who cast early votes in Hamilton County support the Noblesville Schools' referendum, Hamilton County Television reports. The measure, if approved, would bring in $50 million over eight years to improve school safety following a school shooting at Noblesville West Middle School in May.
8:26 p.m.
Republican Jim Baird had a big lead over Democrat Tobi Beck in the 4th District, with about half the congressional seat's precincts reporting. But Beck said she hasn't looked at any results yet because it's always the rural counties that report first. She's waiting to see how Tippecanoe County results come in.
She said she was up at 3 a.m. today to start visiting polling locations.
"We did everything we could," Beck said.
One thing that concerns her is the problems voters ran into today. She had one voter send her a video that showed the person trying to select Beck, and the machine selecting Baird. After several tries, the voter was able to get the machine to check Beck's name. Beck also said her name was spelled "Toby" on some ballots.
"I'm just sitting here going, 'Really, guys?'" Beck said.
She said she's not sure what can be done now about the issues.
"I'm sure that's the aftermath tomorrow," Beck said.
8:19 p.m.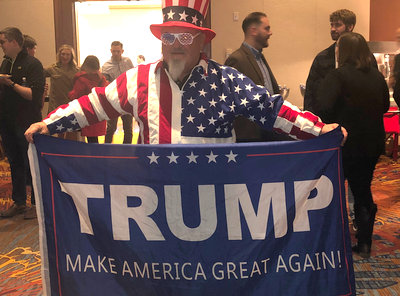 It's getting livelier at the GOP results party. John Baker of Greenwood just arrived. He says he's been stumping for Republicans since 5:30 a.m.
8:11 p.m.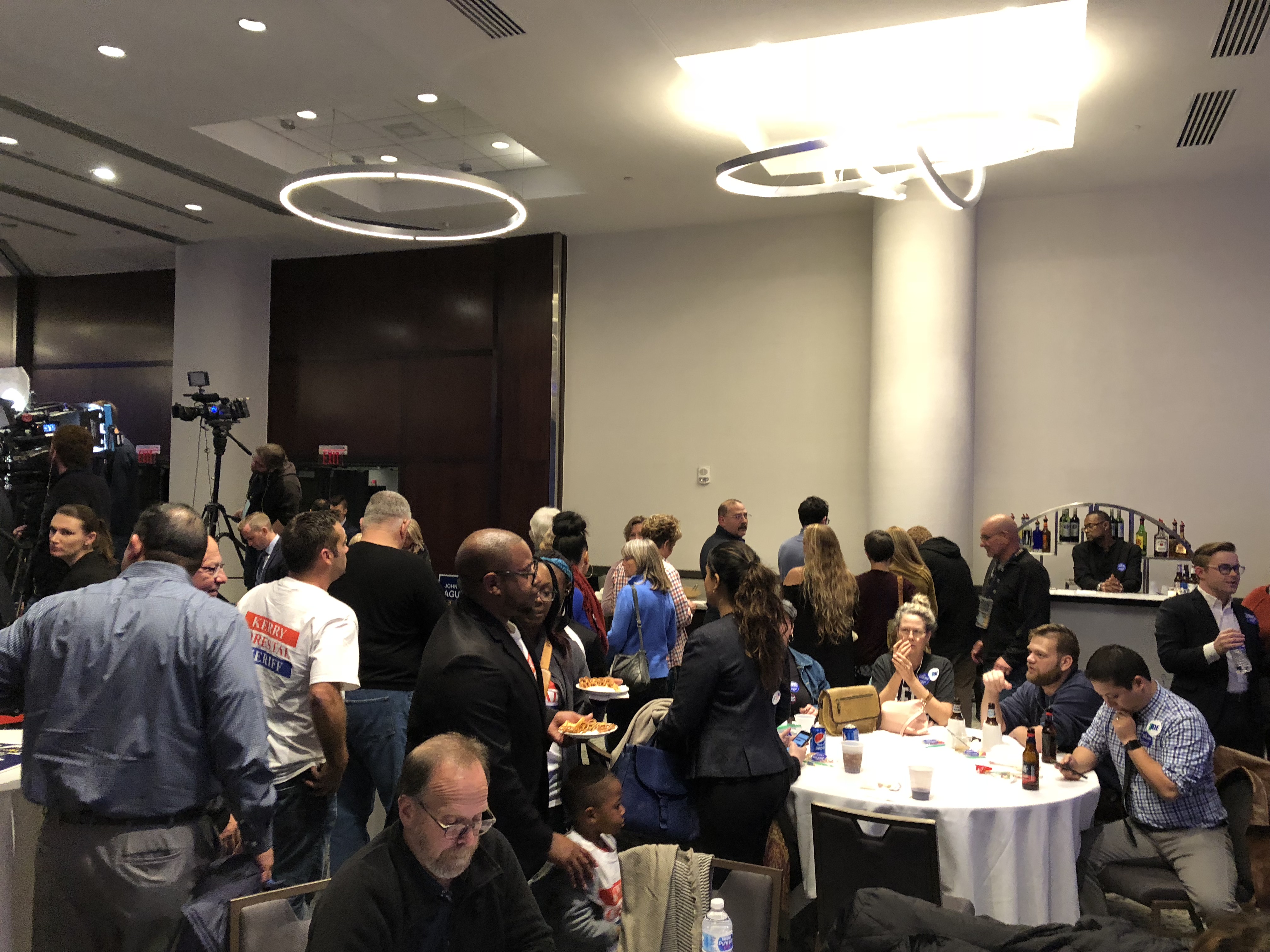 Donnelly's campaign says it feels OK about results so far, but they're expecting a late night. A few big Democratic counties, including Lake, Porter and Monroe, have not reported results yet, and those areas will make a big difference in the results. Donnelly is watching results upstairs at the Hyatt hotel in downtown Indianapolis.
The ballroom where the Democrats are watching results tonight has filled up. The line to one of the bars stretches nearly to the front of the room.
8:06 p.m.
With 34 percent of Marion County precincts reporting, it appears that two challengers are doing well in their bids to unseat incumbents on the Indianapolis Public School Board. Taria Slack led incumbent Dorene Rodriguez Hoops 58-41 in District 5, and Susan J. Collins is tied with incumbent Mary Ann Sullivan 42-42 for control of the at-large seat
Meanwhile, Evan Hawkins, who has been endorsed by Stand for Children and predecessor Kelly Bentley, has an 18-point lead over challenger Michele Lorbieski in the third district.
8 p.m.
Indiana Democratic Party Chairman John Zody addressed the crowd and thanked everyone for the work they did this election season.
He suggested they get a drink and some chips, because ballots are still being cast in some parts of the state. Polls are closed everywhere except some parts of Porter County, but if people were in line before the polls closed, they are able to vote.
"We still have a lot of information we're waiting on," Zody said. "Let's prepare for a long night, possibly."
7:58 p.m.
From the Republican results party at the JW Marriott:
Fox News is discussing Indiana's Senate race between incumbent Joe Donnelly and Mike Braun, but most folks at the GOP party aren't paying much attention to the screen. With 22 percent of precincts in, Fox News reports Braun is leading with about 57 percent of the vote.
But CNN.com says the Senate race remains a toss-up. "Our internal modeling continues to suggest that Democrat Joe Donnelly will make this much closer."
7:48 p.m.
NBC has also declared incumbent Rep. Andre Carson the winner in the 7th District, where Democrats have had a stranglehold for decades. He had more than 63 percent of the vote with a fifth of precincts reporting.
Carson defeated Republican challenger Wayne Harmon.
7:44 p.m.
NBC News has called Indiana's 2nd District congressional race for incumbent Republican Jackie Walorski, who was leading with 54 percent of the vote. About 40 percent of precincts had reported.
She was facing a challenge from Democrat Mel Hall.
7:39 p.m.
It appears that both Indianapolis Public Schools referendum questions—to raise $220 million to pay for operating expenses and $52 million for capital expenses—are performing well early in the night. With 11 percent of Marion County precincts reporting, voters are approving them with nearly 70 percent of the vote.
7:37 p.m.
As poll workers arrived at Democratic and Republican results parties, they raved about high turnout.
Democrat Mary Rowley, a longtime poll worker, was stationed at a polling place in Franklin Township today. She said 998 people voted.
"I love it," Rowley said. "I feel like I was doing my civic duty."
Rowley said she hopes the results for Democrats are better tonight than they were in 2016. She voted for and donated to Donnelly, in addition to other Democratic candidates on the ballot.
"This year is especially important because people are not happy with the way things are happening in Washington, D.C.," Rowley said.
7:32 p.m.
CNN has called the heavily Republican 6th District congressional race in Indiana for Greg Pence, the brother of Vice President Mike Pence, who previously held the seat before running for governor. Pence was leading with 59 percent of the vote with a quarter of votes reporting.
The district is currently represented by Luke Messer, who lost in the GOP Senate primary. Pence defeated Democrat Jeannine Lee Lake of Muncie.
7:27 p.m.
Despite being out-fundraised during the past two quarters, it appears Republican incumbent Jim Banks has held onto his 3rd District congressional seat, defeating Democrat Courtney Tritch. NBC News called the race for Banks.
According to The New York Times, Banks had 63 percent of the vote with nearly one in five precincts reporting.
Banks, a veteran and former state senator from Columbia City, has held the seat since 2017. Tritch, a Fort Wayne native and business owner, has not held public office before.
The seat was expected to be safe for Republicans—Trump won the district, which includes the northeast side of the state, by 35 percentage points in 2016.
7:13 p.m.
Very early returns (most from rural parts of the state) have Mike Braun up over Joe Donnelly while yes votes for a state constitutional amendment to restrict state spending — a so-called balanced budget amendment — were easily leading nos.
Republican incumbents — Secretary of State Connie Lawson, Auditor Tera Klutz and Treasurer Kelly Mitchell — were winning as well.
7:06 p.m.
Health care and President Trump's policies were important issues among Indiana residents in the midterm election, according to a wide-ranging survey of the American electorate that found they're divided over the state of the nation.
As voters cast ballots for U.S. Senate and members of Congress in Tuesday's elections, AP VoteCast found that Indiana voters were split on whether the country is on the right track, with about half saying the country is headed in the wrong direction.
7:02 p.m.
Hamilton County reports voter turnout has been "outstanding." As of 4:30 p.m. today, 46 percent of voters had cast ballots.
Turnout has been outstanding today @HamcoIndiana ! 46% of registered voters had voted as of 4:30PM. #election18

— Hamilton County, IN (@HamcoIndiana) November 6, 2018
6:30 p.m.
People are trickling into the Indiana Democratic Party's election night party at the Hyatt Regency in downtown Indianapolis. The room is already filled with media. U.S. Sen. Joe Donnelly addressed the media shortly after 6 p.m. He suggested it could be a long night.
The state's GOP party reports some 700 people have RSVP'd to their election night party at JW Marriott downtown. So far, it's mostly media.
6 p.m.
Election Day has come to an end in most counties in Indiana, as polls closed at 6 p.m. in all but the northwest and southwest parts of the state. But some polling locations that usually would have closed at 6 are extending hours due to issues earlier in the day that delayed voters from casting ballots. In Porter County, a judge ruled to allow 12 locations to remain open up to 2-1/2 hours late, according to the Times of Northwest Indiana.
Polls in Monroe County will stay open until 7 p.m. because of a problem with precincts running out of ballots, according to The Herald-Times.
Johnson County also encountered voting issues Tuesday, but officials said they would not request a court order to extend the hours.
The top race on the ballot is for U.S. Senate in which Democratic incumbent Joe Donnelly is running against Republican Mike Braun and Libertarian Lucy Brenton.
Most of Indiana's U.S. House seats are expected to be safe for incumbents, but political analysts are watching the 9th District race between Republican incumbent Rep. Trey Hollingsworth and Democratic challenger Liz Watson as well as the 2nd District race between Republican incumbent Rep. Jackie Walorski and Democratic challenger Mel Hall.
In Indiana's 4th and 6th congressional districts, which are both open seats, Republicans are expected to win easily. Vice President Mike Pence's older brother, Greg Pence, is the Republican candidate in the 6th District, a seat currently held by Luke Messer, who lost in the GOP Senate primary. Pence is running against Democrat Jeannine Lee Lake of Muncie.
Todd Rokita is currently the congressman in the 4th District, but he did not seek re-election, choosing instead to run in the GOP Senate primary, where he lost to Braun. Republican Jim Baird, a state representative, is facing Democrat Tobi Beck.
U.S. Rep. Andre Carson is expected to easily win re-election in his 7th District seat against Republican challenger Wayne Harmon. Democrats have held the Indianapolis-area seat for decades.
And U.S. Rep. Susan Brooks, running for re-election in the 5th District, is expected to defeat Democrat Dee Thornton.
Indiana voters also face a ballot question about an amendment to the Indiana Constitution that would put restrictions on state spending. And voters in Indianapolis Public Schools are facing two questions about additional spending in the district.
Please enable JavaScript to view this content.