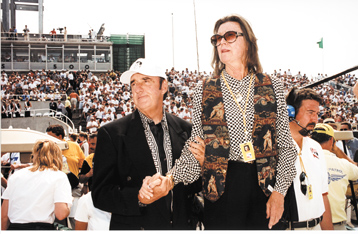 The Indianapolis Motor Speedway is not for sale.
That was the case before the Nov. 3 death of Mari Hulman George—the matriarch of IMS and IndyCar Series parent Hulman & Co. And it's still the case.
"As a practice, we don't discuss our corporate ownership structure. However, the passing of Mari Hulman George does not affect the operation of IMS and IMS is not for sale," Speedway President Doug Boles told IBJ.
That doesn't mean George's death doesn't raise some important questions about the Speedway's future direction and leadership. She had been serving as chairwoman emeritus of the IMS board; her son, Tony George, is chairman.
It's not uncommon for major sports properties or large privately held businesses to go on the block after a key or majority owner dies, due in part to estate tax complications. The heirs of Miami Dolphins owner Joe Robbie, for example, had to sell the NFL franchise after he passed away in 1990 because they couldn't pay the reported $47 million tax bill.
Estate taxes on the entirety of Hulman & Co. would be staggering. But thanks to a savvy tax-avoidance maneuver made long ago by late track owner Anton "Tony" Hulman Jr., his grandchildren and great-grandchildren appear poised to lead the Indianapolis Motor Speedway into the next era, sources told IBJ.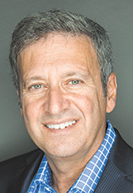 Ungar
Mari Hulman George was Tony Hulman's lone living child, and her four children haven't always gotten along. That's fueled speculation that discord or estate taxes might trigger a sale of the 109-year-old landmark that has an assessed valuation of more than $75 million and a market value likely multiple times larger.
But sources close to the family said much of the family friction has been quelled. Tony George, Mari's only son, was fired in 2009 as chief of the Speedway and IndyCar Series by his mother and three sisters—Nancy George, Josie George and Kathi George-Conforti—and later resigned from the Hulman & Co. board. But he has since rejoined the board and subsequently ascended to chairman. And sources said he has a good relationship with Hulman & Co. CEO Mark Miles.
Family members also have diversified the board in recent years, adding community stalwarts such as Indiana Pacers executive Jim Morris and Miles, a former ATP Tour CEO and 2012 Super Bowl Host Committee chairman. They've also added Purdue University President Mitch Daniels, a former Indiana governor, and Cardinal Equity Partners co-founder John Ackerman.
Daniels was later named trustee of the Hulman family trust, to help manage its assets and the transition from one generation to the next, sources with knowledge of the appointment said. It was a rare—and quietly carried out—move for the Hulman-George family, which has historically kept dealings within the family and a small circle of confidants.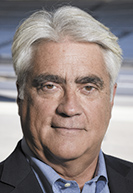 Miles
Hulman & Co. holdings include investments in banking, real estate, oil production, wholesale grocery and manufacturing Clabber Girl products, in addition to the racing empire that includes the track, open-wheel race series and a broadcast production company.
Divestiture barrier
As trustee, Daniels would have final say over whether to sell the Speedway. But even if he and any of Mari Hulman George's children wanted to sell the track or IndyCar Series, it might be difficult—in part because it could undercut the "generation-skipping trust" Tony Hulman set up decades ago, sources told IBJ.
The tax treatment of generation-skipping trusts fundamentally changed with the Tax Reform Act of 1976, which added provisions ensuring that a transfer tax is imposed at least once every generation.
But the law grandfathered earlier trusts. Under those prior rules, "a transferor could establish a trust that would last for many years and benefit several generations of beneficiaries, without the imposition of any subsequent estate or gift taxes," according to a primer on the law by Baltimore attorneys A. MacDonough Plant and Lynn Wintriss.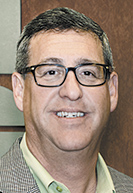 Moroknek
Hulman—who bought the dilapidated IMS for $750,000 in 1945, three years after inheriting his family fortune—took a page from the Rockefeller family's playbook. Just as billionaire John D. Rockefeller Jr. had done in 1934 for his own descendants, Hulman placed family businesses in a generation-skipping trust, sources told IBJ. His family's assets would be protected for generations as they appreciated in value, while heirs received income generated by the assets in the form of dividends.
The estate planning strategy in some cases can push estate taxes more than 100 years into the future.
Hulman, a Yale University graduate, died unexpectedly in 1977 at the age of 76. But by that time, his company's and his family's futures were secure.
"Tony Hulman was a savant," one person familiar with his business dealings told IBJ in 2016. "He was way ahead of his time in using generation-skipping strategies that were brilliant."
"Tony Hulman was a really, really smart man," Boles said in 2016, "and he knew what this facility meant to the state and what this facility meant to his family."
Questions remain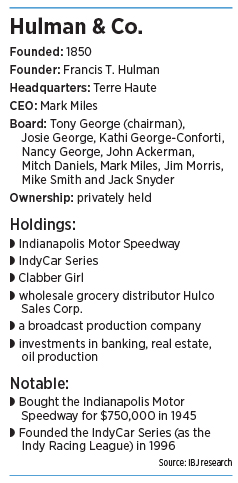 There is still some question whether Mari Hulman George's children—the company's primary stakeholders—will share her vision for the company's future. But for now, sources close to the business told IBJ they don't expect any discord.
"In this case, the succession planning is excellent and they have a professional board to help guide them, so they're in a great position for the future," said Ken Ungar, former Speedway and IndyCar Series chief of staff.
Ungar, whose company, Charge, represents Honda, one of the series' biggest partners, said the four George siblings are very much invested in the future of the company.
"All Mari Hulman George's children have been an integral part of the business and been on the board of directors for many, many years," he said.
The Indianapolis 500 is as strong as it's been in years and the IndyCar Series—with a new TV deal set to start next season—is on the upswing, said Team Penske President Tim Cindric. And it's important to keep that momentum going, he said.
"The sport has grown, maybe not enough to satisfy everyone, but you can't argue it's stabilized and grown in recent years," said Cindric, a Clermont native. "There's new energy in the sport."
Cindric credits Miles, who has led the IMS and IndyCar Series through a period of considerable growth since his hire in late 2012, and the staff he has assembled. Cindric noted that, for the first time in years, "forethought" is given to what the engine and chassis package will be years in advance, which is key for teams.
But Miles' future at Hulman has been the subject of recent speculation. A month after his hire, in response to a question of how long he intended to stay, he told IBJ that "to make a dent in something like this, I think three to five years is the absolute minimum."
Miles presided over a wildly successful 100th running of the Indianapolis 500 in 2016—with a crowd so big the local TV blackout was lifted for the first time in decades. Overall, Indy 500 ticket revenue has increased under Miles' watch, sources said. He's brought in a bevy of concerts and the Red Bull Air Race and has helped make Snake Pit activities in May a profit center.
And while the IndyCar Series still faces serious challenges—it is looking for a title sponsor, for example—it has seen some gains in TV ratings and live ticket sales.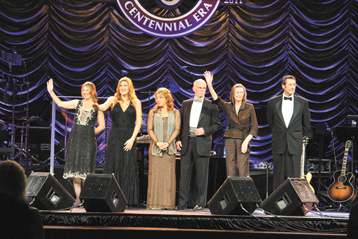 At the IMS Centennial Era Gala in February 2009, from left: Kathi George-Conforti, Nancy George, Josie George, longtime family friend and attorney Jack Snyder, Mari Hulman George and Tony George. (Photo courtesy of the Indianapolis Motor Speedway)
Multiple sources close to the open-wheel series have told IBJ that Miles, 64, is considering making at least one more job change and taking on one more big challenge before he retires. It isn't clear, the sources said, that Miles plans to depart Hulman & Co. imminently.
Miles could not immediately be reached for comment.
"Mark has been a good leader for the sport," Cindric said. "The assumption, from where I sit, is that Mark will be in that position for a while."
Philanthropic efforts
Dave Moroknek, who was formerly in charge of the Speedway's merchandising and now owns his own merchandising company that has deals in the motorsports world as well as many other sports and activities, said he expects little change at the Speedway or IndyCar in the wake of Mari Hulman George's death.
"Mari Hulman George hasn't been directly involved in the business for a while, so they don't have a vacant role to fill," Moroknek said. "If there are any changes, it would be with the charities and benefits she's been so generous with. But I get the sense the family and company will stay involved in those things."
The Speedway served as a platform for some of George's philanthropic efforts. She hosted the "Save Arnold" Barbecue to benefit Indiana Special Olympics every May for nearly 25 years, from 1981 through the mid-2000s.
She was devoted to the arts and education and served for years as a trustee at the Rose-Hulman Institute for Technology in Terre Haute, which was founded in 1874 with significant assistance from the Hulman family.
The Hulman-George family also made large contributions to the Indianapolis Museum of Art, Indiana State University, Purdue University, Indiana University and Saint Mary-of-the-Woods College, among other art and educational institutions.
George also was a leading charitable force to benefit animal care, especially for horses and greyhounds, two of her greatest passions.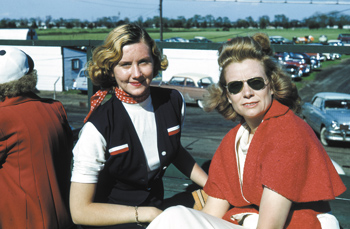 Mari Hulman, left, in 1953 with Bessie Lee Paoli, the first woman to own an Indy car. Paoli first entered a car in the 1952 Indianapolis 500. (Photo courtesy of the Indianapolis Motor Speedway)
In 2001, the Indiana Department of Homeland Security renamed its search-and-rescue training area at Camp Atterbury the Mari Hulman George Search and Rescue Training Center, recognizing her contribution to the care of animals displaced and affected by disasters.
Some say that, at the track, her absence might have a bigger impact than it would at first seem.
"I think the tenor of the entire organization was set by Mari," Ungar said. "The great passion she showed and the way she treated all of auto racing as her family really set the tone. That is certainly one of her legacies and one all of us hope will be carried on.
"I think it will be," he added. "She successfully passed that culture on to her children. They believe it, so they live it."
Tony George said in a statement after his mother's death that her "compassion and desire to help people and animals every day are the true hallmarks of her incredible life. We love her deeply and will miss her every day, while ensuring that her spirit and generosity live forever at IMS."•
Please enable JavaScript to view this content.