Temporary exhibitions at an art museum? Common.
An entire menu of temporary items at an art museum's restaurant? Uncommon—but, in the case of the Indianapolis Museum of Art's new eatery, interesting.
Nourish Cafe (920-2658), now occupying the former space of both Puck's and the IMA Cafe, has embraced inconsistency, giving its menu a complete overhaul each week. This means that neither the Lentil Soup ($4) that got our recent meal off to a pleasant Moroccan start nor the Smokehouse Chili ($4) that provided an equally hearty opening is liable to be on the bill at Nourish on your visit. But others will take their place.
There's pizza, too, with Puck-like toppings. On our visit, one of two offerings was a near-parody version, featuring red beets, leeks and goat cheese. I'm all for originality and creativity, but how about at least one choice whose taste you can actually come close to imagining?
Instead of pizza, we opted for a salad and sandwiches to round out our meal.  Cous Cous Salad ($6) was highlighted by chopped cucumber, golden raisins, and mint, interfered with by a few strips of easily movable slimy squash. It was inconsistently presented, pre-made, in a plastic take-out container (unlike the rest of the meal, which used honest-to-goodness plates and bowls).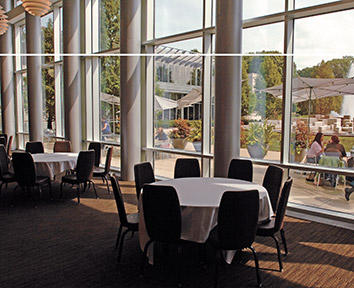 The Indianapolis Museum of Art's new Nourish Café offers indoor and outdoor dining. (IBJ Photo/Robin Jerstad)
A Caprese Panini ($7) sat a little too long in the sandwich maker, crossing the line on one side between charred and burnt. Inside, though, the cheese and Indiana tomatoes got along nicely. Those same tomatoes were sliced a little too thick on the Smoked Chicken Salad sandwich ($8.50), dominating the subtle chicken inside. Slid out of the sandwich and eaten all by themselves, the tomatoes were delicious and the remaining sandwich ingredients—including candied pecans—were in better alignment.
An inconsistent first visit? Yes. But a hopeful one, too. With hours matching those of the IMA, reasonable prices (order and pick-up at the counter means you also save a tip), fresh approaches to cuisine and a kitchen that doesn't rest on the familiar, I expect to be dining far more often at Nourish Café than at either of its predecessors.•
—Lou Harry
__________
Third in our month-long series of reviews of reborn cafes.

 
Please enable JavaScript to view this content.