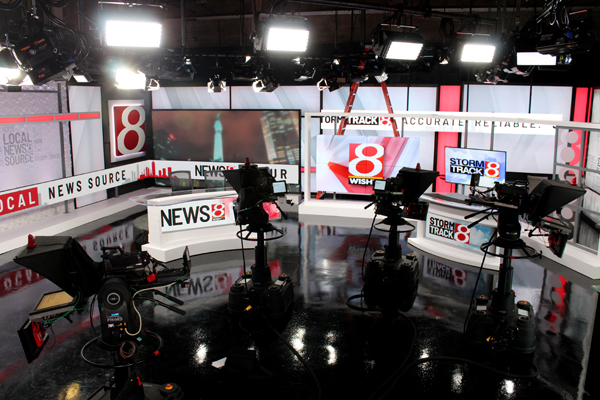 As wintry weather descends on central Indiana, WISH-TV Channel 8 is filling two openings on its forecasting staff with native Hoosiers.
The channel has hired two meteorologists who will debut on-air in early December: Tara Hastings, who hails from Hammond, Indiana, and Indianapolis native Ashley Brown, who worked at WRTV-TV Channel 6 before leaving in 2017 for her current stint at a station in Cincinnati.
Earlier in her career, Brown also worked as a disc jockey for radio stations WHHH, WTLC and WYJZ in Indianapolis.
Ashley Brown
The hires will bring WISH-TV's weather staff back to five forecasters, which is its typical size, according to Scott Hainey, director of creative services for the station.
Veteran weather reporter Ken Brewer left for a job in the private sector in March, prompting a national search for a replacement. And IBJ reported Friday that meteorologist Brad Maushart is leaving WISH at the end of this month for a station in Cincinnati.
Brown will join the staff as chief meteorologist on Dec. 3, essentially taking the role that Brewer vacated. She will helm the high-profile forecasts for the 5 p.m., 6 p.m., 10 p.m. and 11 p.m. newscasts on Monday through Friday.
WISH-TV's other meteorologists have taken turns covering those slots on the schedule since Brewer's departure, Hainey said.
A graduate of North Central High School, Brown studied meteorology and broadcasting at Ball State University from 2000 to 2004. She also worked as an on-air personality for the three local Radio One stations from 2001 to 2007.
She landed her first full-time weather job in 2007 at KSEQ-TV Channel 3 in Palm Springs, California. She returned to Indianapolis to work for WRTV in 2012. She departed in 2017 for a meteorologist job at WLWT-TV Channel 5 in Cincinnati.
Hastings will join the WISH-TV staff on Dec. 8. Her shifts will include weekend newscasts at 6 p.m., 10 p.m. and 11 p.m.
A native of Hammond, Indiana, Hastings earned a bachelor's degree in Meteorology from Valparaiso University in 2010.

Tara Hastings
She has worked at WDTN-TV in Dayton, Ohio, since 2010, with duties including anchoring weekend weather segments and reporting community-based stories for broadcast and the station's website. She previously covered weather for stations in Toledo, Ohio (2008-2010); Green Bay, Wisconsin (2004-2008); and Marquette, Michigan (2001-2004).
"We're excited to welcome Ashley and Tara back home again to Indiana," said Randy Ingram, vice president and general manager of WISH-TV, in a media release. "Both of these meteorologists bring experience and a background of forecasting weather in the very unpredictable Midwest."
Brown and Hastings will join current meteorologists Marcus Bailey, Stephanie Mead and 34-year WISH veteran Randy Ollis.
Ollis announced in May 2017 that he had been diagnosed with large B-cell lymphoma cancer but that his prognosis for recovery was very good. Within months, tests showed that he was cancer-free. There are no plans for him to deviate from his current schedule. Hainey said.
"We're very happy and blessed that our co-worker and friend, Randy, is healthy and going to be with us a good long time," Hainey said.
Please enable JavaScript to view this content.