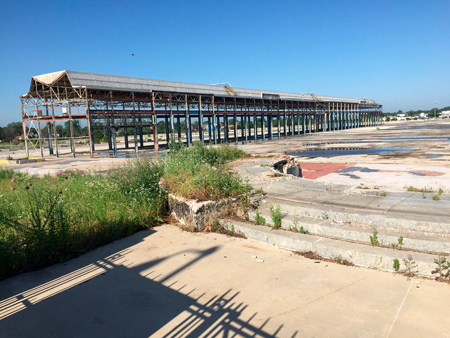 News on Tuesday that Amazon would create an operations hub in Nashville, Tennessee, as an outgrowth of the firm's HQ2 selection process surprised economic development experts in Indianapolis, which has a similar reputation as a center for transportation and logistics in the eastern third of the United States.
"They never talked about any other project besides the HQ2 process," said Larry Gigerich, executive managing director at local site selection firm Ginovus Inc., who was part of the Indianapolis bid team.
"They did say they thought this process would be helpful and instructive as they look out over the next two or three years to locate smaller [facilities]," Gigerich said. "There was never any discussion that they were also going to site another 5,000-person project. The person who led the project team at Amazon lived and worked in Tennessee and spent a number of years there. I can only imagine those relationships and ties to that area were helpful."
Amazon certainly is familiar with the Indianapolis area's reputation as the transportation-friendly Crossroads of America. It has invested more than $6 billion in Indiana since 2011 and has about 8,500 full-time employees in the state. The company operates seven fulfillment or sorting facilities in Indiana, plus a Prime Now hub.
The choice of Nashville—which, like Indianapolis, was a top 20 finalist for Amazon's $5 billion HQ2 project—could sting for an area that is similar to Nashville in many ways. For example, Amazon currently has six Tennessee facilities employing more than 6,500 people. The metropolitan areas are similar in size: 2 million in the Indy area vs. 1.9 million in the Nashville area. And Nashville and Indianapolis are among just four cities crossed by at least six interstate legs.
"While there are a number similarities, certainly Nashville's growth rate is larger than our growth rate when you look at population," Gigerich said. "I think the second thing is it has been a magnet for well-educated talent. While we have well-educated, young talent here, we're just not growing at the pace Nashville is."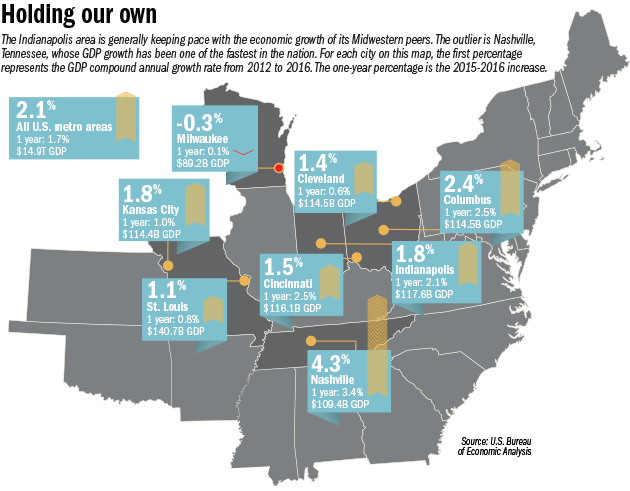 Indianapolis' economic performance in recent years has been as good or better than that of most of its peer cities around the Midwest, but not Nashville's. The economy in the 11-county Indianapolis metro area grew 1.8 percent from 2012 to 2016. That's not as much as in Nashville, which was the outlier among peer cities with 4.3 percent GDP growth.
Katie Culp, president of Indianapolis-based KSM Location Advisors, said it's not shocking Indianapolis lost out to New York City and the Washington, D.C,. area for the two big chunks of the HQ2 project, since it doesn't compete frequently with those cities.
But Amazon's choice of Nashville over Indianapolis for the center of excellence is the main question mark.
"The question is when it came down to us versus Nashville, or some other markets in consideration, what did they have that we didn't?" Culp said.
"I think that decision is one that hopefully Amazon will allow us the opportunity to get more information about," she said. "Indianapolis competes with Nashville frequently for both logistics and office projects."
Culp said her perception is that Indianapolis is "stronger from a logistics standpoint" than Nashville is. But she said it will be important for the city to learn what "perceived weaknesses we have."
It's hard to say exactly what the Nashville operation will be comprised of. But Culp said "centers of excellence" like what Amazon described it was putting in Nashville tend to be filled with lower-skilled jobs that carry lower average wages.
"They haven't revealed a ton yet about what the composition of this operation will look like," Culp said. "There may very well be high-skilled components to it, but in general, it's [common] to locate back-office functions in a market that is not as expensive as some of the Tier 1 markets."
Tennessee Gov. Bill Haslam's office says Amazon's plan for a Nashville operation represents "the single largest jobs commitment made by a company in Tennessee's history."
Amazon will invest $230 million-plus to locate its Operations Center of Excellence in Nashville Yards, a 15-acre, mixed-use downtown development, the governor's office said. Holly Sullivan of Amazon Public Policy said Nashville will become the eastern U.S. hub for its retail operations division.
Amazon's new 1-million-square-foot Nashville office space will host tech and management functions. The firm will receive up to $102 million in performance-based incentives based on the creation of 5,000 jobs, with an average wage exceeding $150,000.
The Associated Press contributed to this report.
Please enable JavaScript to view this content.