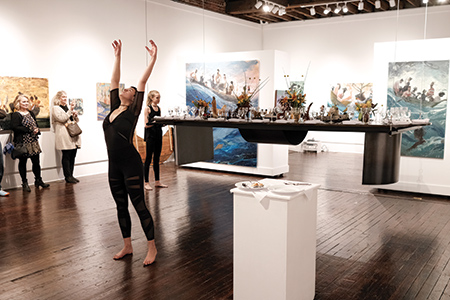 The Harrison Center for the Arts has long been the place to go on First Fridays if you have an interest in local artists and you are hungry. Not only does it offer wide-ranging exhibitions in multiple galleries, but its complimentary noshing is usually a cut above the wine and cheese served at other art haunts.
Art Dish, however, takes art-gallery dining to another level.
Harrison Center Executive Director Joanna Taft created the monthly series as an opportunity to encourage conversation between artists and potential patrons using the lure of first-rate cuisine. Art Dish pairs a specially created meal by a prominent local chef with an up-close-and-personal encounter with one of the Harrison Center's artists.
Launched in January, it's proven so popular that a schedule has already been set for all of 2019—with some dinners sold out.
The evening begins much like a First Friday gathering—a smattering of visitors entering the galleries and chatting while checking out the work on the walls. Then the featured artist briefly introduces himself and his work. In November, it was one of the city's most popular artists, Kyle Ragsdale.
So far, so standard.
The evening transitions dramatically, though, when music starts (yes, the event has a theme song), a pair of dancers from Herron High School make their way into the space, and a handsome 14-foot table descends from the ceiling.
Crafted by artist Matthew Osborn out of reclaimed wood from the gallery's renovation, it's already decked out with centerpieces and tableware and an ample number of wine glasses.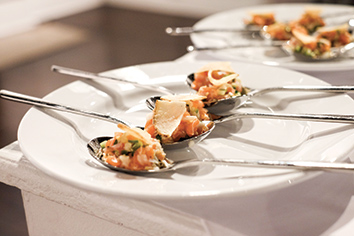 At the November event, chef Greg Hardesty's dinner included an appetizer of salmon and crab tartar.
For November's edition, Chef Greg Hardesty (taking time out from prepping his Studio C private dining project in Broad Ripple, set to open early next year) prepared a meal that opened with a spoon of salmon and crab tartar in a cucumber mint vinaigrette, presented on pedestals usually reserved for sculptures. Once seated at the table, guests were served classic hummus with cucumber, radishes, celery heart and hard-cooked eggs in a poppy seed vinaigrette scooped up with Hardesty's own fresh-baked pita.
And the hits just kept coming. Next was an herb potato gnocchi enhanced with walnuts and essence of roasted chicken. For the entree, Hardesty crafted pan Arctic cod with tiny potatoes, roasted peppers and strips of salami picante in a charred tomato jus. For dessert: a wedge of chocolate marquise, some whipped mascarpone and a quartet of salted candied pecans.
The quality of the meal was all the more remarkable when you consider the Harrison Center does not number a restaurant kitchen among its assets. Instead, chefs must work with little more than a standard stove and sink, taking time out to introduce each course to their happy consumers.
The conversation was equally impressive. In and around courses, each guest—some returnees, some newcomers—was invited to share a comment or question about Ragsdale's work, with the artist chiming in with responses.
While some guests had experience with art—and some trace their connection to Ragsdale back decades—many admitted to being visual art neophytes. Their questions and comments ranged from process matters (the artist, we learned, doesn't plan his creations, instead discovering them as he works), technical details (the drying-time difference between oils and acrylics), and queries about Ragsdale's hoped-for reactions. Some offered interpretations Ragsdale seemed to agree with. Others took away from the paintings thoughts that didn't seem to be part of his intent but that he graciously welcomed.
While a key mission of Art Dish is to develop local art buyers—and, in turn, help Harrison Center artists make a living—there was no hard sell from Ragsdale or Taft. Art Dish is as much about getting people comfortable with contemporary, local art as it is in making immediate sales.
Still, Taft reports that only one of the 2018 events generated no sales and one led to 17. Plus, she noted, a third of the $150 ticket is a tax-deductible contribution to the Harrison Center.•
Please enable JavaScript to view this content.