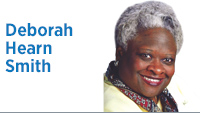 "To become truly great, one has to stand with people, not above them." —Charles de Montesquieu
The midterm elections are behind us and, depending on whom you follow, victory is claimed by all. There are, however, a few indisputable facts.
Indiana is sending a delegation to Congress that has, with few exceptions, pledged to support the president—using the examples of the border wall and Brett Kavanagh to illustrate their unwavering support. We can be assured gender equity, diversity, family issues, education and women's health will not be part of their priorities moving forward.
The election across the country moved to reflect more of the diversity of America. The number of women going to Washington is unprecedented and exciting. This is also true for groups that have been marginalized in the past. The open question: Will it matter?
When Congress reconvenes, the landscape will have shifted. On both sides of the aisle, newly elected persons are coming with a myriad of agendas to move forward. The big unknown is whether these individuals have the strength of character and the fortitude to stand up for their principles. I have watched the current female legislators fall in line with their parties. In cases where the best interest of all women could be advanced, they have not been the voice women could depend on. Why?
I often wonder how women can support issues and positions that maintain the status quo. Then I remember that, historically, many women were against getting the right to vote, and the Equal Rights Amendment faced its toughest opponents in women, who felt they would lose some perceived protected status if equal rights were extended to include gender equity. It is in this context I view our current situation as a skeptic.
We cannot assume our issues will find champions; it will be imperative that we monitor closely this new set of lawmakers. We cannot presume that, because of gender, they will represent the best interest of families and children across the cultural, racial, ethnic and economic divide.
As we rail against abortion as a mortal sin, we have no problem cutting quality-of-life issues for children, including education, food programs, health care and family support. If it is wrong to terminate a pregnancy, how is it right to extinguish the hope of a healthy childhood? My point is not for or against abortion rights; it is to support the whole child. When is the right time to kill the dreams of children? Will the change in our governing bodies really look at this issue holistically?
How long will education survive on bake sales and magazines and book sales? All the Founding Fathers agreed on this one issue: Our democracy will survive only if we have an educated electorate. We have some of the most underfunded schools in the Western world. The country with the best-educated workforce will be the winner in the global economy. Will this new set of lawmakers attack this issue?
Congress has wasted so much energy trying to erase the Affordable Care Act; precious time has gone by when the health care legislation could be enhanced and improved. Will they have the courage to see heath care as an issue for all Americans?
Monitoring and controlling the executive branch might be important; however, I am more concerned about the long-term effect of an uneducated, malnourished, bigoted and unhealthy citizenry.
I will be watching to see how the new leadership approaches these issues. Will they move toward greatness?•
Click here for more Forefront columns.
__________
Smith is former CEO of the Girl Scouts of Central Indiana. Send comments toibjedit@ibj.com.
Please enable JavaScript to view this content.