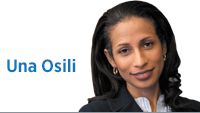 There were many firsts in this midterm election. Among them, women will now make up about 20 percent of Congress. Importantly, women broke barriers in politics because a record number of women filed to run in the first place. I also recognize that there is still monumental work ahead in advancing gender equality.
The slow progress in gender equity in many professions where women have been historically underrepresented has not gone unnoticed. Several explanations have been advanced, including limited exposure to career and leadership opportunities, the lack of role models, discrimination, and even scant support for women as they navigate various stages of their careers. My own experience suggests that we need more intentional pathways to build the pipeline in fields where female and diverse voices have been scarce or silent.
This fall, I participated in an exciting new podcast series launched by the St. Louis Federal Reserve Bank. The series focuses on women in the economics profession. As I recorded the podcast, I began to reflect on my journey within the economics profession, a field that has struggled to reflect the gender and racial diversity within our larger society.
I grew up in a family of five children—four girls and one boy. In my family, girls were encouraged to voice and share opinions. Our wisdom and talents were respected and cultivated. My parents instilled in all of us a deeply felt belief in gender equity—the idea that both women and men could thrive, lead and leave their mark.
But economics is one of the careers where the presence and voices of women remain limited. Female economists make up only 4 percent of full professors within the academy. This is frustrating given the prominent and outsized role economists play in formulating public policy and their expertise in measurement.
Female economists have been shown to have different views from their male colleagues and support divergent policies. A survey of U.S. economists conducted by Mari Ann May and colleagues published in Contemporary Economic Policy in 2014 found that female economists held more favorable views toward government regulation, increasing the minimum wage and income redistribution than did their male counterparts. Systemic gender bias, therefore, can influence the lens through which economists examine issues and guide policy decisions.
A careful examination of the data suggests that women are vastly underrepresented in the leadership ranks for two main reasons: They are not fully joining the pipeline, and they exit at high rates at various stages. Studies point to bias, both subtle and overt, as instrumental to women leaving leadership pathways. An even more challenging set of issues is that girls and young women might find that their interest in economics, finance or the sciences may be discouraged or ignored.
Recently, there has been an important rethinking about ways to remedy gender inequity, from individual approaches to the inclusion of a gender-equity lens and inclusion perspective in all policies and strategies. For example, Amartya Sen, 1998 winner of the Nobel Prize in Economics, emphasizes that improving women's access to education, employment and ownership rights will ultimately contribute to overall societal progress as well as yield broader gains for everyone.
To advance gender equity in our state, we can draw inspiration from the 2018 election. We need to expand policies and strategies that can attract more diverse women to join the pipeline in the first place.
We must also recognize the importance of supporting this new talent. By encouraging women of diverse backgrounds to break new barriers and enter fields where their influence has been limited, we can ensure a more inclusive leadership for the future.•
Click here for more Forefront columns.
__________
Osili is professor of economics and associate dean for research and international programs at Indiana University Lilly Family School of Philanthropy. Send comments to ibjedit@ibj.com.
Please enable JavaScript to view this content.