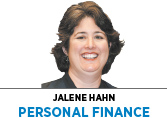 I wasn't going to do it. I wasn't going to write about overspending during the holidays, but I can't help myself. I got sucked into the Black Friday/Cyber Monday hype.
I found myself poring over the sales ads and wondering what I should buy. Were there any great deals I just couldn't pass up? Was there anyone who could use any of these deals? Thankfully, I had limited mobility and no desire to fight the crowds. Of course, there are deals online, and it is easy to jump from store to store. That made my shopping spree a little more dangerous. Click, click, done!
It was so easy to add things to my cart. My oldest is moving to an apartment at the end of the year. He needs everything—kitchen gadgets, dishes, silverware, furniture and a vacuum cleaner (or at least I will pretend he will use one). Into my cart they go. My husband had mentioned a big-screen TV. Click. New lights for the kitchen? In they go. It was so much fun. The good news is that you get to see the grand total of what's in the cart before clicking on that final purchase button.
It is so easy to get caught up in the hunt and forget why an item you didn't know existed 20 minutes before now feels like a necessary purchase. Just because we can doesn't mean we should. After seeing the total in my cart, my rational brain kicked in and I went back to my shopping rules: Do I love the item and will I use it? Am I buying it just because it's on sale? Would there be a better use for these funds? As I reviewed the items in my cart with this lens, I started deleting.
I don't think I am the only one spending this holiday season. This year, per-person holiday spending is estimated to be $1,007, which is close to the 2001 high of $1,052 and a far cry from the low of $417 in 2009.
While the holiday season is depicted as festive and joyful, the reality is that many Americans experience emotional and financial stress. Here are some ways to cope with the additional financial obligations:
◗ Make a list of everyone you feel you need to give a gift. Look at alternatives to store-bought gifts. I've done hot chocolate mix, bath salts and baked goods. A heartfelt thank you note to a teacher would be more appreciated than another apple-themed gift.
◗ Have open conversations with friends and family. Instead of gift giving, set aside some time to play games, go to dinner or take in a holiday event. Your family and friends might be relieved to have one less gift to give. Our extended family moved to a kids-only gift policy. My husband's extended family drew names and gave only to that person. You also didn't have to participate if you didn't want to.
◗ Institute a no-gift policy in your office. If you feel you need to do something, have a Secret Santa exchange or a holiday lunch.
◗ When you do venture forth to shop, have a plan and stick to your budget.
◗ Don't overspend on yourself. I fall into this trap frequently. I'll buy something for someone and get a duplicate for me.
In the end, my shopping spree was modest. My husband is not getting a big-screen TV, and I am not replacing the kitchen lights, yet. My oldest son will get some things for his kitchen, and my younger son will get another semester of college.
I am sure I will find more things to buy as the season progresses. With my younger son doing study abroad this semester, my big gift will be having him home for a few weeks.•
__________
Hahn is a certified financial planner with WWA Planning and Investments. She can be reached at 812-379-1120 or [email protected]
Please enable JavaScript to view this content.