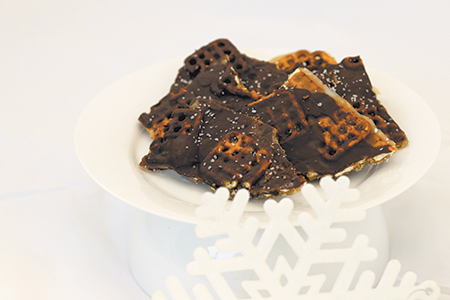 As we at IBJ get ready for our own holiday gatherings, we thought it would be fun to share a few of our favorite festive recipes.
Salted Pretzel Caramel Bark
Submitted by Hayleigh Colombo
This recipe is my go-to fast, easy contribution to holiday gatherings. It's not really that inherently Christmas-y, but the first time I ever made it was during the holidays so it always puts me in a festive mood and has now become my favorite Christmas dessert. Plus, you get to lick the back of the spatula after making homemade caramel.
1 cup (2 sticks) butter
3-4 cups pretzels
2 cups chocolate chips (10-ounce to
12-ounce bag)
1 cup brown sugar
coarse sea salt
Preheat oven to 400 degrees. Line baking sheet with foil. Cover foil with single layer of pretzels.
In saucepan, melt butter. Stir in brown sugar. Simmer but do not boil. Pour mixture over pretzels. Bake for 2-3 minutes until caramel mixture is bubbling. Remove.
Sprinkle chocolate chips over caramel/pretzel mixture. Spread evenly with spatula.
Freeze at least two hours. Break into pieces and arrange on serving platter. Sprinkle with coarse sea salt to taste.
---
Hot Cocoa Cheesecake Dip
Submitted by Samm Quinn
This is a quick and easy recipe when you need to take something to a party that everyone will love. I use cookies, pretzels, graham crackers or fruit as dippers.
 4 envelopes hot chocolate mix
 8-ounce package cream cheese
 4 ounces Cool Whip, thawed in fridge
Mix together hot chocolate mix and cream cheese. Add in Cool Whip and beat until smooth. Store in fridge.
---
Thumbprint Cookies
Submitted by Susan Orr
The recipe for these thumbprint cookies comes from "Betty Crocker's Cooky Book." My mom, who was an excellent baker, made these cookies at Christmas time. Making (and eating) them takes me back to childhood.
1/2 cup shortening
1/4 cup brown sugar, packed
1 egg, separated
1/2 teaspoon vanilla
1 cup all-purpose flour
1/4 teaspoon salt
3/4 cup finely chopped nuts
(I used walnuts.)
jelly (I used raspberry seedless.)
Preheat oven to 350 degrees. Mix shortening, sugar, egg yolk and vanilla thoroughly.
In a separate bowl, blend flour and salt. Stir into egg mixture.
Roll dough into teaspoon-size balls. Beat egg white slightly with fork. Dip balls in egg white and roll in nuts.
Place about 1 inch apart on ungreased baking sheet. Press thumb gently in center of each. Bake 10-12 minutes or until set. Cool. Fill thumbprints with jelly.
Makes three dozen cookies.
---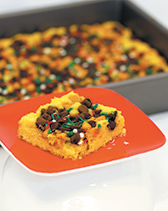 Wasp Nest Cake
Submitted by Anthony & Liz Schoettle
I first encountered this tasty treat when I was a reporter for the Daily Journal in Johnson County in the mid-1990s. It was brought in by a co-worker, who was also something of a den mother to the news staff, and I found it irresistible. I asked for the recipe, and my wife and I were amazed at how easy it was to make. My wife came up with the idea to add green and red sprinkles to amp up the holiday cheer.
1 box white or yellow cake mix
5-ounce box vanilla cook-and-serve pudding (not instant)
1 cup chocolate chips
1 cup butterscotch chips
red and green sprinkles
Preheat oven to 350 degrees. Cook pudding as instructed on box. Mix in dry cake mix (mixture will be lumpy).
Spread into buttered 9-inch by 13-inch pan. Scatter chips and sprinkles evenly over the top. Bake 15-20 minutes.
---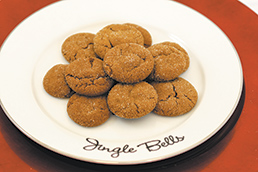 Gingersnaps
Submitted by Xander Harty
For holiday parties, it's great to find portable and easy-to-serve contributions; all the better if they can be made in advance. These gingersnap cookies will keep for weeks stored airtight, making them perfect to have at the ready to take along and serve straight from the tin. The heat from the ginger and the full-bodied molasses flavor are perfect for a cold-weather gathering.
2 ½ cups all-purpose flour
2 teaspoons baking soda
½ teaspoon salt
12 tablespoons unsalted butter
2 tablespoons ground ginger
1 teaspoon ground cinnamon
¼ teaspoon ground cloves
¼ teaspoon pepper
Pinch cayenne
1 ¼ cups packed dark brown sugar
¼ cup molasses
2 tablespoons finely grated fresh ginger
1 large egg plus 1 large yolk
½ cup granulated sugar
Whisk flour, baking soda and salt together in bowl. Heat butter in 10-inch skillet over medium heat until melted. Lower heat to medium-low and continue to cook, swirling pan frequently, until foaming subsides and butter is just beginning to brown, 2 to 4 minutes. Transfer butter to large bowl and whisk in ground ginger, cinnamon, cloves, pepper and cayenne. Cool slightly, about 2 minutes. Add brown sugar, molasses and fresh ginger to butter mixture and whisk to combine. Add egg and yolk and whisk to combine. Add flour mixture and stir until just combined. Cover dough tightly with plastic wrap and refrigerate until firm, about 1 hour.
Adjust oven racks to upper-middle and lower-middle positions and heat oven to 300 degrees. Line 2 baking sheets with parchment paper. Place granulated sugar in shallow baking dish or pie plate. Divide dough into heaping teaspoon portions; roll dough into 1-inch balls. Working in batches of 10, roll balls in sugar to coat. Evenly space dough balls on prepared baking sheets, 20 dough balls per sheet.
Place 1 sheet on upper rack and bake for 15 minutes. After 15 minutes, transfer partially banked top sheet to lower rack, rotating 180 degrees, and place second sheet of dough balls on upper rack. Continue to bake until cookies on lower tray just begin to darken around edges, 10 to 12 minutes longer. Remove lower sheet of cookies and shift upper sheet to lower rack and continue to bake until cookies begin to darken around edges, 15 to 17 minutes. Slide baked cookies, still on parchment, to wire rack and cool completely before serving. Cool banking sheets slightly and continue filling baking sheets with balls and rotating in oven.
To make ahead: Dough can be refrigerated for up to 2 days or frozen for up to 1 month. Let dough stand at room temperature for 30 minutes before shaping. Let frozen dough thaw overnight in the refrigerator before proceeding with recipe. Cooled cookies can be stored at room temperature for up to 2 weeks in airtight container.
Makes 80 1-1/2 inch cookies
Adapted from Cook's Illustrated
Please enable JavaScript to view this content.