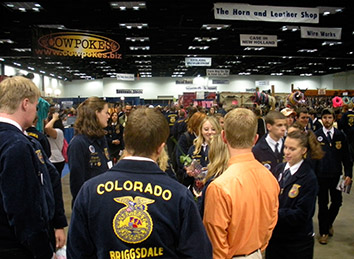 The National FFA Organization, which announced plans Tuesday to keep its huge national convention in Indianapolis through 2031, will continue to receive state financial incentives as part of the deal.
Under an agreement with the state, FFA will receive $500,000 annually over the seven-year extension, which will help pay for convention-related expenses.
The event had an estimated economic impact of $39.8 million when it took place in Indianapolis in late October.
The funding is essentially an extension of a deal the state struck with FFA in 2015, when it agreed to pay the same amount annually to the organization in order to attract the convention here from 2016 through 2024, at a time when the FFA was finishing up a three-year convention stint in Louisville.
The FFA convention, which attracted nearly 70,000 people this year, is estimated to cost $8 million to put on annually, according to FFA chief executive Mark Poeschl, who said the funding is "important to us."
"That played an important role, and we appreciate very much the lieutenant governor's commitment and the state's commitment to keeping our national convention here in Indianapolis," Poeschl said. "When we look at the big equation, that helped us in making the overall decision."
The funding comes from Lt. Gov. Suzanne Crouch's budget, which is approved by the Indiana General Assembly. Specifically, the funds come from Crouch's "marketing development grants" fund.
In a written statement Tuesday, Gov. Eric Holcomb said the FFA's convention is "right at home here in Indiana."
"Indiana is ready and committed to support this event and welcome with open arms the 67,000 FFA members and guests who will come to our capital city each of the next nine years," Holcomb said. "Today's news confirms that Indiana's reputation is strong and growing stronger, and I appreciate FFA's commitment to build on our already-robust agricultural heritage in the coming years."
While Indianapolis is host for the convention, the city does not offer direct financial incentives. Taylor Schaffer, chief of staff for Mayor Joe Hogsett, said the city provides public safety and logistical support for FFA, as it does with other major conventions. Hogsett said in a statement he was "thrilled" with the FFA's decision to remain in Indianapolis.
The FFA's other finalist site for hosting the convention from 2025 to 2031 was Atlanta. Poeschl said Atlanta also offered incentives, but he declined to share specifics "because of the confidential nature of the discussions."
Poeschl said both cities treated FFA "very courteously" when officials conducted site visits and were making their decision.
But Indianapolis won out, he said, "as we evaluated everything from safety and security to the availability of hotel rooms, the types of rooms that are available for our guests, the kinds of facilities, the accessibility by people who are coming in, both by ground transportation and air transportation."
"We felt Indianapolis continues to offer the best experience for our students and all of our guests at our national convention," Poeschl said.
Poeschl also praised the city's recent announcement that two privately developed hotels would be built on Pan Am Plaza along with a publicly funded expansion to the Indiana Convention Center.
"That made our decision easier," Poeschl said.
FFA's commitment to Indianapolis means the organization will celebrate its centennial in the city in 2028.
Poeschl said FFA attendees in the future can expect new user experiences "around innovation and technology in agriculture," high-caliber concerts, and more "career success tours" at local agriculture companies.
The National FFA Organization is headquartered in Alexandria, Virginia, but the National FFA Foundation and the National FFA Center are based in Indianapolis.
Administrators at the national headquarters provide strategic direction and oversee policy, but the National FFA Center is responsible for program development and implementation for the organization.
FFA was known as Future Farmers of America from 1928 until 1988, but changed the name to recognize the growth of agricultural education to encompass more than 300 careers in science, business and technology.
Please enable JavaScript to view this content.