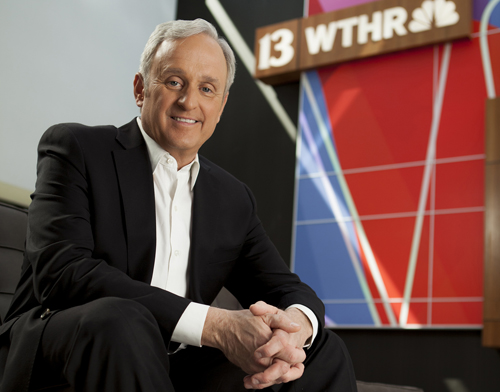 For the second time in nine months, television news anchor John Stehr has announced his retirement from WTHR-TV Channel 13.
This time, it looks like it will stick, although Stehr, 60, still won't disappear entirely from the airwaves.
In late March, Stehr announced he would be retiring in June. But after co-anchor Andrea Morehead announced in May that she was facing a battle with breast cancer, Stehr agreed to stay on temporarily. Morehead returned to the station in October, saying she was cancer-free.
WTHR General Manager Larry Delia announced Monday that Stehr's last day as a full-time anchor on the station's evening newscast will be Friday.
"I am enormously grateful to my WTHR family and the many people I have worked with over the years," Stehr said in a media statement. "Together we have journeyed through the highs and lows of our community and country. After forty years in the business and a few months to reflect following my heart surgery last year, it really gave me perspective as to the importance of family, health and other ways to contribute."
While Stehr will be stepping down from his weekday role as co-anchor alongside Morehead and Anne Marie Tiernon, he will be a regular contributor for a considerable number of the station's community events and special coverage.
Stehr is expected to be a key contributor to local coverage of the Indianapolis 500. He is also expected to contribute during WTHR's annual broadcast of the Circle of Lights celebration in November.
"John has made a tremendous impact on our station and across central Indiana," Delia said in a media statement. "We cannot thank John enough for his contributions as a journalist, storyteller, and ambassador of WTHR."
Stehr's career in journalism spans more than four decades. He came to WTHR in 1995 from CBS News in New York, where he was a network correspondent and anchor for CBS Morning News. Stehr was also a founding anchor of CNBC. Prior to that, Stehr worked as an anchor and reporter at KUTV-TV in Salt Lake City, Utah; WISH-TV in Indianapolis; WOTV-TV (now WOOD-TV) in Grand Rapids, Michigan; and WJET-TV and WSEE-TV in Erie, Pennsylvania. 
All this week, WTHR will be paying tribute to Stehr and playing segments of some of his favorite stories over the years.
Please enable JavaScript to view this content.