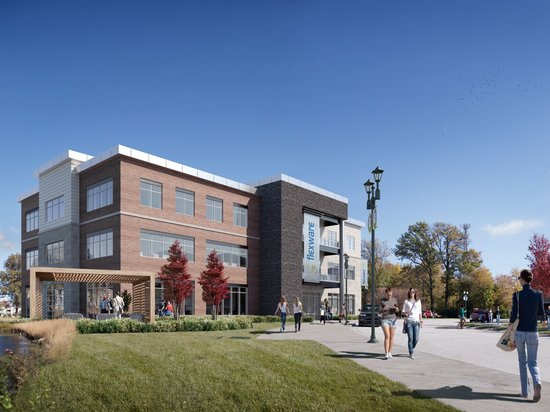 Flexware Innovation is expanding its new headquarters project to include an additional building so that it can accommodate more tenants.
The software and engineering-services firm announced earlier this year it would spend $3.5 million to build a 24,000 square-foot office building on a parcel of land the city owns at 1 Municipal Drive in the Fishers Nickel Plate District.
Flexware Innovation plans to use 12,000 square feet of the building for its new headquarters, where it will eventually add 68 new workers to bring its workforce to 130. The other 12,000 square feet will be leased to other tenants.
The 21-year-old company—currently headquartered at 9128 Technology Lane, west of the Interstate 69 and State Road 37 exit—helps manufacturers boost efficiency through the use of data and automation.
Now, Flexware—operating as AMP Northwest LLC and AMP West LLC—plans to construct an additional building on the site. The second building will be two stories and 8,000 square feet.
Megan Baumgartner, assistant economic development director, told the Fishers City Council Monday night that Flexware already has a tenant interested in the space.
So far, no tenants have been publicly disclosed for the project, but Flexware President Scott Whitlock said they include financial planning and engineering firms.
Baumgartner told the council the city continues to see demand for office space in its downtown, and a second building will help accommodate that demand.
The second building will "help round out the ellipse development and set the stage for all the activity that's going on at the amphitheater," she said.
In November 2017, the city of Fishers issued a request for proposals for office projects on two parcels it owns north of the Nickel Plate Amphitheater. Flexware's proposal was chosen for the western parcel (1 Municipal Drive), and BW Development, a sister company to RQAW Corp., was picked to build a 45,000-square-foot office building on the adjacent parcel at 6 Municipal Drive. BW Development recently broke ground on its project.
Please enable JavaScript to view this content.