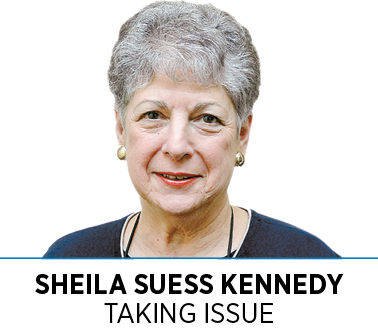 New York Magazine recently published an essay by Jonathan Chait with a provocative headline: "I have seen the future of a Republican Party that is no longer insane."
As one of numerous former Republicans abandoned by a party increasingly divorced from both its philosophical roots and reality, I found the headline—and the essay—hopeful. One lesson rational Americans have learned watching the GOP morph into a cult of "true believers" is that this country desperately needs two adult political parties capable of conducting productive, evidence-based policy debates and forging reasonable compromises.
Chait's essay in New York Magazine focused on a relatively unknown think tank: the Niskanen Center.
William Niskanen, a now-deceased economist for whom the center was named, served in the Reagan administration and then worked for the libertarian Cato Institute. Toward the end of his life, he began to question libertarianism's rigid ideological lens. He developed—and expressed—doubts about supply-side economics, noting that cutting taxes without cutting spending hadn't worked.
As Chait reported:
"Niskanen's observation that tax rates needed to reflect actual rather than desired spending levels is banal to right-of-center economists in almost any country. But it was (and is) absolute heresy on the Republican right, which has elevated anti-tax absolutism into a theological principle."
The Niskanen Center was established in 2015, four years after Niskanen's death, and has developed a right-of-center program that is detached from what Chait calls the "theological certainties" of the current GOP. Its scholars begin with the audacious assumption—scorned by fringe political activists on both left and right—that policy should be based upon empirical evidence rather than ideology.
Center scholars have argued against "small-government monomania" and in favor of a social safety net to "increase the public's tolerance for the dislocations of a dynamic free-market economy." They have accused libertarianism of a hostility to democracy that has spurred persistent Republican efforts "to find ways to keep Democrats from voting, and to minimize the electoral impact of the Democratic ballots that are cast." They have used empirical data to rebut "the notion that downward redistribution picks the pockets of makers and doles it out to layabout takers," acknowledging that countries with more generous social safety nets have more robust market economies and more individual freedom.
These scholars make an important distinction between ideology and a "public philosophy" based upon fact. (Ideologues dismiss the fact of climate change, for example, because the solution clearly requires additional government interventions.)
The center recently issued a paper conceding that an oversimplified small-government vision fails to come to terms with important facts about political and economic life, including the persistence of structural racism. The libertarian belief that capitalism's rewards are based almost exclusively on merit and hard work ignores the massive inequality that was originally produced by brute force.
Although the paper argues that market forces do a better job than central planners, it also notes that most of the regulations targeted by movement conservatives are those that advance legitimate social objectives—protecting health, safety and the environment —and impose costs on existing firms.
The regulations the center's authors believe do need to be scaled back are those imposed by state and local governments to protect owners of businesses and land. That is, they recognize that regulations can be either good or bad—and they argue that Republicans are attacking the wrong ones.
They want a return of the GOP that once understood that the real world is what lawyers call "fact-sensitive."•
__________
Kennedy is a professor of law and public policy at the School of Public and Environmental Affairs at IUPUI.
Please enable JavaScript to view this content.