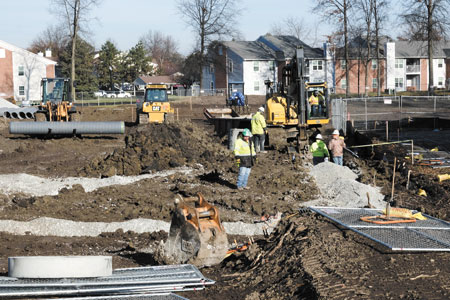 It was about five years ago when then-Town Manager Scott Fadness went to the Fishers Town Council with a plan to create a downtown for the growing community, to create a sense of place that gave residents an area to gather.
The plan called for a small amphitheater to be built near the municipal center to host concerts and events. Later, the amphitheater would be joined by apartment complexes with first-floor retail and restaurants that would increase population density in the city's downtown, dubbed the Nickel Plate District. Fadness, who became the city's first mayor in 2015, believed at the time it would take seven to 10 years for private developers to begin looking at the area for investment. Full buildout wouldn't come until 2030.
But he was wrong. Really wrong. The Nickel Plate District has exploded with development—and the biggest project yet is on the horizon.
The city landed its first downtown project when construction firm Meyer Najem Corp. announced in 2013 it would construct an office building on town-owned land and move its headquarters there. Plans called for Fishers to lease a portion of the building for startups.
At the same time, Fadness and former Economic Development Manager Tom Dickey eyed underused parcels of land for redevelopment, which later became the Depot at Nickel Plate District, a partnership between the town and Flaherty & Collins Properties that resulted in a mixed-use development that ushered in the city's first higher-end, downtown apartments.
Construction of the Edge and the Switch buildings followed, and the four projects accounted for more than $90 million of investment.
The Nickel Plate District (while much of the ongoing activity in the district is centered around Municipal Drive and East 116th Street, the district's boundaries stretch along the west side of Interstate 69 and north to Holland Park) has been growing ever since.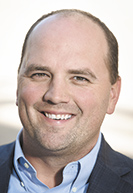 Fadness
"Everything really happened a lot quicker than we thought it would," Fadness said.
But the biggest transformation is still to come. In December, the city announced downtown's biggest economic development project in the Nickel Plate District yet: Indianapolis-based Browning Investments will spend $157 million on a mixed-use development that will transform both sides of East 116th Street. Meanwhile, construction is beginning on three new office buildings totaling more than $13.5 million near the municipal center.
Construction of Browning's project is expected to begin in spring and should be complete by 2021 (with the exception of the hotel, which might take longer, Fadness said).
Until then, construction in the Nickel Plate District will be ongoing.
"This area will be a very busy place for at least two or three more years to come," Fadness said.
Biggest to date
When Archer's Meats & Catering closed its 116th Street location in 2017, city leaders knew they had the opportunity to redevelop the south side of 116th Street, which is mostly lined with one-story structures and surface parking lots.
Archer's owners Michelle and Ron Archer planned to retire and had approached city leaders looking for help finding a developer to buy their land. A deal in which Fishers-based Boomerang Development would purchase the property didn't work out, so in August, the city made plans to buy the Archer's property along with several other nearby parcels for $10 million.
First Internet Bank, which will move into the office building that is part of the Browning project, bought the land, and the city agreed to reimburse those costs.
The north end (along 116th, North and Maple streets) of the development—to be built by Indianapolis-based Browning and Carmel-based CRG Residential—is slated to include a five-story apartment building with 241 units, 10 town houses and a parking garage, as well as office and retail space.
Included in that section is rehabilitation of several older buildings along the north side of 116th Street that currently are home to Nickel Plate Bar and Grill, the Roman and Leo clothing boutique, Fishers Barber Shop, Sure Shot Coffee and State Farm Insurance.
The buildings will be preserved, but their exteriors and landscaping will be updated. Surface parking lots will be transformed into hardscapes to create gathering spaces, Fadness said.
The south side of the development will be anchored by a 168,000-square-foot, six-story office building with ground-floor retail space alongside a 110-room boutique hotel and a parking garage.
The Fishers City Council in December approved an economic development agreement with First Internet Bank. An agreement between the city and Browning is expected to go before the council this month, with a separate agreement related to the hotel project set to be completed sometime in the first quarter, Fadness said.

Browning's vice president of real estate development, Jamie Browning, said the hotel will carry a major brand name. Fadness told IBJ he's heard from businesses and residents that they would like a downtown hotel. It will be full service with a restaurant on the first floor, he said.
The south-side development accounts for $90 million to $100 million of the total investment, Megan Baumgartner, assistant economic development director, told the city council Dec. 17.
Fadness told IBJ that, beyond being the largest investment the Nickel Plate District has seen, the project is also one of the city's largest one-time deals.
"During one of our banner years for economic development, we clocked in somewhere between $250 million and $300 million of investment," he said. "Here, you have $157 million in one project."
City Councilor Pete Peterson said during the council meeting that he's received constant questions about what the city will do with the south side of 116th Street after much of the new development has happened along the north side. He said he continues to tell residents to be patient.
"I'm a huge proponent of this project," he said. "I think it continues to put Fishers on the map. I think it continues to push us forward."
Third chapter
Fadness told IBJ the Browning project, along with two office building projects near the Nickel Plate District Amphitheater, all are part of chapter three in the evolution of the city's downtown.
Chapter two is closing, as construction on the North of North project—which includes the Spark Apartments, RQAW Corp.'s new headquarters and a parking garage—nears completion. The district's second chapter also includes Braden Business Systems' new headquarters.
Now, work is beginning on the third chapter, as the city found developers for the last two parcels of land it owns in the district.
Fishers-based BW Development recently broke ground on a 45,000-square-foot office building at 6 Municipal Drive, directly north of the Nickel Plate District Amphitheater and west of the Hamilton County Public Library East.
In November 2017, the city issued a request for proposals for projects at the 1.8-acre site that would complement its recently renovated outdoor amphitheater. The $10 million project will include build-to-suit office space for companies looking to expand or move to Fishers' business community.
So far, no tenants have been announced for the building that is expected to meet growing demand for downtown office space.
Meanwhile, Fishers-based Flexware Innovation, a software and engineering-service firm, is preparing to begin construction on its new headquarters at 1 Municipal Drive.
The project now includes two buildings—one that will be 24,000 square feet, with 12,000 square feet available for other tenants and one that will be 8,000 square feet.
Fadness said the projects private developers and the city are partnering on in the Nickel Plate District (the city typically owns the land and gives it to the developer to encourage redevelopment) will help ensure the city is successful and financially sound for years to come, thanks to the new assessed value the projects create.
"The wave of the future for cities in Indiana is—to some extent—you've got to have a well-educated, affluent population living in close proximity to ensure you have the revenue you need for long-term sustainability," he said. "I mean, that is make or break for you. So, having places like this that can attract that talent is really great."•
Please enable JavaScript to view this content.