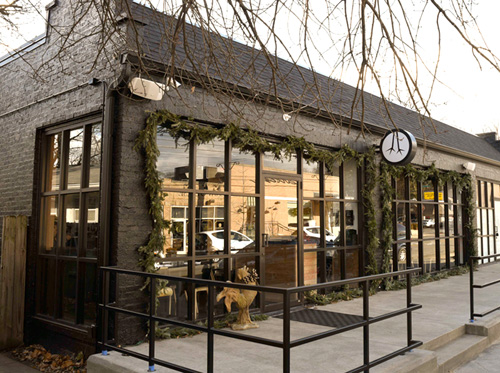 Crispy Bird, the Meridian-Kessler fried-chicken joint created as part of the locally based Patachou family of restaurants, will close for good on Jan. 12 after losing the executive team that opened the restaurant in 2017.
The eatery opened at 115 E. 49th St., across from the Patachou flagship restaurant on the northeast corner of Pennsylvania and East 49th streets. In a Saturday post on the restaurant's Facebook page, Patachou founder Martha Hoover announced the closure and claimed that the project was designed to be short-lived.
"The foundational team that formed the DNA of Crispy Bird was committed to staying in Indianapolis for a year, and, as forewarned, they have moved on to culinary adventures around the world—literally, they have flown the coop," Hoover wrote.
Executive chef David Hoover—Martha's son—left the restaurant within the last month to pursue opportunities in Los Angeles, according Maddy Barnas, Patachou's marketing director. Isaiah Estell, the beverage manager and head bartender, left a couple of months ago to continue his study of wine in eastern Europe.
Crispy Bird staff members have been offered "continued opportunities and career pathways in the company," Hoover said. Patachou Inc. owns and operates 12 other restaurants in the Indianapolis area under the Café Patachou, Petite Chou, Napolese and Public Greens flags.
Patachou's executive team decided to open Crispy Bird knowing that David Hoover and Estell were only committed for a single year, Barnas said. Crispy Bird currently is "sustainable" from a financial standpoint, she said, but Patachou leaders instead have decided to temporarily use the space as an interim production kitchen for the Patachou Foundation, the company's not-for-profit arm dedicated to feeding low-income children.
"The need for the foundation to have its own dedicated space immediately is great, and it just became a matter of prioritizing our most important needs," Barnas said.
The six-year-old foundation prepares and serves more than 1,000 meals every week to students participating in after-school activities at eight local public schools, and it's on track to make 45,000 meals in 2019, Hoover said. It is funded in part with profits from the Public Greens restaurant in Broad Ripple.
The foundation currently shares the production kitchen used by other Patachou restaurants at 49th Street and College Avenue, but it's quickly outgrowing the available capacity, Barnas said. It is working on a lease for a permanent space that could open in June.
Hoover said that the Crispy Bird space then will transition to "its intended use—a food and restaurant incubator where Patachou can develop and test recipes, mock up concepts, host visiting chefs and advance culinary education."
Crispy Bird took space formerly occupied by the Barking Dog Café and Europa Day Spa, totaling about 2,200 square feet.
The restaurant is rated three-out-of-five stars on Yelp, with more than 200 diners submitting reviews for the eatery's gourmet take on Southern classics. The decor, drinks, appetizers and sides tend to get rave reviews, but some customers find the space uncomfortably tight and the food too pricey. 
According to the restaurant's online menu, a chicken breast with seasonal slaw and pickles runs $14, and a leg and thigh with the same sides cost $12. A fried thigh sandwich with spicy aioli and pickles is $10. Salads and sides run $8 to $10.
Patachou still considers the Crispy Bird concept to be viable, and potentially could open other outlets in the future, Barnas said. In the meantime, some menu favorites will be integrated into offerings at other Patachou restaurants.
Please enable JavaScript to view this content.