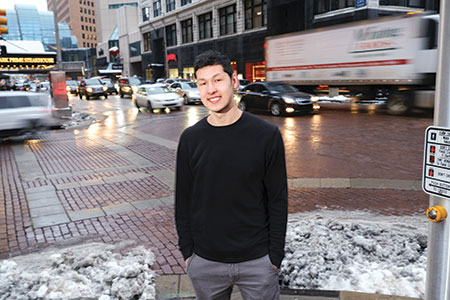 Don't tell Daniel Jones he's trying to slay a dragon. He knows that.
Don't tell him it's impossible. He won't believe you.
He doesn't care that Uber and Lyft own 98 percent of the ride-share market. He thinks his company, Bloomington-based Nomad Rides, has a unique business model that can carve out market share from the two goliaths.
And in his dad, entrepreneur Scott Jones, he has a role model who's done it.
"He's a shining example that you can go up against the big guys and win," Daniel Jones said.
Scott Jones has probably touched your life in more ways than you realize.
Checked your voicemail lately? You've got Scott Jones to thank. Pop a disk or thumb drive in your computer and see the names of the tracks and cover art on iTunes? That feature comes from another of Jones' companies, Gracenote.
And if you're one of the hundreds of people who learned to code at Eleven Fifty Academy or operate a company that has hired an Eleven Fifty-trained coder, you can thank Jones for that, too.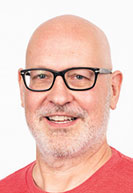 Scott Jones
"I went up against the biggest team in the world at the time—AT&T—when I was developing voicemail. And when I was developing Gracenote, I competed with Shazam, Pandora and Spotify," Scott Jones told IBJ. "Daniel has had a catbird's seat to see how things get done."
So now it's young Daniel's turn.
Early last year, the 22-year-old college dropout started Nomad Rides with a model distinctly different from that of Uber and Lyft.
Inspiration for the company struck him two years ago, while he built software for smartphone apps for Keeper Security in Sacramento, California. At the time, the self-described minimalist was living in his van.
"I realized that cars were essentially real estate. Underutilized real estate," said Jones, the third of Scott Jones' six children.

That got Jones' entrepreneurial blood pumping, and the self-taught coder began to develop a ride-sharing app.
Jones launched the company with Mike McHugh and Asher Hall, two former classmates at Indiana University, where he attended classes before transferring to Brown University for a year. Jones is now the sole owner. He credits McHugh and Hall with helping get the company off the ground. McHugh remains a company adviser.
Jones picked a tough industry to penetrate. Uber and Lyft, both based in San Francisco, not only dominate ride-sharing, they also have sizable marketing budgets.
But Jones said he has hooks to lure both riders and drivers: a $5 flat fee for rides and a better deal for drivers.
Unlike Uber and Lyft, Nomad Rides is not taking a cut of drivers' fares. It's only taking money from drivers to cover insurance and credit card transactions. Nomad Rides will be "the first commission-free ride-sharing service," Jones said.
What that means, he said, is that, for every $5 ride, Nomad Rides drivers will net more than double what they would get from Uber or Lyft. And he has already convinced 60 drivers—mostly in Bloomington—to sign contracts.
Unique revenue streams
Nomad Rides will generate its revenue from two unique sources.
First, it will sell advertising aimed at riders inside the car and passersby on the streets.
Advertising videos and graphics will be displayed on screens installed on the two rear windows of the vehicles. Ads also will be placed on a device mounted on top of the roof—like a pizza delivery car sign. But Nomad Rides' signs will be more high-tech, with an option for rotating digital ads, Jones said.
And the ads will be geo-specific, he said. Nomad Rides cars could display information and advertising based on riders' specific location for restaurants, hotels, stores and other attractions.
"There's a lot of money out there for real-world advertising," Jones said. "Digital advertising has gotten so saturated, and this opens up a whole new avenue for advertisers." The ad pricing is still being determined, he added.
The second revenue stream will be in-car vending machines, selling snacks, candy and other items. The small vending machines will sit in the vehicle's center console, and the items can be purchased through the Nomad Rides app.
Jones spent last year testing Nomad Rides in Bloomington.
"With no marketing or advertising of any kind—except word-of-mouth—we've had more than 8,000 ride requests in Bloomington," Jones said.
That shows a "clear demand" for a low-fare, short-haul, ride-sharing service, he said, drawing a comparison to the low-fare, short-haul origins of Dallas-based Southwest Airlines.
"Uber and Lyft drivers aren't really looking for that short ride. They're looking to take those drives from the airport," Jones said.
Scott Jones, who is no stranger to successful startups, said Daniel "has a very clever idea. … I think he's onto something really big."
The first half of this year, Jones aims to raise $200,000 in seed money. He tested the service in Indianapolis last year and might bring it here full time this year. He's also looking at Providence, Rhode Island—home of Brown University.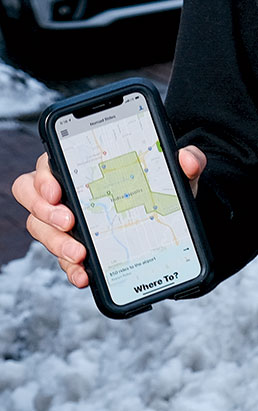 Riders and drivers connect with an app. Drivers keep most of the fare, minus a fee for insurance and credit card processing. (IBJ photo/Eric Learned)
"We want to pick cities that are the right size for this model—where you can easily put a $5 box around—and ones where Uber and Lyft aren't paying very close attention," Jones said.
That doesn't mean Jones is afraid Nomad Rides can't pry travelers away from the two ride-sharing behemoths.
"When you're cheaper, it's very easy to get users in this category," he said. "There's no brand loyalty."
Jones also predicted a viral spread of his company's "$5 rides" mantra.
Huge asset
While Scott Jones said he supports and will consider financially contributing to Nomad Rides if asked, he added that he would be a minority investor.
"Raising capital is an important part of the business, and it's a good test for the business," Scott Jones said. "So I wouldn't carry the day. [Daniel] has to stand on his own two feet, and he's more than ready and willing to do that."
Daniel Jones said he's gotten a lot of feedback from his dad. "I like doing things on my own, but I go to him a lot. Having him in your corner is a huge asset and advantage."
Scott Jones is best known for his work in the early days of voicemail. He is the co-founder of Boston Technology, a voicemail technology company that was acquired by Comverse Technology Inc. for $843 million.
In 1998, he founded Gracenote, which was sold to Sony in 2008 for $260 million. Companies that include music services, television providers, consumer electronics manufacturers and automakers use Gracenote data to power their content, universal search, navigation, linking, discovery and personalized recommendations abilities. It is now owned by Nielsen Media.
Jones became a venture capitalist and was an early investor in Art Technology Group, for which Oracle paid $1 billion in 2010.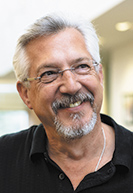 Hanak
Nomad Rides' chances for success come down to two factors, said John Hanak, managing director of Purdue Ventures.
"They have to have a value proposition the 800-pound gorillas in this market don't have," he said. "The next question is whether there is anything proprietary that prevents the bigger players from coming in and replicating what [Nomad Rides] is doing."
Hanak said Jones' strategy of going into smaller markets where it can operate under the radar initially is smart.
"It sounds like he has a good idea. With something like this, the market will tell him if there is a demand pretty quickly," Hanak said.
"But if it works, [Nomad Rides] will only be able to fly under the radar for a limited period of time. If it's replicable, the bigger companies will eventually copy it."
Jones isn't too concerned.
"A lot of people think I'm crazy," he said. "In the long run, I don't see them copying the model. It's like for RobinHood, the stock trading app, where the founders said you really have to structure a commission-free brokerage from the beginning," Jones said.
"It's very difficult for an incumbent like Uber and Lyft to do this because it would basically be killing their current cash cow—25 percent commissions—for a no-margin business [like Nomad Rides]."
The proud papa said competitors will underestimate Daniel at their own peril.
"He's highly technical and very good at math and engineering," Scott Jones said. "He's also a voracious reader, so he's always learning."
Since his teen years, his son has studied business—and especially marketing, Scott Jones said. And like his father, Daniel Jones learned to operate as part of a team in organized sports. Daniel Jones played basketball for North Central High School.
"Daniel plays well within a team, can build a team, is highly technical and can get things done," Scott Jones said. "And he's seen me fall down and get back on the horse so many times, he has no fear of failure. And that can be a powerful thing."•
Please enable JavaScript to view this content.