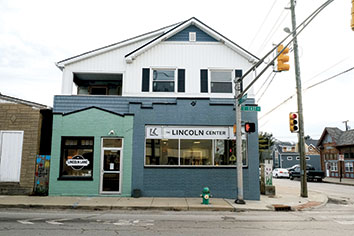 Now that Bates-Hendricks has emerged as one of the city's housing hot spots, its neighborhood association is focusing on the commercial boom residents believe will follow.
To that end, the group has formulated a plan to encourage commercial development along the East Street corridor through the heart of the neighborhood, which is just south of downtown. The Bates-Hendricks Neighborhood Association is acting as a matchmaker of sorts to connect targeted vacant commercial properties with the kinds of businesses it would like to see fill those spaces.
In particular, the group wants to influence development in a way that avoids gentrification—the influx of high-end restaurants and other retailers that are unaffordable for longtime residents.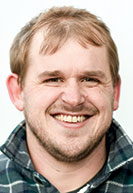 Mott
"We just knew, with all this residential development, we needed to get on top of commercial development," said Brandon Mott, a Bates-Hendricks Neighborhood Association board member and leader of the group's commercial-development efforts. "Our neighborhood's very mixed-income, and we want to be intentional about sustaining that."
According to data from the Polis Center at IUPUI, the median household income in Bates-Hendricks in 2016 was $24,748. That represents a significant increase from $19,567 in 2015 but was still far below the 2016 Marion County median of $43,369.
For the past several years, Bates-Hendricks has seen a flurry of house-flipping and renovations—including numerous projects by locally based Two Chicks and a Hammer Inc., whose work is featured on the HGTV show "Good Bones." All the activity is bringing new residents into the area, and on a drive through the neighborhood, you're never far from a "for sale" sign.
The median sale price of the 149 homes sold last year in Bates-Hendricks was $189,900. That figure includes fixer-uppers purchased for as little as $41,000, but it also includes renovated homes purchased for as much as $409,000.
Mott is also executive director of Dathouse, a faith-based organization that owns Lincoln Center, a commercial space at the corner of East and Lincoln streets.
In the quest to preserve Bates-Hendricks' mixed-income character, "This space is one of our answers," Mott said.
Lincoln Center houses Lincoln Lane Coffee Co., which opened in November 2016. Patrons can buy a $4.25 latte there, but they can also buy a basic $1 cup of coffee. The building includes a small public laundromat and room for community events. A coworking space is planned for the second floor.
As a community group, the Bates-Hendricks Neighborhood Association can't afford to buy property—and it can't dictate what owners do with their property. But it has found ways to work toward its goals.
The group has compiled a list of vacant commercial properties that are either for sale or for rent, along with lists of completed and pending commercial projects—data it can share with real estate brokers and businesses looking for local space.
It's also working with Southeast Neighborhood Development, or SEND, the local community development corporation, to bring in appropriate types of development.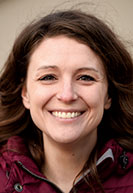 Giffel
Bates-Hendricks is primarily residential now, but with the influx of young couples and families, "we're about to need a lot of amenities," said Laura Giffel, the Bates-Hendricks Neighborhood Association's president. Giffel also announced this month her plans to run as an independent for the Indianapolis City-County Council.
Based on neighbor feedback, the group has identified types of businesses the neighborhood wants.
Family-friendly and locally owned restaurants top the list. Bates-Hendricks currently has only three restaurants: a pancake house, a Mexican restaurant and a fast-food place.
Neighbors also said they want a sports bar, grocery, child care facility and family-friendly establishments such as an indoor playground.
The group also knows what it does not want: chain restaurants, expensive restaurants, liquor stores and nightclubs.
"We want our neighborhood to be family-friendly, and that doesn't lend itself to late-night anything," Mott said.
The neighborhood association also holds periodic "reverse open houses," where residents meet with real estate agents to inform them about Bates-Hendricks. As another tool in the effort, residents developed a neighborhood guide that shows the locations of area businesses, community organizations, parks and other amenities.
The group is also working to identify infrastructure needs, their costs and how to fund them. It envisions eliminating on-street parking along the east side of East Street and building a pedestrian and bike path along that side of the street. It also wants some quick-fix improvements, such as adding more crosswalks and re-striping existing crosswalks.
"People walk to businesses in Fountain Square," which is just to the neighborhood's east, Giffel said. "I guarantee you, if we had things like that here, people would walk and bike to those, too."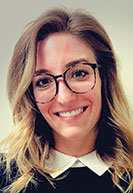 Sherfick
All these efforts represent an unusually active position for a neighborhood association to take, others say.
"As someone who's lived in other areas, I've never experienced an association as excited and hungry to bring businesses to their area," said Gabby Sherfick, who owns Sherfick Property along with husband Michael.
The Sherficks, who live in Noblesville, own several houses in Bates-Hendricks that they are renovating for resale. The couple also owns a formerly vacant East Street building that will soon house a local marketing/advertising agency, and they're scouting for a restaurant operator to fill one of the other commercial properties they own.
Sherfick said that, after she and her husband acquire a commercial property, she usually contacts Giffel to get a sense of what the association thinks would work best for the space.
The association has also helped the Sherficks connect with local tradespeople and artists for renovation work. "They're a really great link to, really, what keeps that neighborhood going," Sherfick said.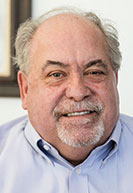 Smith
SEND President Paul Smith was impressed by what he learned when the neighborhood association presented details of its plan at a meeting several months ago.
"I've seen a lot of community building going on. Rarely have I seen a plan as comprehensive as what they put forward that night," Smith said. "They are really gifted in the smarts department and super energized."
He isn't expecting instant results in Bates-Hendricks, even with the residents' best efforts.
"It won't happen overnight. They have a lot of stuff to do there," he said.
The infrastructure improvements will pose a particular challenge, Smith said, because they're expensive and a neighborhood group can't tackle them on its own.
One thing the neighborhood has going for it, Smith said, is that this section of East Street has well-defined boundaries bookended by Eli Lilly and Co.'s corporate campus to the north and Garfield Park to the south. As the area fills in with commercial businesses, the improvements will be noticeable because they're in a concentrated area, Smith said.
If residents are diligent in their efforts, he added, the neighborhood has the potential to achieve its own version of the success seen in neighborhoods like Fountain Square, Broad Ripple and Mass Ave.
As for how long this might take, Smith predicted, "at the rate they're going, I'd say five years at least. No more than 10 years."•
Please enable JavaScript to view this content.