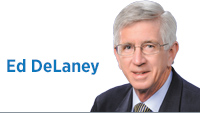 Gov. Eric Holcomb recently admitted he doesn't know how to raise teacher pay and needs two years to bone up on the issue. He is offering a short-term accounting fix that will provide a little help to school districts (and maybe teachers). And, of course, he is setting up a commission to study this question. In the meantime, our 50,000-plus public schoolteachers will have to make do.
I think we all know what the problem is. Here are three key points to consider:
Tax caps and property values matter
A central problem is that we have created a public-school maze (not a "system") built around 289 school corporations with dramatically varied resources.
School districts have essentially two sources of revenue: state support and local property taxes. The latter source is capped, and the property wealth that supports the property tax varies greatly.
So those districts that are at or near the cap and those with relatively low total property values are going to be squeezed. They might need to use state tuition dollars just to keep the lights on. This means less money to pay teachers. (The Legislature does recognize this reality and permits transfers of state dollars to operation costs.)
When I voted for the property tax caps, I promised I would monitor the impact of the tax caps and propose measures to deal with any resultant problems. Well, the time has come.
There are school districts losing millions of dollars because of the caps. That explains why they might need to "raid" state dollars we had hoped would go to teachers. If we limit increases of state support to 2 percent as the governor proposes, less-well-off districts will limit teacher pay, making recruitment and retention difficult.
Butts in seats
State financial support for our schools is based on enrollment: i.e. how many kids attend district schools. We calculate state support based on numbers of students, not on what is needed to pay teachers adequately.
So every student who leaves town or goes to a charter or voucher school costs a district $5,000 to $7,000 per year. The kids that remain still need heat and light, but there is less state money for that or for teacher pay.
We already know the numbers
The House supermajority is backing House Bill 1003 as a way to address low pay for teachers. The bill includes no extra funding for teacher pay. That should end the claim that it is a teacher pay bill.
Instead of adding money, the bill requires that districts provide even more data about how they spend their limited dollars. The bill is designed to shame those districts using state dollars for other expenses.
Implicit in this is the suggestion that the school boards waste money and that the teachers and their unions don't have enough sense to ask the school board for more money. In other words, the Legislature is blaming the victims: the fiscally restrained school boards and the teachers themselves.
We already know the facts, but are too slow to act.
Conclusion: Let's be responsible
The governor and the Legislature need to own up to our responsibility. We control the levers on taxes and on support directed to the classroom. We need to send dollars that will increase teacher pay.
That's why I suggest that we establish incentives to districts to set a minimum teacher salary of $40,000. The impact of this would drive up pay for all teachers. We also need to find ways to direct additional dollars to those districts willing to merge in order to drive costs down.
These are positive ideas, not finger-pointing. Let's try them out.•
Click here for more Forefront columns.
__________
DeLaney, an Indianapolis attorney, is a Democrat representing the 86th District in the Indiana House of Representatives. Send comments to ibjedit@ibj.com.
Please enable JavaScript to view this content.