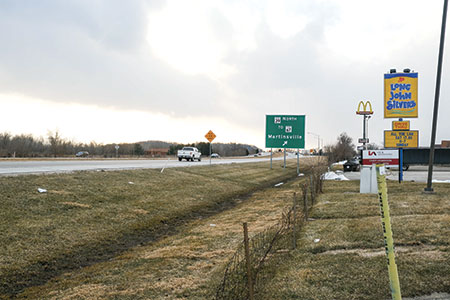 At long last, Interstate 69 is getting real for Marion, Johnson and Morgan counties.
Now that Section 5 is finally complete from Bloomington to Martinsville, the Indiana Department of Transportation has turned its attention to Section 6—a 26-mile stretch that will run from Martinsville to Indianapolis and link with I-465 on the city's south side.
Section 6 isn't expected to be completed until 2024, but construction should begin in all three counties on either I-69 itself or related projects by the end of next year.
The I-69 project began long ago and far away—construction started in Evansville in 2008—so you might just now be paying closer attention to what it means for central Indiana.
Here are seven things you might not know about Section 6: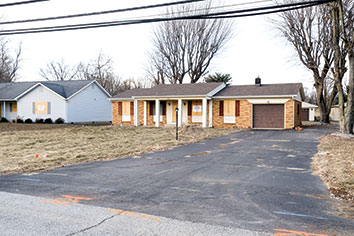 Section 6 will affect 835 parcels of land, including this neighborhood near State Road 44 that is already boarded up.
1. It's not just a State Road 37 upgrade
Work crews will build more than 35 miles of local access roads, which are necessary in areas that now provide vehicles with direct access to S.R. 37.
The project will also eliminate 14 traffic signals and add 10 interchanges and 39 bridges.
The first construction on this "offline" portion of the project—building access roads and improving existing local roads—is expected to start soon in Martinsville.
2. Orange cones might be here faster than you think
Section 6 is divided into five segments, all of which will see some type of construction by the end of next year.
In Morgan and Johnson counties, construction will begin on I-69 itself in 2020.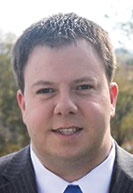 Manning
In Marion County, work should start next year on I-69-related improvements to I-465. INDOT says work on I-69 in Marion County could begin in 2021, but that's not yet certain.
3. Expect a total (but short-term) closure on part of S.R. 37
To complete I-69 construction as quickly as possible in Martinsville and Morgan County, S.R. 37 will be closed to through traffic during a portion of the 2021 construction season. INDOT doesn't yet know the exact length of the closure, said INDOT spokesman Scott Manning.
The highway will be closed to all traffic between S.R. 39 and S.R. 44. During that time, through traffic will detour along state roads 39, 67 and 144.
"That's the only area where we're considering a total closure," Manning said. "On other segments of the [S.R. 37] corridor, we don't have routes that provide the highway-grade detour route that we need to accommodate heavy truck traffic."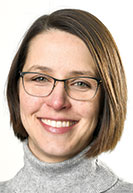 Rubin
INDOT doesn't yet have details on S.R. 37 lane restrictions along other parts of Section 6.
"That is something that will be decided once we get a little bit further along in the design process," said Sarah Rubin, INDOT's Section 6 project manager.
When Section 6 is finished, I-69 will have two travel lanes in each direction in Morgan County. The segment from S.R. 144 to Southport Road in Indianapolis will have three lanes in each direction. From Southport Road to I-465, the interstate will have four lanes in each direction.
4. Section 6 will have a huge impact on real estate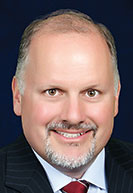 Fleetwood
The project will affect 835 parcels, including homes, businesses and undeveloped land. Of those, about 300 relocations will be necessary, said Ken Fleetwood, vice president at Indianapolis-based engineering and surveying firm Beam Longest and Neff LLC.
INDOT has already made offers to acquire 275 parcels.
Right-of-way costs alone are estimated at $220 million for Section 6, far more than in any other section. In comparison, Section 5 from Bloomington to Martinsville had the second-highest right-of-way costs, at $47.4 million, with 152 relocations required.
Some parcels have already been vacated—a string of homes along S.R. 37 in Morgan County is already boarded up and awaiting demolition.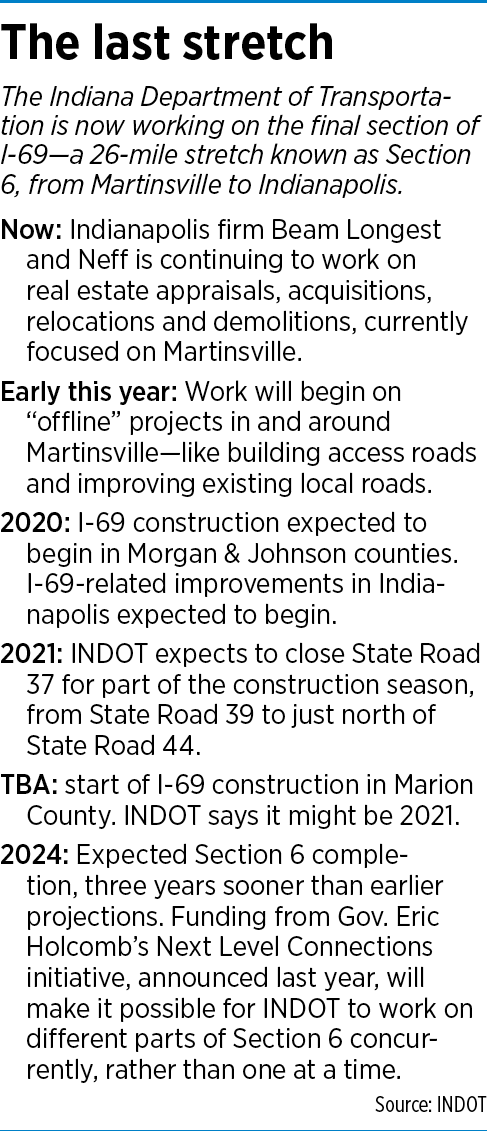 But businesses are generally still exploring their options and haven't yet moved, said Mike Dellinger, executive director of the Morgan County Economic Development Corp.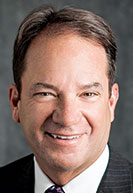 Dellinger
Dellinger expects relocation activity to pick up this spring as construction ramps up on I-69-related local-road projects. "It will jar people awake."
Beam Longest and Neff is coordinating all real estate activity along Section 6, including appraisals, acquisitions, relocations and demolitions. The firm also completed similar work for I-69 sections 1, 4 and 5.
Fleetwood said the firm began its Section 6 real estate work in late 2017, and its focus now is on Morgan County. It will begin working in Johnson and Marion counties later this year.
5. The Marion County segment will be the most expensive
Three of the Section 6 segments are in Morgan County; Johnson and Marion counties each have one.
The total cost of Section 6 will be $1.5 billion, which includes the construction itself and non-construction costs such as design work and real estate acquisitions.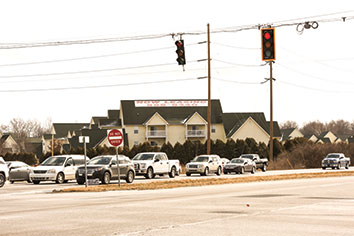 The Aspen Lakes apartment complex at the southeast corner of S.R. 37 and Southport Road could be slightly impacted by construction.
The anticipated construction cost is $100 million for each of the Morgan and Johnson County segments, INDOT says, but the Marion County segment should cost $500 million to $600 million. That's in part because the Marion County segment is the most urbanized and in part because of the work required to connect I-69 with I-465. The I-465 work alone is estimated at $135 million.
To connect the two highways, INDOT plans to build a short stretch of new road. That stretch will begin at Edgewood Avenue and veer northwest to connect with I-465 near South Warman Avenue.
In a related move, INDOT will close S.R. 37 between Epler and Edgewood avenues and reroute S.R. 37 to the west to create an Epler Avenue/I-69 interchange.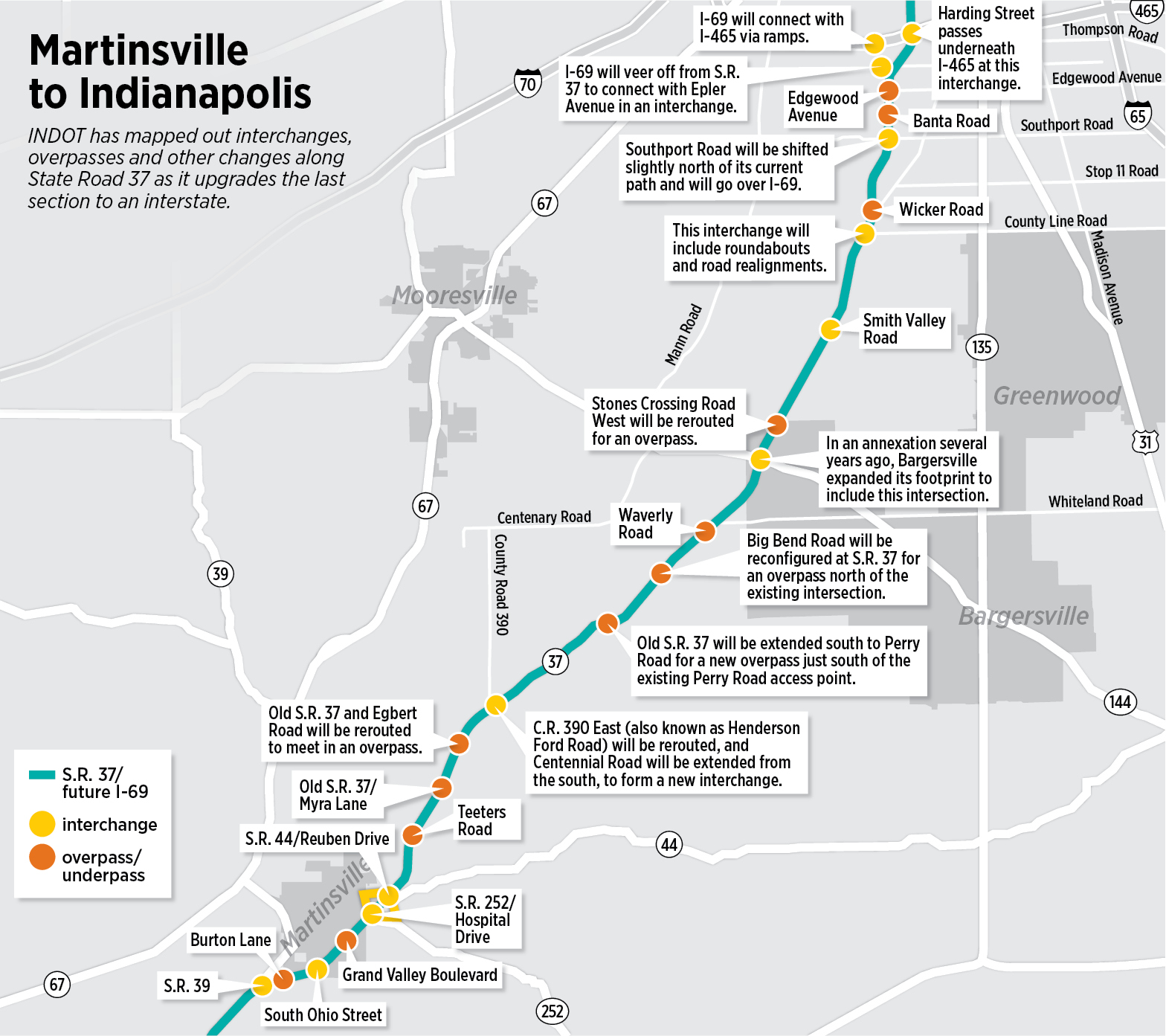 6. Good news for (some) Southport Road residents
To build the Southport Road interchange, INDOT plans to reroute Southport Road slightly to the north from Harding Street to Wellingshire Boulevard. Southport Road will cross over I-69 at this interchange.
INDOT chose that plan, which is different from the two options it previously considered, to minimize the real estate impact at this interchange, Rubin said.
Under one of the two previous options, the entire Aspen Lakes apartment complex at the southeast corner of the interchange would have been removed. Current maps show that only a small portion of the complex will now be affected.
7. Look for design extras on overpasses
A concept drawing for the Grand Valley Boulevard overpass in Martinsville shows ornamental fencing and pedestrian lighting—and a large illuminated letter "M" on a supporting wall visible to I-69 drivers.
INDOT worked with local residents on the aesthetic touches to be included.
"We did a survey with the community and got a lot of input as to what they would like to see," said Martinsville Mayor Shannon Kohl.
INDOT is funding construction of the "M" signs, and Martinsville has agreed to handle ongoing maintenance, Manning said.
It's too early to know how many overpasses in Section 6 will include aesthetic elements.
As a basis of comparison, several overpasses in Section 5 have similar extras: decorative overpass fencing, lighting and signs identifying Bloomington, Indiana University and Monroe County.•
Please enable JavaScript to view this content.