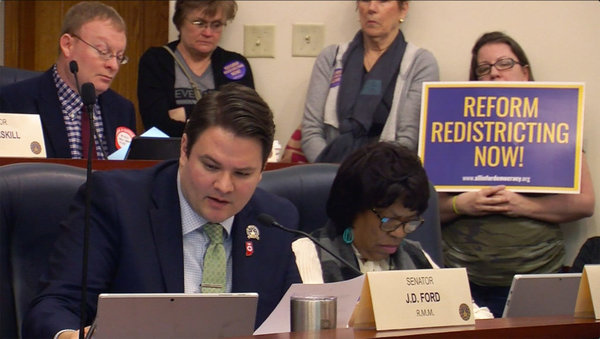 Standing shoulder-to-shoulder before the Senate Elections Committee, members of the Indiana Coalition for Independent Redistricting urged lawmakers on Monday to approve new standards for the way they draw maps for the state's legislative and congressional seats.
They held blue-and-gold "All IN for Democracy" picket signs and office clocks raised high, as the coalition members waited more than two hours to voice one central demand: that legislators put an end to what they call partisan gerrymandering.  
"Gerrymandering is no longer an art. It is a science," said 17-year-old Christian Omoruyi, a senior at Columbus East High School. "Politicians have surgically manipulated district boundaries to ingratiate themselves with the kulaks of the party machine."
Senate Bill 105, authored by Elections Chair Greg Walker, R-Columbus, would establish a series of standards lawmakers would use to redraw district lines following population reapportionment, which occurs each decade after the completion of the U.S. Census.
Should SB 105 become law, it would require congressional and state legislative redistricting processes to consider how districts reflect minority voices and to minimize divisions in neighborhoods, public school corporations and other entities that would share common interests. It also forces legislators to publicly disclose any deviation from these standards.
But advocates for tighter redistricting rules say the measure ultimately fails to promote comprehensive reform, considering the General Assembly would still oversee district map development and approval.
"Redistricting reform is a two-part equation, and redistricting standards are only one part of it," Julia Vaughn, policy director for Common Cause Indiana, testified. She said a citizen's commission is the best way to ensure redistricting is fair and representative of all voters.
Vaughn added that lawmakers should provide the same mapping software used by the General Assembly in drawing district lines to the general public, ideally through a website, and census data used in determining the state's districts.
"In this way, the public can act as a check and balance on legislative maps," Vaughn said.
Reform advocates including Vaughn and Omoruyi pointed to Senate Bill 91, authored by Sens. John Ruckelshaus, R-Indianapolis; Mike Bohacek, R-Michiana Shores; and Jon Ford, R-Terre Haute, as the Legislature's best chance at putting control in the hands of the public.
That bill would establish a nine-member commission tasked with redistricting, consisting of four members appointed by legislative leadership and five members of the general public, who would be subject to an application process before receiving a seat on the commission.
That bill has not been scheduled for a hearing.
So Sen. J.D. Ford, D-Indianapolis, offered an amendment to SB 105 that would assign the task of redrawing the maps to the non-partisan Legislative Services Agency, a department of attorneys and fiscal analysts who help lawmakers draft bills.
But Walker argued that it is the constitutional duty of legislators to implement redistricting measures.
The amendment failed.
But the Elections Committee passed the bill 5-2, moving it to the Senate floor for consideration.
The two no votes came from Sens. Mike Gaskill, R-Pendleton, and Erin Houchin, R-Salem, who said the changes aren't needed because the districts aren't currently being gerrymandered.
 "I'm not opposed to the standards, but this bill assumes we can't draw fair maps," Houchin said. "We are charged with drawing the maps. We should not recede that responsibility to unelected bureaucrats. There is no such thing, in my opinion, as a nonpartisan board."
Erica Irish is a reporter for TheStatehouseFile.com, a news website powered by Franklin College journalism students.
Please enable JavaScript to view this content.