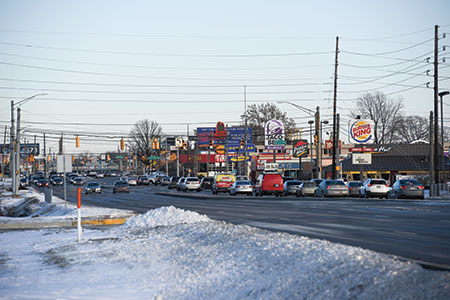 Castleton remains central Indiana's most expansive retail corridor—home to more than 2.8 million square feet of shopping center space, including the state's largest shopping mall. But does that retail focus—and its car-centric layout—suggest trouble lies ahead?
A study commissioned in January by the city of Indianapolis will spur conversations about improving walkability and traffic flow in Castleton, as well as positioning it to thrive long term as retail continues to shift away from big-box department stores toward e-commerce.
The effort, led by Indianapolis urban planning firm MKSK Studios, will gather input from more than a dozen area businesses and community stakeholders and culminate in the Castleton Strategic Revitalization Plan. Among the participants will be Castleton Square Mall's owner, Simon Property Group Inc., and large employers in the area, including Roche Diagnostics and Community Health Network.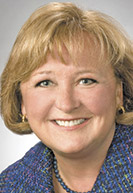 Scales
"Before it gets to a point where it's beyond saving, we can [use this study] to put in some strategies for landscaping, new uses and things of that nature that will continue to enhance the area," said Democratic City-County Councilor Christine Scales, whose district includes Castleton.
Scales, who decided not to seek re-election and will step down at the end of this year, said the plan should focus on improving infrastructure and walkability. She said retail space should evolve toward more entertainment-oriented uses, a national trend as demand declines for traditional shopping center tenants.
Mark Flanary, executive director for the Binford Redevelopment and Growth neighborhood group, called the study "vital to the area's future." He said the effort would help Castleton find solutions to long-standing challenges, such as the impact of e-commerce on traditional retailing, and frustration over traffic congestion. According to real estate firm CBRE, more than 50,000 cars travel daily on the two busiest roads in Castleton, Allisonville Road and East 82nd Street.
MKSK—which has helped plan new uses for the former GM stamping plant and old Indianapolis International Airport terminal, among other sites—will receive up to $330,000 for the study. Work is expected to wrap up in November, culminating in a formal presentation of the redevelopment plan, according to a request for qualifications sent out in August by the city's Department of Metropolitan Development.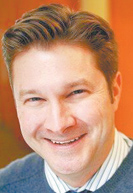 Bennett
Jeff Bennett, deputy mayor for community initiatives, said it's premature to know what recommendations will come out of the study or how much they would cost, or to commit city funds toward accomplishing them.
Suburbs are "definitely different today than they were the day they were built," he said. "We have to acknowledge that and realize we've got to use planning tools all across the city, not just in and around downtown."
Castleton's development began with construction of Interstate 465 in the late 1960s. That was followed by the opening of Castleton Square Mall in 1972, which ushered in waves of strip malls, restaurants, office space, apartment complexes and subdivisions.
It all happened with little or no city planning, leading to a cacophony of uses that often don't complement one another.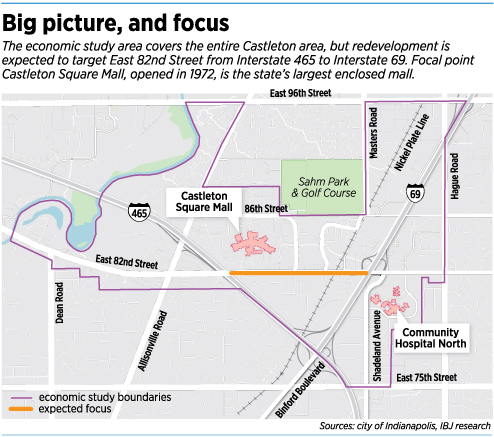 "Back then, the way [Castleton] was laid out was perfectly acceptable, and it was very successful at the time," said Jason DeArman, a real estate agent for F.C. Tucker who serves as president of the Greater Allisonville Community Council. But "there was never really any thought toward laying it out so it was really walkable or well-designed."
The 1.4-million-square-foot mall has held up well over the years. Today, it has 128 stores and an occupancy rate around 92 percent.
But Scales, Flanary and others say they worry about its long-term future—in part because its sheer size makes it increasingly difficult to fill as retailers cut back on the number of stores they operate and shift more sales online.
The property also suffered a competitive blow when developer Gershman Partners began plotting the Hamilton Town Center open-air mall 10 miles north, off Interstate 69 in Noblesville in the early 2000s. Simon ended up partnering with Gershman on that project, which opened in 2008 with nearly 1 million square feet of retail space.
That project picked off many affluent shoppers from northern Marion County and Hamilton County who previously flocked to Castleton Square, said Mark Perlstein, first vice president for the commercial real estate brokerage firm CBRE.
One major challenge facing the mall is finding new uses for the 196,064-square-foot, two-story Sears store that closed last summer. Simon doesn't control the site—it's owned by Sears, which is in Chapter 11 bankruptcy—but retail observers expect Simon to seek to acquire it, with the hopes of redeveloping it for multiple entertainment and retail tenants.
Simon is interested in "driving new uses" to Castleton Square Mall, mall Manager Eva Cheung said in a statement, but the company hasn't publicly stated its intentions regarding the Sears site.
"Castleton Square Mall is a part of its community as much as the community is a part of the mall; they coexist and depend on each other to be successful," the statement said.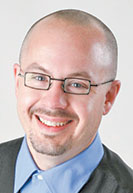 Gallagher
Tom Gallagher, an urban planner at the Ratio architecture firm in Indianapolis, said this is the right time for the city to assess Castleton's future.
The current interest in creating walkable areas "is not just a fad," he said. The trend has staying power and is shaping how cities across the country build and update retail districts.
"We're not shopping the way Castleton is set up anymore," said Gallagher, who writes a monthly column for IBJ. "We want places that are walkable—that we enjoy spending time in—and Castleton was built for the car."
Perlstein said it won't be easy to better connect retail areas with neighborhoods inside the I-465 loop. He said Allisonville Road and the interstate, which cuts across 82nd Street just east of Allisonville Road, "create something of a retail trade barrier for Castleton, from a walkability standpoint."
The interstate's path also creates accessibility challenges east of the mall—including the former site of a Target store at 8448 Center Run Drive. The building remains available four years after the discount retailer shuttered it.
DeArman, the Greater Allisonville Community Council president, said identifying priorities will be easier than achieving them.
"The challenge is that you have so many things that have been built or grandfathered in that [the city] can't really do anything about," he said. "It's not an attractive trade area, architecturally."•
Please enable JavaScript to view this content.