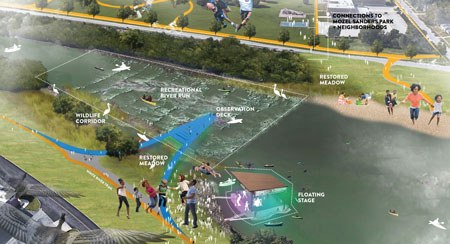 Bison grazing in a field. A rock-climbing wall at a quarry. A band playing on a floating stage.
None of these things exist now along the White River as it winds through Hamilton and Marion counties. But that might just be a matter of time.
Agency Landscaping and Planning, the firm charged with drafting a plan to revitalize and activate the river in those two counties, has unveiled a series of concepts that include both passive and active nature experiences aimed at giving Hoosiers and visitors more access to the river. The ideas range from bird watching to ziplining, offering experiences for all types of adventure seekers.
The concepts are still in their infancy and could be tweaked before a final plan is presented this spring. And there's no timeline or estimated implementation costs.
But the firm's draft gives residents a first look into how the river could be transformed from a largely underused resource into a centerpiece for central Indiana recreation.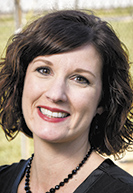 Mack
The White River Vision Plan was launched last year as a joint effort between the city of Indianapolis and Hamilton County Tourism Inc. to create a coordinated, community-driven plan to develop the 58 miles of the White River that run through the two counties.
The west fork of the White River originates in eastern Indiana, flowing through Muncie, Indianapolis and Spencer on its way to meeting up with an east fork before tumbling into the Wabash River at the Indiana/Illinois border.
Currently, development along the targeted area—from Lafayette Trace Park, northeast of Noblesville, to the southern Marion County line at Southwestway Park—is scattered. White River State Park in downtown Indianapolis has a collection of walkways and green space on the river's eastern banks, and Noblesville in recent years has developed a river walk in its downtown. There are also a few opportunities for tubing, kayaking and canoeing in the river.
Beyond that, the public has few engagement opportunities.
But a draft vision statement details the regional role the river could play in years to come:
"The White River is central Indiana's next frontier," it reads. "Unifying and diverse; productive and protected; timeless and contemporary. The river sets us apart as communities that can work together to realize big dreams. Its healing power guides us toward a resilient future, supports healthy neighborhoods and economies, honors the past and improves the lives of Hoosiers for generations to come."
The group leading the charge will wrap up public input sessions next week before finalizing the plan and beginning implementation.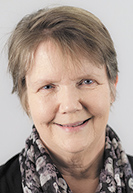 Myers
Officials say that, while the ideas are bold, they are doable. And they say it's not a matter of whether development will happen, but rather when.
"This is a big plan," Emily Mack, director of the Indianapolis Department of Metropolitan Development, told IBJ. "It's a large geographic area, but under no circumstances is this a plan to sit on the shelf."
Hamilton County experiences
The current plan divides the river into six sections, or "reaches," and targets seven sites, or "river anchors," as prime for development. The anchors are Strawtown Koteewi Park, Noblesville, Conner Prairie, Clearwater at Interstate 465, Broad Ripple, Emrichsville Dam and Southwestway Park.
At Strawtown, ideas for developing the river are generally passive. They include building new overlooks and bird-watching areas, constructing a multi-modal trail along 234th Street, expanding the current nature center to allow for more environmental and history programming, and bringing bison to the area.
An existing master plan for the Hamilton County-owned park already calls for introducing bison. And planners involved with developing the river want to help visitors connect to the area's natural heritage while acting as a billboard to say: "Something special is happening here," Gina Ford, principal and co-founder of Agency Landscaping and Planning, told residents during a public meeting Jan. 31.
"When we look at this area, we see that there's not a lot of connectivity to the riverfront, and the river is almost kind of not present in the experience of the park," she said. "We think this park can actually become a gateway to the river to the north and become a real place for continuous access along the riverfront."
In downtown Noblesville, where leaders have already created a riverfront district, planners are recommending more space for gathering and programming, such as riverfront yoga. They're also encouraging more river access for people to kayak or canoe or play along the riverbanks.
Planners have also targeted an area along Allisonville Road north of 146th Street where an underused lake and a quarry could become an extreme recreation park featuring rock climbing, swimming, a ropes course and even a zipline.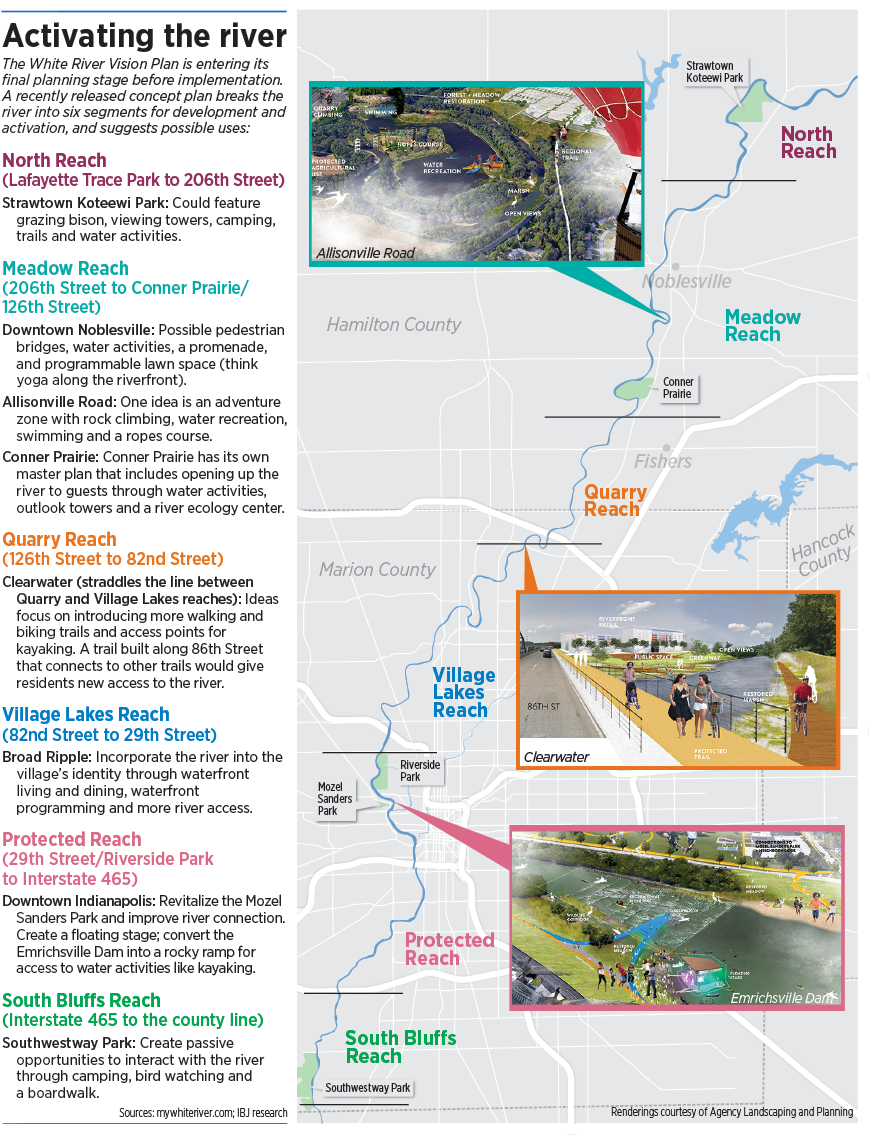 Brenda Myers, president and CEO of Hamilton County Tourism Inc., said plans for that area surprised her the most, but they really play to the 30- to 50-year vision leaders want to have for the river.
"Quite frankly, it's a massive idea to think about, so it's a little overwhelming," she said.
And at Conner Prairie, planners support the living-history museum's long-term plans to expand Conner Prairie across the river. Guests have previously not been able to interact with the river, which runs for more than three miles through Conner Prairie's land.
Marion County sites
In Indianapolis, planners have targeted the river's intersection with East 86th Street for waterfront development.
They'd introduce biking and kayaking and create public gathering spaces that accompany riverfront retail. A trail would be built along 86th Street to connect to a network of bike trails and kayak-launching areas.
The broader focus for that area is called Clearwater at 465, and includes three roads the river passes under: 86th Street, Interstate 465 and 96th Street.
Officials in Indianapolis and Hamilton County say it's an important area to activate because more people cross the river at Interstate 465 than at any other place in either county. They just don't know it.
Investing in northeastern Marion County can also unite the two counties. Mack said planners want to make the river in that area navigable while also encouraging development to embrace the river by including public outdoor spaces with river views.
In Broad Ripple, planners have recommended creating a riverfront district featuring public art, walkways and dining along the river. Broad Ripple has already embraced the canal but hasn't built much around the White River, Ford said. Planners hope the village will introduce more places for people to gather or to grab a bite to eat and have drinks.
Perhaps the most exciting and challenging river anchor identified in Marion County is the Emrichsville Dam just south of 16th Street, where planners have suggested the city redesign the dam into a graduated structure to allow for kayaking and canoeing.
"It seems like a crazy idea, but it's actually been successfully done and implemented in other communities," Mack said. "Hopefully, it's feasible."
Just north of the dam, at Riverside Park, planners propose a floating stage for concerts.
The final river anchor is Southwestway Park—which sits south of I-465 and east of State Road 37—where planners have recommended more passive experiences. Ideas include more trails, boardwalks and campsites that provide visitors an opportunity to engage with nature while protecting wildlife.
"Southwestway Park is really the hidden gem in Indianapolis and Marion County," Mack said. It has "some of the most diverse and … most unique habitat and wildlife of all up and down the river."
Up next
Planners caution the ideas and renderings are conceptual, and they're asking the public for input to help finalize the plan.
Two final public meetings, both in Indianapolis, are planned for Feb. 13, when Agency Landscaping and Planning will present its ideas. The first meeting is slated for noon to 2 p.m. at Indianapolis Central Library downtown. The second meeting is 6-8 p.m. at Holliday Park on Spring Mill Road. Residents can also provide feedback online at mywhiteriver.com.
Already, more than 13,000 people have participated in the plan in some way, Ford said during a recent meeting. They're taking online surveys, showing up to meetings and signing up for updates. And the team leading the effort has attended more than 320 meetings to interact with residents and their representatives, Mack said.
Following the final public meeting, the entities involved in the process will need to figure out who will manage the plan, how much projects will cost, and who will pay for them. They'll also need a timeline for implementation.
The final plan, which will be available in April or May, will identify any policy or legal problems that could prevent implementation, identify public and private investors to fund development, and provide guidance for full implementation.•
Please enable JavaScript to view this content.