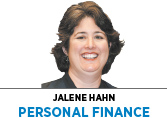 Couples fight about money. Money fights can put a strain on any relationship and are a frequent cause for divorce. Divorce is one life event that will almost always derail a financial plan.
So how can you manage those money disagreements and keep your relationship on track? Communication and self-reflection go a long way toward generating happy relationships, no matter the topic. Here are some good strategies to employ to help work through some awkward situations.
According to the Creditcards.com Financial Infidelity Poll, "30 million Americans who live with a partner are hiding a checking, savings, or credit card account from their significant other." Another finding was that 20 percent of people polled said that "financial infidelity would be worse than an affair." Being secretive about money undermines the trust with your partner.
My husband learned this firsthand when we got married. He knew about my mortgage, but I forgot to mention my small student loan and a car loan from my dad that I wasn't good about making payments on each month. My husband endeared himself to my dad by making regular monthly payments until my car was paid off.
I have worked with couples where one spouse has hidden debt and is ashamed to disclose it. No matter how tough it is in the short run, allowing debt to fester is a recipe for disaster. In some instances, I recommend couples go to counseling or find a financial therapist to help them with the underlying issues.
Getting to know your partner's money history and money mindset can help uncover sources of conflict. We each bring our own feelings and biases to the relationship, and gaining a perspective on your partner's background can help you understand his or her financial decision-making and spending patterns.
Questions to ask include, "What do you remember about money growing up? What does money mean to you? What were you taught about money?" These attitudes and beliefs are usually unconscious, and we don't realize the impact they have on our approach to money.
Another lesson we learned early on in our marriage was that we needed a regular date night to discuss finances. It wasn't the most romantic evening out, but it let us discuss what was going on financially and helped us make big money decisions. We usually sat down at the beginning of the year and talked about big projects: new roof, tires, landscaping, vacation, etc. We would map out a five-year spending plan and update as our needs changed. We would also review our spending and see where we were off-track and brainstorm strategies to get us back on track. In addition to monitoring day-to-day finances, it helped ensure we had the same goals and could work on them together.
We still struggle with "yours, mine and ours" spending. It is important that we each feel we have some discretionary spending money that we don't have to be accountable to the other for.
Over the years, that limit has fluctuated. I tend to make a lot of small purchases, while my husband is more into big-ticket items that are rarely approved. I am trying to be more deliberate about my spending and I am starting to rely on the "Checkout Checklist: Do I need this? Do I love this? Am I buying it just because it's on sale?" I am also starting to add, "Do I have a place to put this?" and "What am I willing to give up?"
After 31 years of marriage, our differing approaches to money are still frustrating. I doubt if we will ever be in perfect harmony, but we continue to have an ongoing dialogue and recognize that navigating money issues is an ongoing process.•
__________
Hahn is a certified financial planner with WWA Planning and Investments. She can be reached at 812-379-1120 or [email protected]
Please enable JavaScript to view this content.