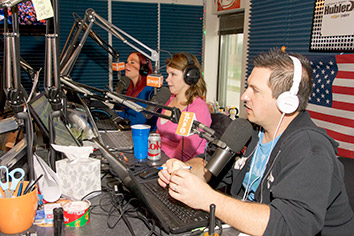 A major shakeup by Atlanta-based Cumulus Media will have a serious ripple effect in Indianapolis.
As part of the shakeup announced Wednesday, Cumulus has made a deal to trade WNSH-FM in New York and two stations in Springfield, Massachusetts to Pennsylvania-based Entercom Communications in exchange for three Entercom stations—WZPL-FM 99.5, WNTR-FM 107.9 and WXNT-AM 1430—in Indianapolis.
WZPL is a top 40 station that is often in the top 10 in the market in listening audience. WNTR is an adult contemporary station and WXNT has a talk and sports format.
It's not clear if the deal will impact the format of those stations.
Cumulus officials did not immediately return emails seeking comment. Phone systems at both Cumulus' and Entercom's Indianapolis offices were not functioning Thursday morning. Multiple phones were tried at both locations.
As part of the move, Cumulus also will sell six other radio stations—none in this market— to Educational Media Foundation for a total of $103.5 million in cash.
Cumulus hopes to close the deals during the second quarter, the company said in a press release released late Wednesday.
"These transactions are consistent with our portfolio optimization strategy and both deals are accretive," Cumulus CEO Mary Berner said in a prepared statement. "The Entercom swap significantly bolsters our competitive position in Indianapolis, and the EMF transaction generates substantial cash for debt repayment and investment in other business opportunities."
The acquisition furthers Cumulus' dominant position in the Indianapolis market.
In Indianapolis, Cumulus already owns classic rock station WJJK-FM 104.5 and country station WFMS-FM 95.5, which are consistent top five stations in this market. Both have been No. 1 in recent months. Cumulus also owns WYRG-FM 93.9, a top 40 station.
Entercom bought WZPL, WNTR—formerly WTPI—and WXNT for $73.5 million in 2004 from locally based MyStar Communications, which was owned by local businessmen Michael "Mickey" Maurer and Bob Schloss, who are also shareholders in IBJ Corp., the parent company of the Indianapolis Business Journal.
Please enable JavaScript to view this content.