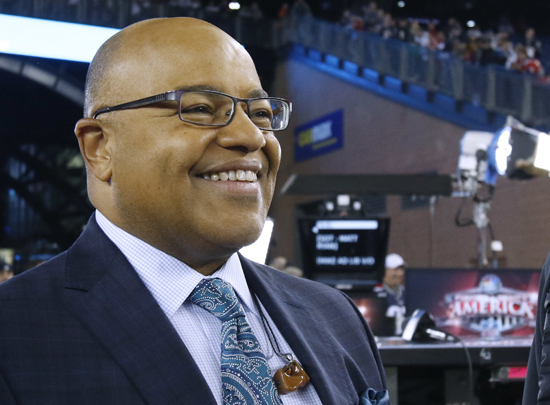 NBC Sports announced Friday that veteran sports anchor Mike Tirico will serve as host of the network's first-ever coverage of the Indy 500.
The 103rd running of the race is scheduled to air at 11 a.m. May 26 on NBC for the first time after 54 years on ABC.
Tirico has built a reputation for covering some of the biggest events in sports, including the Olympics, Sunday night and Monday night NFL games, the NBA Finals, golf's major championships, Wimbledon and Notre Dame football. It will be the first time he's covering an IndyCar event.
"There's no better way to come on the air for the biggest spectator event in the world than with Mike Tirico, the best big-event host in sports television," said Sam Flood, president of production for NBC Sports and NBCSN, in written comments. "Mike's role will be to set the scene for the millions of viewers watching at home, not only touching on the drivers and the racing, but also on the enormous crowd and countless happenings around the speedway that make this a bucket-list event for all sports fans."
A big reason Tirico left a 25-year career at ESPN for NBC in July 2016 was to be a part of events he hadn't been able to do in the past, such as the NHL and the Olympics. He's set to call his first NHL game on Feb. 20 when Detroit hosts Chicago during "Wednesday Night Hockey" on NBCSN.
Tirico has been a part of the network's NHL coverage during the past year. He hosted two games of last year's Stanley Cup Final as well as this year's NHL Winter Classic at Notre Dame and the All-Star Game in San Jose.
"It is a great adrenaline rush to be able to do something different," Tirico said.
Tirico is part of a growing roster of black and female voices around the NHL's top broadcasting packages. Kendall Coyne Schofield was recently hired as an analyst by NBC, where she joined former Team USA teammate AJ Mleczko. Former players Anson Carter (NBC) and Kevin Weekes (NHL Network) are analysts.
In Canada, David Amber and former Team Canada standout Cassie Campbell-Pascall are on CBC's "Hockey Night in Canada."
Please enable JavaScript to view this content.