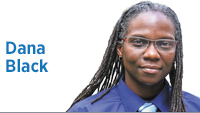 Black History Month, that wonderful time of year when we reminisce over the good and the bad of what it means to be black in America. For some black folks, many of the stories told have been passed down at the dinner table.
I will never forget when I was around 6 or 7, back in the 1970s, my father told me the story of Emmett Till. After all those years, he was still visibly shaken by what he saw of that horrific murder of a 14-year-old boy. We learned of the story of J. Thomas Shipp and Abraham S. Smith, who were two young black men murdered in a picnic-style lynching in Marion. It was a way for our parents to prepare us for a world that could be very cruel because of the way we looked.
Many of my white peers didn't learn about these stories, and when they hear them now, they can be turned off. For black folks, we still exist in a state of PTSD, knowing at any moment, our lives can be snuffed out and justice will elude our deaths.
I often hear some white folks suggest black folks don't like America when we reference our past. But American history has many unpleasant moments we can't simply ignore because it makes us uncomfortable. Plus, if we don't study and learn our American history, we are doomed to repeat it. Cleveland shooting victim Tamir Rice comes to mind.
Black history is also filled with amazing authors like Zora Neale Hurston, Maya Angelou, Octavia Butler and James Baldwin, who tell our black stories in great poetic measure so as to keep our attention and to never let us forget. Besides, if we didn't write those stories, who would?
We have a long list of great composers, arrangers and other musical artists who captured black life through song. People like William Grant Still, Margaret Bonds, Florence Price, Quincy Jones and Duke Ellington—along with a whole host of athletes, actors and dancers who broke color barriers and restrictions that would have prevented them from being their whole selves and living their best lives.
We have always been more than entertainers and freedom fighters. If you look at the U.S. history books I had growing up, you would think the only reason black folks were significant was because of our ability to fight oppression. We all learned of Frederick Douglass, Harriet Tubman, Sojourner Truth and Martin Luther King Jr. But slavery and Jim Crow didn't make us great. We were great despite those institutions.
I'm still trying to figure out how someone like me who loves IT didn't learn about Katherine Johnson, Dorothy Vaughan, Mary Jackson and Christine Darden until the book "Hidden Figures" was released. I never expected to know every engineer who worked to get man to the moon, but it seems there should have been some mention of the black women who calculated how John Glenn was able to get into orbit and return safely.
The study of black history is not some exercise in making black folks feel good. The study of black history is to help our white allies be good allies. When you find yourself in a space where you hear disparaging language referencing contributions of black folk to this nation, you need to be prepared to dispel the myths.
We have contributed at every level to make this nation what it is and you can't ignore it because the ugly parts make you uncomfortable.•
Click here for more Forefront columns.
__________
Black is deputy chairwoman for engagement for the Indiana Democratic Party and a former candidate for the Indiana House. Send comments to ibjedit@ibj.com.
Please enable JavaScript to view this content.